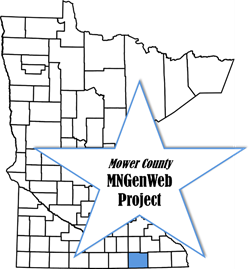 Site Links
Obituaries Collection
Postcards and Photos
External Links
Message Board from Ancestry.com
UsGenWeb Mower County Archives
THE RECORDING OF A CEMETERY
By Thelma Greene Reagan
Today we walked where others walked
On a lonely, windswept hill.
Today we talked where others cried
For loved ones whose lives are stilled.
Today our hearts were touched
By graves of tiny babies.
Snatched from the arms of loving kin,
In the heartbreak of the ages.
Today we saw where
the grandparents lay
In the last sleep of their time.
Lying under the trees and clouds -
Their beds kissed by the sun and wind.
Today we wondered
About an unmarked spot.
Who lies beneath this hallowed ground?
Was it a babe, child, young or old?
No indication could be found.
Today we saw where Mom and Dad lay.
We had been here once before
On a day we'd all like to forget,
But will remember forever more.
Today we recorded for kith and kin
The graves of ancestors past.
To be preserved for generations hence,
A record we hope will last.
Cherish it, my friend.
Preserve it, my friend,
For stones sometimes crumble to dust
And generations of folks yet to come
Will be grateful for your trust.
Welcome to the
Mower County MNGenWeb Project
Mower County Cemetery Information
Visit Find A Grave for more information on Mower County Cemeteries
111-year-old Lyle Cemetery Kept Attractive with Group's Efforts
By MRS. CLYDE ROEHR
Globe-Gazette Correspondent
[No date available]
LYLE, Minn. – Numerous cemeteries dating back a century or more are run down and uncared for, but Woodbury Cemetery along Highway 105 west of Lyle on the Iowa-Minnesota border is 111 years old and is one of the best kept in North Iowa and Southern Minnesota.
Much of the credit for the maintenance of the cemetery must go to the Woodbury Willinger Workers, an organization which was formed in June 1909 and has continuously labored with love and small funds to keep the spot attractive.
The cemetery dates back to 1855 and, perhaps, even longer but no earlier records are available.
<![if !vml]>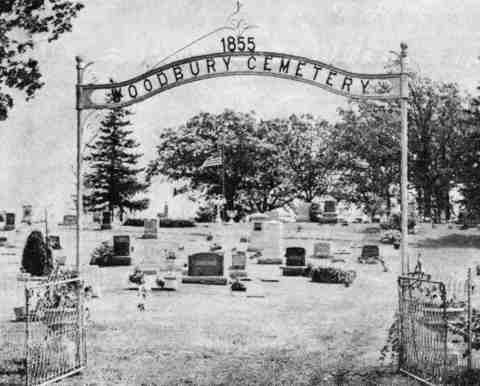 <![endif]>
Woodbury Cemetery, near Lyle, MN
It was started by J.D. Woodbury, one of the early settlers along the Red Cedar River in Lyle Township. Woodbury Creek and the cemetery are named after him. Among the first persons buried there were Civil War veterans.
Since all of the early records were destroyed in a fire, the monuments provide the early burial dates.
Marjory Bean is believed to have been the first person buried in the cemetery, but no marker has been found to establish the exact spot.
The second burial was that of Mrs. A.C. Chapin April 6, 1856. Also among the persons first buried there was Eloise Wilder, the first white child born in Otranto Township, Mitchell County (Iowa).
The Woodbury Willinger Workers maintain these early graves along with the recent ones. Membership in the organization now number 84. Present officers are Mrs. Raymond Farrell, president; Mrs. Arthur Graves, vice president; Mrs. Gilbert Hermanson, secretary, and Ida Goslee, treasurer. Two of the charter members of the organization still belong. They are Mrs. Amos (Evelyn) Machacek, now 99 and Olive Bonnallie.
Many of the activities of the organization are made possible by the bequest it received in 1964. The bequest came from the estate of two brothers and a sister, George, Jerome and Anna Funda, who lived their entire lives near the cemetery. Forty percent of the estate, which amounted to more than $36.300, went to the Woodbury Willinger Workers. Veterans of four wars are buried on the cemetery's sloping hill. These include 19 from the Civil War, one from the Spanish-American War, 13 from World War I and four from World War II. Members of the cemetery board include Frank Bedford president; Vance Hotson, vice president; Mrs. Grace Barnes, secretary, and Glenn Machacek, treasurer. Carroll Howard is sexton and caretaker.
Transcribed and Edited by: Neal Du Shane 12-13-2006
HTMLization by Kermit Kittleson, 12-13-2006