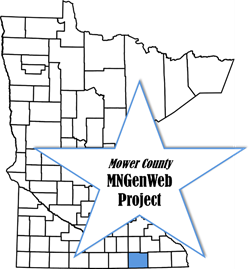 Site Links
Obituaries Collection
Postcards and Photos
External Links
Message Board from Ancestry.com
UsGenWeb Mower County Archives
THE RECORDING OF A CEMETERY
By Thelma Greene Reagan
Today we walked where others walked
On a lonely, windswept hill.
Today we talked where others cried
For loved ones whose lives are stilled.
Today our hearts were touched
By graves of tiny babies.
Snatched from the arms of loving kin,
In the heartbreak of the ages.
Today we saw where
the grandparents lay
In the last sleep of their time.
Lying under the trees and clouds -
Their beds kissed by the sun and wind.
Today we wondered
About an unmarked spot.
Who lies beneath this hallowed ground?
Was it a babe, child, young or old?
No indication could be found.
Today we saw where Mom and Dad lay.
We had been here once before
On a day we'd all like to forget,
But will remember forever more.
Today we recorded for kith and kin
The graves of ancestors past.
To be preserved for generations hence,
A record we hope will last.
Cherish it, my friend.
Preserve it, my friend,
For stones sometimes crumble to dust
And generations of folks yet to come
Will be grateful for your trust.
Welcome to the
Mower County MNGenWeb Project
Mower County Cemetery Information
Visit Find A Grave for more information on Mower County Cemeteries
Tombstones Found in Austin Yard
Last Spring (2006) several old tombstones were found in a yard in Austin, Minnesota. They present a great mystery! Below is a newspaper article regarding the stones, and below that are photos of the stones.
If anyone can shed light on any of these individuals, please contact the Mower County GenWeb coordinators.
No Leads in Tombstones Research
Thu, Sep 21, 2006
By Tim Ruzek
The Post-Bulletin
A search for information on five, old tombstones found last May in an Austin backyard turned out unfruitful.
An intern working in the archaeologist's office this summer was unable to find more information on the tombstones, which date back to the late 1800s, state archaeologist Scott Anfinson said. He had hoped to find the headstones' original location.
In early June, Anfinson visited the northwest Austin yard in which the tombstones were found buried face down and determined the land wasn't an old cemetery. They likely were brought in from a small, area cemetery to be used as paving stones, he said in June.
Florence Hatleli, one of two tenants to discover the tombstones near their apartment complex's parking area, said she and tenant Jesse Stayton had hoped officials would find more information. She had wanted to give the markers to descendants of the people whose names are on the stones.
Hatleli, who still has the markers, said she and Stayton don't have specific plans for what to do with the markers.
The names on the headstones are Albert Childs, Dora Nutter, Anna Kistler and Charlie Bartell. The fifth name is unreadable.
The markers are for five people -- adults and children -- who died between 1874 and 1882.
A construction worker expanding the apartment's parking area in May unknowingly dug up the first headstone and set it to the side where Stayton discovered it was for a woman who died in 1879.
<![if !vml]><![endif]>

       Anna Kistler

<![if !vml]><![endif]>

     Charlie M. Bartell

<![if !vml]><![endif]>

    Dora Nutter

<![if !vml]><![endif]>

    Albert A. Childs

<![if !vml]><![endif]>

   Unknown Individual

           Died 1874

<![if !supportMisalignedColumns]>
<![endif]>
Photos taken by Michelle Lane; submitted to Mower GenWeb by Kathy Pike
©2006 Kermit Kittleson for MnGenWeb
Posted Sept 24, 2006
Updated Oct. 2, 2006