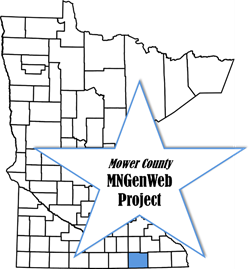 Site Links
Obituaries Collection
Postcards and Photos
External Links
Message Board from Ancestry.com
UsGenWeb Mower County Archives
THE RECORDING OF A CEMETERY
By Thelma Greene Reagan
Today we walked where others walked
On a lonely, windswept hill.
Today we talked where others cried
For loved ones whose lives are stilled.
Today our hearts were touched
By graves of tiny babies.
Snatched from the arms of loving kin,
In the heartbreak of the ages.
Today we saw where
the grandparents lay
In the last sleep of their time.
Lying under the trees and clouds -
Their beds kissed by the sun and wind.
Today we wondered
About an unmarked spot.
Who lies beneath this hallowed ground?
Was it a babe, child, young or old?
No indication could be found.
Today we saw where Mom and Dad lay.
We had been here once before
On a day we'd all like to forget,
But will remember forever more.
Today we recorded for kith and kin
The graves of ancestors past.
To be preserved for generations hence,
A record we hope will last.
Cherish it, my friend.
Preserve it, my friend,
For stones sometimes crumble to dust
And generations of folks yet to come
Will be grateful for your trust.
Welcome to the
Mower County MNGenWeb Project
Mower County Cemetery Information
Visit Find A Grave for more information on Mower County Cemeteries
Sever Temanson Cemetery – Frankford Township
Mower County, Minnesota
<![if !vml]>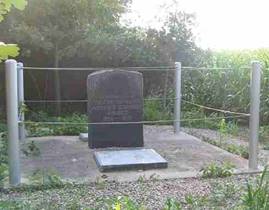 <![endif]> Photo by Kathy Pike
Submitted to MnGenWeb by Cassandra Hanson - April 2002
Information obtained from Raymond O. Skaran, Grand Meadow, Minnesota as recorded from tombstones. Published by Mower County Genealogical Society
Reproduced by Cassandra Hanson for Tombstone Transcription project with permission by MCGS. Recordings completed 23 July 1977.
It appears that this is a very old cemetery (ended in 1870). It is located on private property, with a driveway to it for access. Presently it is a fenced-off area with a memorial marker or monument. The marker lists all the people that were buried there, but all original headstones are gone.
The following are the names of the Norwegian settlers buried in the Sever Temanson Cemetery -- interred during the period 1856-1870.
41 Interments:
| | | | |
| --- | --- | --- | --- |
| Last | First Middle Maiden | Birth | Death |
| Braaten | Anders |  unknown |  unknown |
| Branson | Child |  unknown |  unknown |
| Brufalt | Erland |  unknown |  unknown |
| Dalen | Ellen |  unknown |  unknown |
| Espenchied | Child |  unknown |  unknown |
| Espenchied | Child |  unknown |  unknown |
| Florand | Child |  unknown |  unknown |
| Grondalen | Engebret |  unknown |  unknown |
| Haraldsbake | Marta |  unknown |  unknown |
| Haugen | Child |  unknown |  unknown |
| Haugen | Child |  unknown |  unknown |
| Haugen | Erick |  4 Apr 1866 |  Jun 1867 |
| Haugestuen | Nils |  unknown |  unknown |
| Hovda | Child |  unknown |  unknown |
| Hovda | Child |  unknown |  unknown |
| Jobraaten | Ole S. |  unknown |  unknown |
| Johnson | Engebret |  unknown |  unknown |
| Lindelien | Child |  unknown |  unknown |
| Lindelien | Child |  unknown |  unknown |
| Lindelien | Child |  unknown |  unknown |
| Lindelien | Child |  unknown |  unknown |
| Lindelien | Child |  unknown |  unknown |
| Moen | Child |  unknown |  unknown |
| Moen | Child |  unknown |  unknown |
| Nilson | Child |  unknown |  unknown |
| Rustebake | Child |  unknown |  unknown |
| Simonson | Child |  unknown |  unknown |
| Simonson | Child |  unknown |  unknown |
| Simonson | Ole |  20 Feb 1816 | 1864 |
| Skaran | Oline Sivertsen "Lena" |  25 Nov 1866 |  22 Nov 1877 |
| Skarlshaugen | Child |  unknown |  unknown |
| Soromseia | Marit |  unknown |  unknown |
| Stenseth | Child |  unknown |  unknown |
| Stenseth | Child |  unknown |  unknown |
| Syverud | Mikal Olsen |  25 Jan 1867 | 1869 |
| Temanson | Ingre Omsrud |  28 Jun 1826 | 1867 |
| Tuff | Anne |  unknown |  unknown |
| Turhaug | Anders |  unknown | 1856 |
| Ubrekhent | En |  unknown |  unknown |
| Week | Child |  unknown |  unknown |
| Week | Child |  unknown |  unknown |