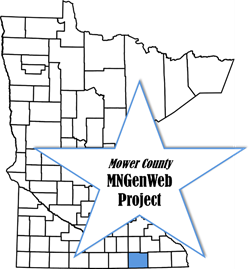 Site Links
Obituaries Collection
Postcards and Photos
External Links
Message Board from Ancestry.com
UsGenWeb Mower County Archives
THE RECORDING OF A CEMETERY
By Thelma Greene Reagan
Today we walked where others walked
On a lonely, windswept hill.
Today we talked where others cried
For loved ones whose lives are stilled.
Today our hearts were touched
By graves of tiny babies.
Snatched from the arms of loving kin,
In the heartbreak of the ages.
Today we saw where
the grandparents lay
In the last sleep of their time.
Lying under the trees and clouds -
Their beds kissed by the sun and wind.
Today we wondered
About an unmarked spot.
Who lies beneath this hallowed ground?
Was it a babe, child, young or old?
No indication could be found.
Today we saw where Mom and Dad lay.
We had been here once before
On a day we'd all like to forget,
But will remember forever more.
Today we recorded for kith and kin
The graves of ancestors past.
To be preserved for generations hence,
A record we hope will last.
Cherish it, my friend.
Preserve it, my friend,
For stones sometimes crumble to dust
And generations of folks yet to come
Will be grateful for your trust.
Welcome to the
Mower County MNGenWeb Project
Mower County Cemetery Information
Visit Find A Grave for more information on Mower County Cemeteries
NOTES REGARDING BEAR CREEK PIONEER AND NORWEGIAN METHODIST CEMETERIES
The Austin Daily Herald had contacted me awhile back about the cemeteries in Mower County and apparently the story appeared in today's Sunday paper:
I received a phone call this afternoon from a gentleman regarding the cemetery we have known as the Bear Creek Pioneer Cemetery. Mr. Hanson, who is 84 years old and grew up in the Bear Creek area, informed me that the cemetery was actually called the Norwegian Methodist Cemetery. He went on to say that many years ago the congregation of Bear Creek split and the Norwegian Methodist Church was formed. There were then two separate churches and two separate cemeteries, Bear Creek Lutheran and Norwegian Methodist.
The Methodist Church closed after a few years and all that remains is the small overgrown cemetery across the road from Bear Creek Lutheran Church.
To complicate things even further Mr. Hanson explained that the cemetery we know as the Sever Temanson Cemetery is also known as the first Bear Creek Lutheran Cemetery, aka Bear Creek Pioneer Cemetery.
Apparently confusion about these three cemeteries has been in existence for some time. Although at one time there were references to a Norwegian Methodist Cemetery, most historical sources also had them mixed up.
Although I am dismayed that a mistake was made, Mr. Hanson has helped to clear up the confusion and shed some light on the state of disrepair of the Norwegian Methodist Cemetery. It is not a part of the Bear Creek Lutheran Cemetery and never has been. Mr. Hanson is the great-grandson of Sever Temanson.
K. Pike
March 1, 2009