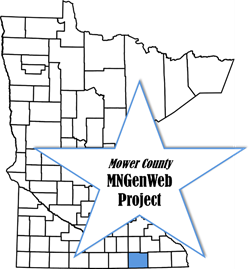 Site Links
Obituaries Collection
Postcards and Photos
External Links
Message Board from Ancestry.com
UsGenWeb Mower County Archives
THE RECORDING OF A CEMETERY
By Thelma Greene Reagan
Today we walked where others walked
On a lonely, windswept hill.
Today we talked where others cried
For loved ones whose lives are stilled.
Today our hearts were touched
By graves of tiny babies.
Snatched from the arms of loving kin,
In the heartbreak of the ages.
Today we saw where
the grandparents lay
In the last sleep of their time.
Lying under the trees and clouds -
Their beds kissed by the sun and wind.
Today we wondered
About an unmarked spot.
Who lies beneath this hallowed ground?
Was it a babe, child, young or old?
No indication could be found.
Today we saw where Mom and Dad lay.
We had been here once before
On a day we'd all like to forget,
But will remember forever more.
Today we recorded for kith and kin
The graves of ancestors past.
To be preserved for generations hence,
A record we hope will last.
Cherish it, my friend.
Preserve it, my friend,
For stones sometimes crumble to dust
And generations of folks yet to come
Will be grateful for your trust.
Welcome to the
Mower County MNGenWeb Project
Mower County Cemetery Information
Visit Find A Grave for more information on Mower County Cemeteries
A History of

The LeRoy Cemetery

LeRoy — LeRoy Township

Mower County, Minnesota
A cemetery association was formed in LeRoy as early as 1857 when, on December 26, a number of citizens assembled at the home of Daniel Caswell. These men were: N.P. Todd, A.J. Palmer, O.D. Walker, William Raymond, Daniel Caswell, Lewis Matthews, William A. Gilson, Isaac Smith, John M. Wykoff, A.D. Parks, W.B. Spencer, James H. Story, J.C. Jones, and A. Fisk. The corporate name of the association was Union Grove Cemetery of LeRoy. The trustees were: G.W. Bishop, Isaac Smith, N.P. Todd, Lewis Matthews, W.B. Spencer, and J.C. Jones. The grounds selected by the above association were situated on the southeast of section 28, and a few bodies were buried there. These grounds proved to be unfit for cemetery purposes, as the lime rock came so near the surface that graves could not be dug to the proper depth.
On March 18, 1861, another cemetery association was formed, also known as the Union Cemetery Association. At their first meeting J.D. Cowles was chosen chairman and P.C. Sheffield secretary. The following were present: William Gilson, T.J. Bishop, F. Bevier, Chas. Smith, Daniel Caswell, Lester Congdon, A.J. Palmer, V.B. Lincoln, J.D. Cowles, D.C. Sheffield, John S. Priest, J.M. Wykoff, and Mr. Hedafint.
At this meeting the present location was selected. The first person buried in the ground was Legrand Johnson.
Previous efforts at perfecting a cemetery association not proving successful, the LeRoy Cemetery Association was formed April 8, 1863. The nine trustees elected at that time were: J.M. Wykoff, Z.B. Daily, Daniel Caswell, Chas. Smith, William Graham, J.D. Cowles, S.P. Bacon, Rev. T.P. Ropes, and William A. Gilson. The association has been continued to the present time, the officers now being: President, H.G. McKee; secretary, J.M. Wykoff; treasurer, W.H. Brown; C.I. Roy, Caleb Lewis, V.A. Nason, S.D. Martz, Ralph Hall, and E.J. Diddams.
The cemetery is a beautiful one, consisting of seven and a half acres in Section 28.
The Catholic Cemetery adjoins it on the east, and there is but a short distance to the Norwegian Cemetery.
Source: The History of Mower County 1911; Transcribed by Kathy Pike