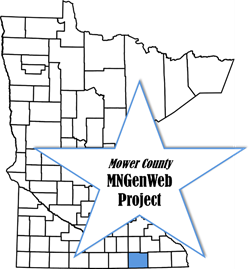 Site Links
Obituaries Collection
Postcards and Photos
External Links
Message Board from Ancestry.com
UsGenWeb Mower County Archives
THE RECORDING OF A CEMETERY
By Thelma Greene Reagan
Today we walked where others walked
On a lonely, windswept hill.
Today we talked where others cried
For loved ones whose lives are stilled.
Today our hearts were touched
By graves of tiny babies.
Snatched from the arms of loving kin,
In the heartbreak of the ages.
Today we saw where
the grandparents lay
In the last sleep of their time.
Lying under the trees and clouds -
Their beds kissed by the sun and wind.
Today we wondered
About an unmarked spot.
Who lies beneath this hallowed ground?
Was it a babe, child, young or old?
No indication could be found.
Today we saw where Mom and Dad lay.
We had been here once before
On a day we'd all like to forget,
But will remember forever more.
Today we recorded for kith and kin
The graves of ancestors past.
To be preserved for generations hence,
A record we hope will last.
Cherish it, my friend.
Preserve it, my friend,
For stones sometimes crumble to dust
And generations of folks yet to come
Will be grateful for your trust.
Welcome to the
Mower County MNGenWeb Project
Mower County Cemetery Information
Visit Find A Grave for more information on Mower County Cemeteries
Lansing Cemetery – Lansing Township
Mower County, Minnesota
Notes/Inscriptions were initially Contributed by Connie and Larry Tonding -- April 2005
Supplemental information also provided by Kathy Pike -- 2010
The following information was taken from the Lansing Cemetery which is located near the Village of Lansing, in Mower County, Minnesota. From Interstate 90 take exit 177 and proceed approximately 4.4 miles North to Lansing Corners Restaurant. Turn East and go 1.2 miles and the cemetery will be on the South side of the road.
This cemetery was established in 1861. I do not know the exact size in acres. With permission I personally walked this cemetery with some help from my husband Larry. I have included as much information as was possible from each family plot.
598 Interments:
| | | | | |
| --- | --- | --- | --- | --- |
| Last | First Middle Maiden | Birth | Death | Notes/Inscriptions etc. |
| Akkerman | David John |  20 Nov 1986 |  21 Nov 1986 |   |
| Akkerman | Doris Helen Seavey |  23 Nov 1919 |  28 Dec 2012 |   |
| Akkerman | Edward John |  12 Jan 1916 |  25 Feb 2003 |   |
| Akkerman | Michael Edward |  16 Jun 1985 |  12 Jul 1985 |   |
| Allas | Adam Joseph |  24 May 1921 |  31 Mar 2011 |   |
| Ames | Esther H. |  2 Jul 1886 |  8 Sep 1892 |   |
| Ames | Mary Avery |  30 Jul 1834 |  24 Oct 1875 | Born Sempronius, NY; Died Mower County, MN |
| Ames | Zalmon |  9 Aug 1818 |  5 Sep 1892 | Born Covington, NY; Died Mower County, MN |
| Anderson | Bernie |  24 Feb 1896 |  29 Jun 1971 | MN Pvt Corps Of Engineers WWI |
| Anderson | Othillia Christiansen | 1897 |  12 Oct 1934 |   |
| Anthonisen | Arleigh I. |  27 Jun 1935 |  11 Dec 2008 |   |
| Anthonisen | Hans Ingwer |  23 Aug 1902 |  16 Dec 1975 |   |
| Anthonisen | Louis Orville |  10 Jun 1933 |  20 Jan 2009 |   |
| Anthonisen | Margaret Leone Teachout |  7 May 1905 |  10 Feb 1973 |   |
| Asa | Unknown | 1783 | 1876 |   |
| Bagley | Lovina |  2 Jul 1846 |  2 Jun 1869 | In loving memory of Lovina Wife of O Bagley |
| Ballantyne | Charles W. |  18 Mar 1893 |  Jun 1972 |   |
| Ballantyne | Cynthia Leonora Herme |  18 Oct 1897 |  29 Sep 1977 |   |
| Ballantyne | James Lloyd |  16 Aug 1931 |  2 Mar 1954 | In Memory of MN Cpl Co A 38 Inf. |
| Bartlett | Charles J. |  Aug 1860 |  14 May 1902 |   |
| Bartlett | John | 1826 |  19 Jun 1891 |   |
| Bassett | Charles H. | 1858 |  14 Oct 1932 |   |
| Bassett | Edgar |  9 Feb 1854 |  9 Jan 1913 |   |
| Bassett | Elias | 1826 | 1907 | small stone to left reads "father" |
| Bassett | Ellen Elizabeth | 1857 |  17 Jun 1941 |   |
| Bassett | Sarah Margaret Van Wie |  3 Jul 1829 |  28 May 1903 | one small stone to right reads "mother"; Wife of E. Bassett |
| Bates | Charles Alonzo |  Feb 1860 |  23 Feb 1944 |   |
| Bates | Uanitta |  23 Jan 1892 |  15 Mar 1972 |   |
| Bauer | Arthur Walter  Sr. |  25 Oct 1917 |  18 Mar 1984 | S1 US Navy WWII |
| Bauer | Frederick Arthur |  15 Apr 1943 |  23 Oct 1944 | Son |
| Bawek | Diane K. Harrington |  25 Jan 1956 |  22 Jan 2014 |   |
| Beadell | Alvah Elester "Al" |  4 Nov 1861 |  25 Aug 1949 |   |
| Beadell | Elizabeth M. "Bessie" Soule |  2 Jun 1873 |  8 Sep 1942 |   |
| Beadell | Lester Hawley |  28 Sep 1894 |  2 Jun 1953 |   |
| Beatty | Clara A. Vaughan | 1855 | 1928 |   |
| Beatty | John F. | 1845 | 1938 |   |
| Beckman | Robert H. | 1885 |  21 Jun 1941 | He giveth his beloved sleep. |
| Berg | Nell Bolstorff |  6 Jun 1908 |  2 Jul 1969 |   |
| Bigler | Abraham C |  27 May 1827 |  22 Aug 1863 |   |
| Bjork | Helen Mae Abbas |  24 May 1916 |  20 Feb 2010 |   |
| Bjork | William C. |  17 Feb 1921 |  27 Feb 1992 |   |
| Bloss | Julia Lois |  16 Jul 1859 |  16 Dec 1947 |   |
| Bloss | Mattie |  unknown |  unknown |   |
| Blowers | Catherine Caroll Caroll |  26 Sep 1845 |  13 Aug 1916 | Born Arcade, NY; his wife |
| Blowers | Edgar Samuel | 1867 |  2 Jan 1953 |   |
| Blowers | Emma |  1 Mar 1882 |  19 Apr 1963 |   |
| Blowers | Emma A. | 1873 |  6 Mar 1884 | Age 11 |
| Blowers | George | 1893 |  3 Jul 1893 |   |
| Blowers | Harold Everett |  5 Mar 1906 |  2 Jun 1920 |   |
| Blowers | Irene Marcella | 1917 |  18 Apr 1919 |   |
| Blowers | James K. |  11 Oct 1844 |  11 Dec 1910 | Born Warsaw, NY, died Austin, MN |
| Blowers | Joseph C. | 1880 |  19 Apr 1943 |   |
| Blowers | Nellie M. Getman |  27 Apr 1870 |  16 Jun 1899 |   |
| Bluhm | Floretta Leona |  11 May 1910 |  21 Jun 1978 |   |
| Bluhm | Fred W. |  9 Apr 1905 |  25 Jul 1942 | Iowa Seaman 1CL US Navy |
| Bollman | R. C. | |  30 Sep 1868 | Top of stone missing |
| Bolstorff | August Frank |  3 Nov 1902 |  3 Mar 1988 |   |
| Bolstorff | Daniel |  31 Oct 1861 |  26 Dec 1922 | Father |
| Bolstorff | Esther Marie Thompson |  3 Oct 1905 |  31 Oct 2000 |   |
| Bolstorff | Frank |  3 Nov 1902 |  3 Mar 1988 |   |
| Bolstorff | Pauline Bruggeman |  28 Nov 1880 |  10 Aug 1949 | Mother |
| Bonnes | Bertha Pearl Norton |  16 Aug 1913 |  25 Dec 1965 |   |
| Bonnes | Henry Garrit "Hank" |  26 Dec 1911 |  4 Jul 1978 |   |
| Bruggeman | Dorothy Irene | 1918 |  2 Apr 1924 |   |
| Bruggeman | Hugo Albert |  9 Jun 1890 |  24 Sep 1969 |   |
| Bruggeman | Tressie F. | 1893 |  27 Mar 1943 |   |
| Bullman | James |  unknown |  unknown |   |
| Bullman | Jennie |  unknown |  unknown |   |
| Bullman | Lottie M. |  12 Nov 1889 |  26 Jul 1970 |   |
| Bullman | Louis K. |  24 Sep 1858 |  1 Apr 1937 |   |
| Bullman | Melinda | 1844 | 1920 | Four small stones: Nellie, Jennie, Father, Mother |
| Bullman | Nellie |  unknown |  unknown |   |
| Bullman | R. C. |  unknown |  30 Sep 1868 |   |
| Bullman | Susan M. |  16 Mar 1869 |  30 Dec 1943 |   |
| Bunge | Donald Henry |  25 May 1924 |  17 Nov 2005 |   |
| Bunge | Lillie Maria Catharina Luehr |  21 Mar 1886 |  25 Nov 1958 | Mother |
| Bunge | Mary Anker | 1926 | 2008 |   |
| Bunge | Paul G. | 1887 |  8 Nov 1943 | Father |
| Burley | Carrie | 1887 | 1903 |   |
| Burton | Infant Son |  unknown |  May 1891 |   |
| Carll | Benjamin |  28 May 1807 |  18 Sep 1902 |   |
| Carll | Benjamin M. |  15 Feb 1840 |  2 Nov 1908 |   |
| Carll | Celia Charlotte Tiegen |  7 Apr 1888 |  17 Jun 1944 |   |
| Carll | Earl Ackley |  5 Sep 1880 |  7 May 1956 |   |
| Carll | Eliza E. |  Jun 1848 |  12 Apr 1940 |   |
| Carll | Ella Frances Littlefield | 1860 |  16 Jan 1949 |   |
| Carll | Ella S. |  19 Dec 1864 |  8 Oct 1877 | Daughter of S and J Carll |
| Carll | Evered Revilo |  14 May 1884 |  3 Feb 1972 |   |
| Carll | Ferdinand Augustus |  21 May 1814 |  16 Mar 1890 |   |
| Carll | Freeman A. |  Jan 1842 |  8 Mar 1912 |   |
| Carll | Grover |  29 Sep 1885 | 1896 | Son of J and M Carll |
| Carll | Henrietta M. Rhoades |  8 Apr 1839 |  16 Mar 1890 | Wife of Augustus Carll |
| Carll | Ira O. |  unknown |  unknown |   |
| Carll | Jahiles W. |  25 Dec 1867 |  16 Oct 1877 |   |
| Carll | Jane Drake |  16 Mar 1823 |  28 Mar 1901 |   |
| Carll | Joseph Dennis |  15 Sep 1856 |  24 May 1906 | Father |
| Carll | Lettie Vaughan |  23 Aug 1879 |  17 Jun 1962 |   |
| Carll | Lindorf Percy |  2 Feb 1877 |  8 Feb 1914 |   |
| Carll | Malina Sylvaina Rhoades |  17 Mar 1850 |  24 Jan 1889 |   |
| Carll | Martha Ann Hamlin |  2 Jun 1808 |  2 Mar 1889 | Wife of Benjamin Carll |
| Carll | Mary Corinthia Rhoades |  11 Sep 1847 |  17 Dec 1916 |   |
| Carll | Mary Bartlett | 1858 | 1931 | Mother |
| Carll | Nora Olive Chandler |  11 Aug 1875 |  16 Jan 1976 |   |
| Carll | Norman |  9 Mar 1845 |  3 Apr 1923 |   |
| Carll | Percy Lindorf | 1877 | 1914 |   |
| Carll | Revilo A. |  4 Dec 1845 |  15 Feb 1934 |   |
| Carll | Roy M. |  Sep 1873 |  31 Mar 1934 |   |
| Carll | Samuel |  31 Aug 1811 |  19 Mar 1878 |   |
| Cart | Cora May Howsare |  11 Feb 1874 |  21 May 1956 |   |
| Cart | Gail Henry |  19 Sep 1902 |  8 May 1974 |   |
| Cart | Minna Edna Walker |  27 Dec 1903 |  28 May 1934 |   |
| Cart | William Henry |  14 Mar 1867 |  29 Apr 1947 |   |
| Cerny | Anton Frank |  26 Jan 1882 |  24 Feb 1972 |   |
| Cerny | Jessie Violet Christensen |  25 Jan 1887 |  28 Jul 1969 |   |
| Cerny | Joseph Frank |  16 Jul 1913 |  18 Apr 2003 |   |
| Cerny | Maynard Arthur |  2 Aug 1915 |  10 Feb 2002 |   |
| Cerny | Steven Allen |  7 Jan 1953 |  23 Feb 1956 |   |
| Chaffee | Ellen Henrietta Lien |  6 Sep 1906 |  12 Oct 1971 |   |
| Chaffee | Hulda Henrietta Hale |  16 Oct 1884 |  4 Feb 1958 |   |
| Chaffee | John Edward |  4 Feb 1905 |  11 Mar 1983 |   |
| Chaffee | John Ethel |  Nov 1849 |  16 Sep 1929 | Father |
| Chaffee | Josephine R. Bassett | 1854 |  16 Dec 1936 | Mother |
| Chaffee | Nellie Gertrude Vaughn |  13 Apr 1886 |  22 Dec 1970 | nee Vaughn |
| Chaffee | Ray D. | 1883 |  14 Feb 1946 |   |
| Chaffee | Roy E. |  2 Oct 1885 |  8 Feb 1979 |   |
| Christiansen | Arthur | 1899 | 1912 |   |
| Christiansen | Mary | 1861 | 1935 | Mother |
| Christiansen | Ole | 1860 |  30 Jul 1944 | Father |
| Clough | A. |  unknown | 1866 |   |
| Clough | Polina |  27 Feb 1814 |  12 Dec 1896 | Mother; At Rest; Born Ryegate, VT; Died Red Rock, MN |
| Coogan | Edith F. Dickens |  5 Nov 1891 |  4 Jan 1949 | Mother |
| Coogan | Ruth | 1901 |  unknown |   |
| Coogan | William |  11 Sep 1883 |  14 Jul 1923 | Father |
| Corkhill | Minnie | 1897 | 1923 |   |
| Corkill | Minnie Pearl Lembrich |  12 Oct 1897 |  13 Apr 1923 |   |
| Crawford | Mordecai |  22 Aug 1846 |  unknown |   |
| Crawford | Ora A. Bassett | 1857 | 1903 | On the back side of the stone reads: Ora A wife of M Crawford |
| Cummings | Dorothy I. |  27 Oct 1919 |  8 Jun 1996 |   |
| Cummings | Esther Henrietta Bunge |  3 Sep 1911 |  6 Nov 1996 |   |
| Cummings | Evelyn Marie |  3 Jun 1932 |  24 Sep 1933 |   |
| Cummings | Gertrude M. |  29 Nov 1883 |  22 Apr 1965 |   |
| Cummings | Greg Owen |  2 Nov 1957 |  29 Jul 1968 | Large stone with family name and Joh O Married Dec 15, 1956 Carol R  Parents of Greg, Lynn, Clark |
| Cummings | Harold Eugene |  27 Aug 1906 |  19 Feb 1994 |   |
| Cummings | John Owen |  5 Oct 1938 |  18 Jan 2011 |   |
| Cummings | Lois Ruth |  29 May 1934 |  18 Jan 2004 |   |
| Cummings | Owen Webster |  12 Apr 1875 |  28 Feb 1964 |   |
| Cummings | Richard Paul |  24 Jul 1943 |  31 Mar 2011 |   |
| Currie | James R. | 1873 | 1939 | Father |
| Dampman | Henry Samuel |  26 May 1886 |  11 Dec 1958 |   |
| Danley | Donald Stimpson | 1920 |  25 Mar 1922 |   |
| Danley | Louis Evan | 1919 |  11 May 1919 |   |
| Dawes | Lucy Minnie Carll | 1879 |  23 Dec 1951 | Mother |
| Dawes | Norman Carl |  30 Dec 1906 |  20 Nov 1987 |   |
| Dawes | William Campbell |  27 Aug 1863 |  12 Jul 1944 | Father |
| Dawes | William Cilfford |  13 Apr 1912 |  30 Apr 1978 |   |
| Dickens | Colman E. |  8 Feb 1861 |  6 Jul 1933 | Sgt US Army World War II |
| Dickens | Lucy A. Gould |  14 Apr 1868 |  30 Aug 1955 | Single stone behind and to one side reads GGGrandmother Lucy A 1868-1955 |
| Drucker | Jeannette Vandebrake |  15 Oct 1917 |  12 Aug 2009 |   |
| Duecher | Frankie |  unknown |  20 Jan 1864 |   |
| Duecher | Freddie |  unknown |  20 Jan 1864 |   |
| Duecher | Mary R. |  7 Sep 1831 |  30 Sep 1859 | A larger stone reading: Mary R. wife of E DUECHER, Died Sep 31, 1859 Aged 28 yrs & 23 days |
| Eckblad | Philip J. |  3 Oct 1940 |  16 Jun 1980 |   |
| Ellis | Dale T. |  4 Aug 1908 |  10 Apr 1979 |   |
| Ellis | Melda Jeanette Benson |  3 Sep 1915 |  26 May 1989 |   |
| Ellis | Perl Jacob |  18 Nov 1881 |  31 Dec 1969 | Father |
| Ellis | Susie V. McMullin |  21 Jul 1881 |  2 Jun 1960 | Mother |
| Ewin | Lulu May Bassett |  10 Aug 1883 |  11 Jun 1958 |   |
| Feldt | Mathilda W. | 1872 |  20 Feb 1949 |   |
| Field | Elizabeth M. | 1864 |  1 Sep 1929 |   |
| Figart | Edwin J. | 1906 |  7 May 1933 | Son |
| Figart | Emma E. |  21 Oct 1903 |  3 Apr 1986 | These smaller stones are situated left to right behind the larger family stone. |
| Figart | Ida May Richards |  13 Feb 1868 |  4 Jul 1960 | Mother |
| Figart | Jacob M. | 1853 | 1909 | Father |
| Figart | Thelma |  29 Dec 1900 |  2 Aug 1986 |   |
| Fletcher | Richard Dean |  25 Aug 1939 |  25 Aug 1939 |   |
| Foley | Angela Jo Griese |  22 May 1964 |  17 Jul 2006 |   |
| Foote | Celia Elmina Russell | 1811 | 1875 |   |
| Foote | Charles S. |  24 Feb 1846 |  21 Sep 1872 |   |
| Foote | Elihu L. |  22 Feb 1808 |  2 Jan 1881 |   |
| Foote | Helen L. Soule |  27 Sep 1865 |  22 Nov 1905 |   |
| Foote | Nettie E. |  unknown |  11 Oct 1870 | Daughter of GM & AS Foote |
| Foote | Perry L. |  unknown |  21 Jan 1871 | Son of GM & AS Foote |
| Foote | Walter |  unknown |  unknown |   |
| Foote | Willie W. |  4 May 1850 |  16 Oct 1852 | Son of CS and PA Foote |
| Fowler | Charles Homer |  17 Jul 1892 |  9 Feb 1924 |   |
| Fowler | Clara DeYoung |  28 Jul 1862 |  4 Mar 1935 |   |
| Fowler | Hannah Tyler |  9 May 1829 |  20 Jul 1915 |   |
| Fowler | Nellie Ruth |  20 Aug 1896 |  11 Feb 1974 |   |
| Fowler | William Marshall |  4 Aug 1853 |  9 Oct 1923 |   |
| Frazier | Cora Belle Carll |  15 Oct 1873 |  20 Oct 1893 |   |
| Fuller | Avis D. Anderson | 1929 | 1949 |   |
| Fuller | Mary Lucy |  25 Apr 1824 |  16 Jul 1916 | Born: Cainsville, NY |
| Fuller | Sidney L. |  13 Jan 1856 |  5 Mar 1931 | Born: Millburn, Illinois |
| Fuller | William Welsh |  17 Feb 1822 |  7 Nov 1906 | Born: Cainsville, NY |
| Geer | Alphonso |  3 Mar 1809 |  15 May 1882 |   |
| Gnada | Lucy Alberta Coogan |  21 Feb 1921 |  25 Oct 2019 |   |
| Graffeo | Daniel |  27 Dec 1938 |  20 Jan 2012 |   |
| Graffeo | Lois Elizabeth Smith |  4 Nov 1950 |  24 Aug 2003 |   |
| Granle | Anton |  20 Dec 1892 |  25 Sep 1960 |   |
| Granle | Darrel D. "Dale" |  22 Apr 1931 |  16 Oct 2003 | A1C US Air Force |
| Granle | Elsie Irene Kerr |  29 Sep 1895 |  20 Aug 1971 |   |
| Griese | Mary Jo Nielsen |  12 Nov 1940 |  3 Sep 2010 |   |
| Grimshaw | Ada E. | 1864 | 1864 | Aged 6 weeks; Child of GW and LE Grimshaw |
| Grimshaw | Adelbert S. | 1864 | 1869 | Child of GW and LE Grimshaw |
| Grimshaw | George W. |  10 Jan 1833 |  16 Apr 1904 | Father; Born in NY |
| Grimshaw | Lorana E. Hanson | 1829 | 1921 | Mother; Wife of G.W. Grimshaw |
| Hagstrom | Alice Ann Bruggeman |  18 Apr 1889 |  12 Feb 1973 |   |
| Hagstrom | George Arthur |  21 Nov 1882 |  2 Mar 1946 |   |
| Hale | Susie Charlotte Wells |  11 Jan 1869 |  4 Feb 1914 |   |
| Hall | Davis K. |  15 Jun 1843 |  4 Apr 1925 | Veteran |
| Hansen | Bert J. |  18 Jul 1884 |  24 Feb 1929 |   |
| Hansen | Mary Elizabeth |  30 May 1915 |  5 Oct 1915 |   |
| Harrington | Cecil |  unknown |  14 Apr 1919 |   |
| Harrington | Donald Edmond | 1920 |  1 May 1938 |   |
| Harrington | Donna Jean |  13 May 1958 |  13 May 1958 |   |
| Harrington | Ellen J. |  1 Jul 1854 |  30 Jul 1907 | Also Large stone with family name |
| Harrington | Iva Truth Noffsinger |  21 Jan 1892 |  9 Mar 1951 |   |
| Harrington | John Debois |  Jul 1854 |  17 Aug 1913 |   |
| Harrington | Leonard H. |  14 Jul 1914 |  16 Feb 1985 | A MM2 US Navy WWII Veteran of Foreign Wars of the United States |
| Harrington | Martha C. Heath | 1829 | 1898 | At rest; Mother; Wife of O. Harrington |
| Harrington | Merle Eleanor Burtch |  4 Oct 1920 |  26 Nov 2020 |   |
| Harrington | Oramel Warren | 1829 | 1899 | Father |
| Harrington | Verner E. |  28 Jan 1888 |  23 Oct 1964 |   |
| Harrington | Verner J. "Bud" |  7 Dec 1923 |  29 Sep 2019 |   |
| Harris | Benjamin H. |  13 Feb 1823 |  28 Jun 1899 |   |
| Harris | Catherine M. Cross |  21 May 1840 |  6 Mar 1883 | wife of B Harris; two smaller stones BH and CMH |
| Hartley | Deborah Borden |  20 Aug 1808 |  31 Jul 1867 | Wife of Samuek Hartley |
| Hartley | Harrison H. | 1833 |  19 Jun 1906 |   |
| Hartley | Samuel Harrison |  28 Feb 1808 |  31 Jul 1869 |   |
| Hawley | Albert L. | 1871 |  10 Mar 1872 | Son of L.C. and A.L. |
| Hellenbolt | Ann Conroy |  16 Jan 1830 |  Feb 1915 |   |
| Hellenbolt | Esther |  unknown |  21 Dec 1895 |   |
| Hellenbolt | John B |  14 Jan 1832 |  25 Jul 1891 |   |
| Henderson | Caroline S. Bassett |  31 Aug 1851 |  28 Nov 1914 |   |
| Henderson | Joseph |  1 Aug 1849 |  7 Oct 1908 | Post 66 GAR |
| Heskett | Franklin |  23 Apr 1871 |  10 Sep 1959 |   |
| Heskett | Joanne | 1938 | 1940 |   |
| Heskett | Lucinda Ecker |  16 Sep 1872 |  12 Jun 1958 |   |
| Hesler | Caroline Elizabeth "Carrie" Smith |  2 Apr 1851 |  30 Oct 1922 |   |
| Hesler | George Saxby |  27 Feb 1843 |  23 Mar 1920 | Co. 1 Ohio Inf. Post 66 GAR |
| Holmes | George Ellsworth | 1863 |  24 Mar 1898 |   |
| Holmes | Harriet Sabin | 1824 |  Oct 1866 |   |
| Holmes | Hector Adams |  7 Jan 1829 |  22 Oct 1902 |   |
| Holmes | Helen C. Lyons | 1840 |  Oct 1894 |   |
| Holmes | Olive A. Williamson | 1829 |  Jan 1860 |   |
| Holmes | Phillis | 1893 | 1898 | daughter of George E. |
| Hopfe | Mary Katherine | 1924 |  19 Aug 1924 |   |
| Huisinga | Bertha Lucille |  14 Apr 1907 |  15 Oct 1972 | Wife of Harm Huisinga |
| Huisinga | Harm |  7 Mar 1909 |  16 May 1992 | CM1 US Navy WWII Seabees |
| Hummel | Dona |  26 Oct 1966 |  14 Feb 2020 |   |
| Hummel | Donald David |  9 Nov 1934 |  22 Sep 2020 |   |
| Jeffries | Charles C. | 1866 |  4 Dec 1942 |   |
| Jeffries | Mina L. | 1869 |  9 Mar 1946 |   |
| Jensen | Caroline F. |  22 Dec 1861 |  1 Dec 1906 | Wife of C. Jensen |
| Jensen | Christian |  9 Apr 1862 |  8 Aug 1919 |   |
| Johnsen | Children |  unknown |  unknown |   |
| Johnsen | Lillian M. | 1881 | 1937 | His wife; Helen Olive Harriet |
| Johnsen | William Peter | 1869 |  31 Mar 1954 |   |
| Johnson | Daniel Hayes | 1861 |  9 Jan 1933 |   |
| Johnson | Louise Lyons | 1898 |  22 Jul 1938 |   |
| Johnson | Martha D. "Mattie" Smith |  20 Dec 1869 |  1 Oct 1903 |   |
| Juhnke | Albert | 1864 | 1941 |   |
| Justice | Gerald E. |  25 Feb 1924 |  14 Feb 1946 | Minnesota Motor Mch Mate 2CL US |
| Keil | Ella E. |  28 Jun 1908 |  Feb 1998 | Grave at the SE corner marked only by a basket of rocks |
| Keil | John William |  21 Dec 1899 |  3 Jun 1973 |   |
| Kelly | Henry |  11 Jun 1795 |  5 Dec 1861 | Co D Bracketts Minnesota Cav |
| Kent | J. F. |  18 Apr 1838 |  18 Oct 1879 |   |
| King | Amelia Jeanette Rhoades |  7 Jul 1852 |  21 Oct 1927 |   |
| King | Catherine Judah Dennis |  2 Feb 1881 |  28 Dec 1956 | Mother |
| King | Nyla Jean Baker |  6 Jan 1919 |  2 Nov 1997 | Wife |
| King | Roy Clarence |  27 Jan 1916 |  28 Sep 1989 | Son |
| King | Vance Alverto |  10 Dec 1875 |  28 Jun 1933 |   |
| Kinyon | Frankie E. |  29 Oct 1871 |  17 Mar 1872 |   |
| Klingfus | Robert Henry |  25 Mar 1928 |  31 Oct 1973 |   |
| Klock | Helen Ardella |  26 Nov 1912 |  4 Nov 1997 | Married Aug. 31, 1933 |
| Klock | LaMon Larry |  24 Jan 1942 |  21 Jun 1942 |   |
| Klock | Loyal Robert |  14 Jul 1911 |  7 Nov 1997 | Married Aug. 31, 1933 |
| Koster | Leola Jan Nielsen |  12 Mar 1947 |  1 Jul 1991 |   |
| Koster | Richard Louis |  10 Dec 1947 |  11 Dec 2007 |   |
| Krueger | Clifford Adam "Pete" |  29 Jun 1913 |  11 Oct 1992 | "Pete" married July 22, 1939 |
| Krueger | Doris Elizabeth "Dorry" Coogan |  5 Jun 1915 |  28 Jun 1998 | "Dorry" married July 22, 1939 |
| LaBar | Clinton John |  15 Oct 1903 |  30 May 1975 |   |
| LaBar | Daniel Jayne |  2 Feb 1801 |  11 Jan 1880 |   |
| LaBar | Frankie | 1869 | 1870 |   |
| LaBar | George Samuel |  18 Mar 1877 |  11 Nov 1935 |   |
| LaBar | Hampton Dodson |  29 Aug 1830 |  7 Mar 1903 |   |
| LaBar | Herbert Melville |  24 Mar 1849 |  13 Sep 1892 |   |
| LaBar | Jennie Celia |  9 Jan 1871 |  18 Feb 1871 |   |
| LaBar | Jessie Violetta |  29 Mar 1872 |  19 May 1891 |   |
| LaBar | Mary Ann Stokes |  6 Jun 1848 | 1920 |   |
| LaBar | Matilda Hughes | 1829 | 1899 |   |
| LaBar | Nettie Chaffee |  19 Nov 1877 |  Feb 1973 |   |
| LaBar | Orlando Clinton |  29 May 1846 |  22 Jun 1933 |   |
| LaBar | Susan Dodson |  9 Dec 1804 |  17 Oct 1876 |   |
| LaBar | Theodore Nelson |  23 Sep 1843 |  14 Apr 1878 |   |
| LaBar | Una Ann Cameron |  29 Sep 1908 |  23 Nov 1988 |   |
| LaDue | Kathryn Martha Miller |  18 Oct 1924 |  18 Nov 2012 |   |
| LaVonne | Ollene |  20 Apr 1924 |  2 Apr 2012 |   |
| Lembrich | Jacob Charles "Jakie" | 1925 | 1933 |   |
| Lembrich | Mary Elizabeth "Mamie" Hesler |  28 Nov 1880 |  17 Dec 1939 |   |
| Lembrich | Phillip |  3 Jun 1866 |  4 Sep 1928 |   |
| Lembrick | William Henry |  18 Aug 1907 |  5 Aug 1974 |   |
| Lester | Baby Boy |  25 Jan 1926 |  31 Jan 1926 |   |
| Leutink | Ollene Lavonne Granle |  20 Apr 1924 |  2 Apr 2012 |   |
| Lewis | Alvera "Vena" Gehritz | 1870 |  30 Jan 1944 |   |
| Lewis | Betty Josephine |  4 Nov 1936 |  22 Mar 2007 |   |
| Lewis | Clarence Oliver "Toots" |  10 Jul 1908 |  6 Oct 1979 | Father |
| Lewis | Cleaota Margurite Porath |  4 Aug 1908 |  4 Sep 2002 | Mother |
| Lewis | Evelyn F. Segar |  17 Nov 1912 |  22 Dec 2003 |   |
| Lewis | Louie J. | 1862 |  22 Jan 1946 |   |
| Lewis | Richard Lee |  24 Jun 1934 |  26 Feb 1993 | Son |
| Lewis | Robert Eugene |  15 Mar 1933 |  4 Jun 1952 | Son |
| Lewis | Sharon Sue Wencl |  15 May 1941 |  7 Sep 2017 |   |
| Lewis | Wallace "Bud" Cornelius |  3 Aug 1906 |  4 Feb 1997 |   |
| Lewis | William |  16 Oct 1939 |  8 Nov 2013 |   |
| Lisk | Cloyd Wright |  8 Oct 1894 |  24 Mar 1983 | Father |
| Lisk | Cloyd Wright Jr. |  13 Sep 1935 |  30 Jun 1999 | "A Good Man" |
| Lisk | Gladys Lucille Nash |  2 Jul 1898 |  1 Dec 1949 | Mother |
| Luthe | Albert Raymond |  28 Feb 1910 |  2 Apr 1990 | Married Aug. 7, 1937 |
| Luthe | Beulah M. |  21 May 1920 |  unknown | Married Aug. 7, 1937 |
| Lyons | Faye Eugene |  31 Oct 1871 |  27 Oct 1885 |   |
| Lyons | Harcar |  23 Nov 1842 |  23 Jul 1919 | Co. B Minnesota Cav (metal star "Post 66" GAR) |
| Lyons | Mary A. Bernier |  12 Oct 1849 |  19 Jul 1929 |   |
| Matthiesen | Adonnis W. |  9 Apr 1921 |  15 Sep 1972 | MN PFC Army Air Forces WWII |
| Matthiesen | Dean Anton |  4 Dec 1961 |  9 Mar 1965 |   |
| Matthiesen | Duane Kenneth |  21 Dec 1950 |  16 May 2007 |   |
| Max | B. | 1892 | 1923 |   |
| Maxfield | C. L. |  5 Apr 1826 |  30 Jul 1893 |   |
| Maxfield | Rosetta |  27 Oct 1820 |  16 Sep 1893 |   |
| Mayer | Victoria Jayne Miller |  8 Jan 1947 |  3 Oct 2012 |   |
| Mayzlik | Chester Joseph |  18 Apr 1916 |  19 May 1966 | MN TEC 4 166 General Hosp, WWII Post 66 GAR |
| Mayzlik | Donald LaVern |  24 Oct 1921 |  8 Dec 2006 |   |
| Mayzlik | Frank | 1888 |  10 Dec 1946 | Father |
| Mayzlik | Frank Russell |  14 Apr 1945 |  10 Oct 2017 |   |
| Mayzlik | Isaac Luke |  8 Apr 2015 |  8 Apr 2015 |   |
| Mayzlik | Mina Leona Bassett |  30 Sep 1885 |  14 Jun 1970 | Mother |
| Mayzlik | Robert Charles |  30 Mar 1913 |  10 Feb 1987 |   |
| Mayzlik | Russell Frank |  13 Sep 1914 |  25 Dec 1975 |   |
| Mayzlik | Ruth Signe Thompson |  7 Dec 1919 |  19 Oct 1980 |   |
| McCall | Julia A. Caldwell | 1812 | 1891 |   |
| McCall | Milton |  22 Sep 1801 |  1 Mar 1891 |   |
| McIntyre | Albert H. |  30 Aug 1879 |  25 Nov 1879 | Child of H.M. and A.C. McIntyre |
| McIntyre | Herbert E. |  3 Oct 1876 |  28 Feb 1877 | Child of H.M. and A.C. McIntyre |
| McNairn | Joseph Alexander |  2 Feb 1892 |  9 Apr 1959 |   |
| McNairn | Maybelle Beatrice Salisbury |  4 Feb 1900 |  5 Jul 1986 |   |
| Miller | Alex Frank |  2 Jun 1888 |  8 Feb 1969 |   |
| Miller | Alexander Daniel |  21 Jul 1922 |  25 Aug 2002 |   |
| Miller | Amanda Elizabeth Bolstorff |  2 Jul 1892 |  4 Mar 1969 |   |
| Miller | Burkhart | 1857 |  7 Sep 1938 |   |
| Miller | Eleanor A. | 1835 | 1905 |   |
| Miller | Herman Henry |  15 Jul 1897 |  18 Sep 1975 |   |
| Miller | Michael B. | 1822 | 1878 |   |
| Miller | Olive Hissett |  31 Jan 1922 |  27 Mar 1995 |   |
| Miller | Richard Herman |  15 Sep 1915 |  2 May 1996 |   |
| Mitchell | Gardner E. |  11 Jun 1795 |  5 Dec 1861 |   |
| Morrill | Lillian |  14 Sep 1864 |  26 Feb 1896 | Wife of I N Morrill |
| Neller | Edward J. | 1859 |  30 Jan 1938 | Father |
| Neller | Edwin M. |  Jun 1870 |  24 Aug 1943 |   |
| Neller | Esther Mae |  17 Aug 1893 |  15 Aug 1969 | The larger family stone is located between two large shrubs |
| Neller | Margaret E. "Maggie" Wobke |  21 Jun 1875 |  23 Nov 1921 |   |
| Neller | Nellie W. Richards |  30 Oct 1864 |  12 May 1955 | Mother |
| Nielsen | Doris Mae Goebel |  16 Jun 1917 |  17 Jun 1995 | Homemaker, Wife and Mother |
| Nielsen | Jens Peter |  29 Oct 1885 |  10 Jun 1969 |   |
| Nielsen | John K. | 1890 | 1940 |   |
| Nielsen | Leonard Albert |  30 Jun 1915 |  10 Dec 1969 | MN Pvt US Army WWII |
| Nielsen | Ratie |  13 Apr 1893 |  15 Nov 1962 | Married Mar 9, 1910 |
| Nipp | Virgil Dean |  4 Feb 1938 |  11 Jul 2006 |   |
| Opsahl | Odine Bernell |  15 Oct 1923 |  18 Mar 1980 | PFC US Army WWII |
| Orth | Erma C. May |  30 Jun 1917 |  5 Jul 2002 | Mother of Eugene, Mary, Connie, and Robert |
| Orth | Eugene "Gene" |  17 Aug 1939 |  24 Mar 2015 |   |
| Padgett | John |  22 Dec 1818 |  10 Mar 1895 |   |
| Paine | Bradley Palmer |  2 Jul 1964 |  29 Oct 1994 | Loving Son and Brother |
| Palmeter | Elizabeth Finett "Nettie" Hines |  5 Jan 1848 |  18 Apr 1906 |   |
| Palmeter | Susanna Dodge |  15 Dec 1818 |  17 Mar 1886 |   |
| Palmeter | William Odian |  28 Jan 1818 |  30 Nov 1894 |   |
| Patterson | Albert |  10 Apr 1867 |  26 Oct 1967 | Father |
| Patterson | Kittie Mae Kennedy | 1869 |  9 Dec 1936 |   |
| Patterson | Ralph E. | 1894 | 1936 | Son |
| Perry | Hanford C. |  unknown | 10-Apr |   |
| Perry | Harlan B. |  24 Mar 1857 |  8 Nov 1880 |   |
| Peterson | Donald Lavane |  15 May 1922 |  22 Dec 1997 | Sgt. US Army WWII Purple Heart, Blue Star Medal |
| Peterson | Donald W. |  29 Aug 1938 |  5 Nov 2000 |   |
| Peterson | Elsie Mae |  8 Aug 1901 |  27 Apr 1990 |   |
| Peterson | Gustav Oscar |  8 Jul 1896 |  5 Jun 1978 | 2nd stone placed by Veterans read Gustav O PETERSON Cpl US Army WWI |
| Peterson | William H. |  27 Nov 1929 |  21 Jul 2008 |   |
| Phillips | Edward J. | 1830 | 1907 | Veterans of Foreign Wars United States |
| Phillips | Harriet F. | 1828 | 1909 |   |
| Playle | Baby Boy | 1918 | 1918 |   |
| Playle | Lorhain McCoy |  31 Oct 1876 |  24 Jan 1962 |   |
| Playle | Silas William |  Jun 1874 |  19 Sep 1931 |   |
| Pollock | Alexander J. |  12 Jul 1880 |  1 Sep 1969 | Father |
| Pollock | Harold Vermilyea |  18 May 1913 |  13 Jun 1994 |   |
| Pollock | Ida Belle Vermilyea |  30 Aug 1881 |  30 Aug 1965 | Mother |
| Pollock | May Elizabeth Latimer |  23 Nov 1918 |  3 Sep 2001 |   |
| Prantner | Ella Emily Quiram |  28 Jun 1908 |  27 Feb 1998 |   |
| Qua | Emma E. Atwood |  24 Jan 1860 |  9 Jan 1894 |   |
| Qua | John Johnson |  16 Oct 1856 |  14 Sep 1937 |   |
| Qua | Willie |  20 Nov 1887 |  23 Mar 1889 | son of JJ and EE Qua |
| Rasmussen | Anna |  23 Jul 1893 |  Dec 1980 |   |
| Rasmussen | Margery Marie | 1916 |  4 Mar 1947 |   |
| Rasmussen | Walter V. | 1884 |  20 Sep 1922 |   |
| Rector | Minnie | 1892 | 1968 |   |
| Rector | Walter G. | 1885 | 1948 |   |
| Reineke | Duane |  4 Oct 1956 |  1 Aug 2019 |   |
| Reineke | Krista Ann |  9 Dec 1979 |  16 Dec 2013 |   |
| Rhoades | Mariah Hunter |  19 Oct 1825 |  1 Jan 1910 |   |
| Rhoades | Oscar J. |  17 Sep 1845 |  Jan 1918 |   |
| Rice | Rose | 1867 | 1941 |   |
| Richards | Almira V. Kelly |  27 May 1845 |  7 May 1919 |   |
| Richards | Edwin O. |  8 Aug 1835 |  14 May 1907 |   |
| Richards | Edwin Octave Jr. |  27 Feb 1872 |  19 Sep 1950 |   |
| Richards | Guy B. | 1873 |  26 Dec 1876 |   |
| Riker | Harry M. | 1863 |  27 Sep 1882 |   |
| Robinson | Henry |  7 Jul 1794 |  19 Nov 1878 |   |
| Robinson | Henry Martin |  9 Feb 1821 |  14 Jun 1865 |   |
| Robinson | Sarah Asenath Soule | 1838 |  5 Aug 1866 |   |
| Robinson | Will |  30 Apr 1860 |  17 Apr 1879 | Son of JE and L Robinson |
| Roe | Catherine Dickerson |  15 Aug 1856 |  14 Jan 1920 |   |
| Roe | Frank C. |  21 Dec 1879 |  4 Nov 1884 | Son of HB and K Roe |
| Roe | Heman B. |  22 Nov 1841 |  17 Feb 1916 |   |
| Roe | Lue Dickerson |  25 Jul 1881 |  21 Jul 1952 |   |
| Roe | Mary M. Armstrong |  13 Jan 1810 |  6 Apr 1901 | Mother |
| Rolfson | Duane Earl |  8 Oct 1932 |  14 Dec 2017 |   |
| Rolfson | Elna Alice "Ellie" Erickson |  2 Feb 1931 |  1 Jan 2004 |   |
| Ross | Rodney Alan |  22 Jan 1949 |  13 Jul 1967 | Son |
| Rossow | Thelma Marie Miller |  14 Oct 1917 |  25 Aug 2000 |   |
| Rostron | Celia A. |  9 Feb 1840 |  28 Oct 1923 |   |
| Rostron | Mary | 1811 | 1876 |   |
| Rostron | William |  1 May 1828 |  14 Dec 1889 |   |
| Royer | Laurie Kay Nipp |  2 Dec 1961 |  15 May 2015 |   |
| Rudd | Dorothy Ann |  13 Dec 1931 |  18 Feb 1932 |   |
| Rudd | Jessie Pearl Cart |  2 Feb 1905 |  8 Mar 1986 |   |
| Rudd | Samuel |  10 Mar 1897 |  1 Feb 1995 |   |
| Runyon | Benjamin Franklin | 1869 |  7 Dec 1944 |   |
| Runyon | Susan Virginia Washabaugh | 1867 | 1951 |   |
| Schmidt | Audrey Jean Whipple |  13 Aug 1933 |  9 Dec 2003 |   |
| Schmidt | George G. | 1892 |  24 Nov 1936 | |