Welcome to the
Mower County MNGenWeb Project
Angell Pioneer Cemetery
Also known as Bennington Pioneer Cemetery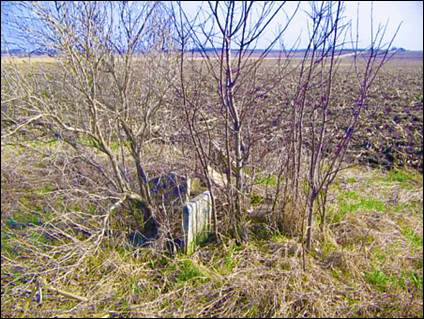 Located in Section 31 of Bennington Township, Mower County, Minnesota, Angell Cemetery is also called Bennington Pioneer Cemetery, and contains 3 burials. The cemetery had not been located until recently, but it is believed that there are three stones piled along a fence line, and that is all that remains (November 2006). The cemetery has not been registered or plotted at the courthouse.
The cemetery is in a field south of Grand Meadow, about 7 miles south of Grand Meadow on County Road 8. About 4 miles south of Grand Meadow, you will pass County Road 3 which goes west towards Austin, and a mile farther south, on County Road 8, where County Road 3 goes east towards Ostrander. Continue south on County 8 for two more miles.
Bill Sweetser's place is on the corner of 170th Street. Turn east on his gravel road, go about 3/4 of a mile. Look south, about 25 to 50 feet into the field, and a little more from the intersection of the two gravel roads. There is a little tree or bush, with three stones there. -- Sue Doocy (March 2007)
Bennington Pioneer Cemetery Find A Grave Page
Four Interments with links to Find A Grave:
Angell, Lucian A. (Apr. 8, 1829 - Jan. 17, 1866)
Angell, Lucy Woodward (Mar. 24, 1797 - Aug. 8, 1862)
Angell, Robert (Mar. 9, 1792 - Apr. 29, 1867)
Hutchinson, Austin (Oct. 22, 1812 - Dec. 1, 1871)
Sources:
1. "Mill on the Willow"
2. "A History of Mower County, Minnesota 1911," by various authors. Library of Congress No. 84-062356
4. Susan Doocy, susandoocy@yahoo.com