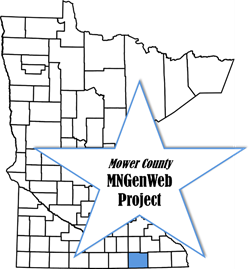 Site Links
Obituaries Collection
Postcards and Photos
External Links
Message Board from Ancestry.com
UsGenWeb Mower County Archives
THE RECORDING OF A CEMETERY
By Thelma Greene Reagan
Today we walked where others walked
On a lonely, windswept hill.
Today we talked where others cried
For loved ones whose lives are stilled.
Today our hearts were touched
By graves of tiny babies.
Snatched from the arms of loving kin,
In the heartbreak of the ages.
Today we saw where
the grandparents lay
In the last sleep of their time.
Lying under the trees and clouds -
Their beds kissed by the sun and wind.
Today we wondered
About an unmarked spot.
Who lies beneath this hallowed ground?
Was it a babe, child, young or old?
No indication could be found.
Today we saw where Mom and Dad lay.
We had been here once before
On a day we'd all like to forget,
But will remember forever more.
Today we recorded for kith and kin
The graves of ancestors past.
To be preserved for generations hence,
A record we hope will last.
Cherish it, my friend.
Preserve it, my friend,
For stones sometimes crumble to dust
And generations of folks yet to come
Will be grateful for your trust.
Welcome to the
Mower County MNGenWeb Project
Mower County Cemetery Information
Visit Find A Grave for more information on Mower County Cemeteries
Cemetery Information
From History of Mower County 1911
Cedar City Cemetery
This cemetery is pleasantly located on the south one-half of section 32, and contains three fourths of an acre of land. It was surveyed in 1879 by G.H. Clough, and contained at that time forty-two lots, 18x20. This was used as a burial place a number of years before it was platted. The first burial here was that of a man named Robinson, assistant editor of the Mower County Mirror.
Dexter Cemetery
The village cemetery is located one-half mile north of the business portion of the town, in the northwest quarter of section 13. It is on the main highway and consists of two acres of nice high ground, which slopes east and also west. It was platted in 1889 and laid out in seventy-two main or principal lots and 306 smaller or outside lots. The cemetery is under control and management of the village council.
Grand Meadow Cemetery
The Grand Meadow Cemetery is suitably located, and well cared for. On March 11, 1873, a meeting of citizens was held, and various sums were subscribed for the purchase of a cemetery. Temporary officers were appointed as follows: President, O.W. Case; treasurer, L. E. Pearce; Secretary B.F. Langsworthy. A committee of three, consisting of O.W. Case, H.P. Coleman, and William Lewis was appointed to draft the by-laws. The Grand Meadow Cemetery Association was then formally organized, the directors being O.W. Case, B.F. Langsworthy, L.E. Pearce, A.R. Austin, C.F. Greening, N.C. Markham, and William Lewis. C.F. Greening was the first actuary.
The first burial was probably that of Arthur Wood, October 7, 1873.
The present officers are: President, John Peterson, treasurer and actuary, C.F. Greening, secretary, Philip T. Elliot; C.W. Martin, A.D. Moore, L.M. Lindsley, and W.P. Lewis.
Lansing Cemetery
It is located on the northeast corner of the northwest quarter of section 11, the ground being donated by A.B. Vaughn, and is incorporated under the laws of the state.
The first burial was that of Gardner Mitchell. He came from Wisconsin here, but formally lived in Rhode Island. He was a veteran of the War of 1812. He made his home with the Vaughn's until his death.
Pleasant Valley Cemetery
In June, 1870, five acres of land, situated in the southeast quarter of section 15, the property of L.S. Bates, was purchased by the town, at $10 per acre, for a burial ground. It is now known as the Pleasant Valley Cemetery.
Prairie View Cemetery
This cemetery was laid out in 1881 by John Merrill. It is situated on the northwest quarter of section 25, in Windom Township. The first burial was that of Amos Hickok, April 1, 1882.
Rose Creek [Enterprise] Cemetery
This cemetery, which is located in the southern part of Section 24, Austin Township, was laid out June, 1862 and the first officials were Thomas Varco, Harvey Proudy, and Ezra Ames. The first burial was that of Harvey Pratt, son of D.O. and A.L. Pratt, in 1862. The cemetery society was incorporated in 1862. The present officers are: President, F.H. Pike; secretary, J.W. Varco; treasurer, C.H. Lott; superintendent, C.O. Brownwell; director, F.M. Dufty. The cemetery presents an excellent appearance and is well kept. The Happy Thought Club has done much to improve its appearance.
Udolpho Cemetery
Udolpho Cemetery is located in the southeast corner of the northeast quarter of section 21. It was purchased in February, 1862, by Francis A. Neller at the time his wife died. Hers was the first burial. Later the people of the township took an interest in the cemetery, and each paid a proportionate share of the cost. The land was purchased by Mr. Neller from Solomon Wilcox and Mrs. Wilcox, who signed the joint deed, was the second to be buried in the cemetery, her death taking place March, 1862.
Waltham Cemetery
Waltham Cemetery was organized under the laws of the state December 17, 1867. It is located on the southwest corner of section 22, and northwest corner of section 27, and contains one acre. The ground was purchased by the town and presented to the association for cemetery purposes.
---
From: The History of Mower County 1911
Transcribed by Kathy Pike, Nov. 2006