Mower County Obituaries

Part 187
Beth A. (Morem) Lopez
1964-2011
Beth Ann (Morem) Lopez, 46, a beloved wife, step-mother, daughter, sister, aunt and dear friend, fell asleep in death on Monday, July 18, 2011, after a courageous battle with cancer.

Beth was born on December 23, 1964, in Austin, to Roderick and Dolores Morem. A natural athlete, Beth grew up excelling in the sports she loved. After graduating from Austin High School, Beth moved to Scottsdale, Ariz., where she attended Scottsdale Community College. She was employed at Ruth's Chris Steakhouse for 11 years, after which she studied massage therapy and became a licensed therapist until November of 2010.

An important day in her life was Oct. 27, 1991. After a careful study of the bible, Beth was baptized as one of Jehovah's Witnesses. Beth married Edwardo Lopez on June 23, 2001, and moved with him to Globe, Arizona. Beth and Ed shared a love of family, friends, pets and the beautiful Arizona sunsets.

Both devout Jehovah's Witnesses, Beth and Ed worked together in their ministry their entire married life. Over the years they have spent countless, happy days side by side, as volunteers helping build Kingdom Halls throughout the state of Arizona. Recently they worked together extensively on the Casa Grande Assembly Hall of Jehovah's Witnesses, which was completed in August of 2010.

Beth is survived by her husband, Edwardo Lopez; her step-daughter, Erika Lopez of Tucson, Ariz.; her mother, Dolores Morem of Austin; her siblings, Jenny Morem (Roger Diggins) of Austin, Brad Morem (Kathryn) of Scottsdale, Ariz., Melanie Janssen (Larry) of Rose Creek, Kathleen Fontana (Michael) of Scottsdale, Ariz., Doug Morem (Katie) of Red Wing and Lee Morem (Mary) of Blooming Prairie; 14 nieces and nephews; one great-niece and one great-nephew; as well as uncles, aunts and many cousins. Beth is preceded in death by her father, Roderick "Biddy" Morem.

A memorial service will be held at 4 p.m. on Aug. 6, 2011, in Globe, Ariz.

[ Rochester Post-Bulletin - July 26, 2011 ]

©2011 MNGenWeb
Wesley L. Viktora, 89
1921-2011
Wesley L. Viktora, 89, of Austin, Minnesota, died Thursday, July 21, 2011, at Mayo Health System, Albert Lea, Minnesota.

He was born at home near Elkton, on November 1, 1921, to Joseph and Anna Viktora. He completed eighth grade in Elkton. Wesley served in the Army Air Corp from 1942-1946. Wesley was married to Mildred Chrz. She died in 1957. He was employed at Hormel Foods Corp. for 42 years. Wesley enjoyed fishing and spending time getting together with his many friends. He was also a lifetime member of the VFW 1216 and the American Legion Post 91.

Survivors include his sister, Agnes Zahradnik of Austin; nieces and nephews.

He was preceded in death by his parents; sisters, Margaret Kos and Josephine Chrz and his brothers, Frank Viktora and Jerry Viktora.

A Funeral Mass will be celebrated 11 a.m. Monday, July 25, at Queen of Angels Catholic Church. Friends may call one hour before the service at the church. Interment will be in Calvary Cemetery with military rites by American Legion Post 91. Casket bearers will be Mark Daniels, Matt Daniels, Gene Chrz and Randy Wasko.

His family prefers memorials to Queen of Angels Catholic Church or a charity of the donor's choice.

Arrangements by Mayer Funeral Home.

[ Austin Daily Herald online, Sat., July 23, 2011 ]

©2011 MNGenWeb
Allister C. Hulst, 82
1928-2011
Allister C. Hulst, 82, of rural Waltham, Minnesota, went home to be with the Lord, Tuesday, February 1, 2011, at Field Crest Care Center in Hayfield, Minn., after battling cancer for 14 years.

Allister "Al" the son of Ralph N. Hulst and Margaret (Dolphin) Hulst, was born on December 25, 1928, in Chicago, Illinois. The family moved several times, because of his father's job. The family moved Sioux City, Iowa in 1939. Al joined the US Navy in February 1947.

He had various jobs and in 1950, he farmed with his dad west of Austin. Al married Margaret Brown on Sept. 30, 1951, and they lived in Mason City, Iowa. In 1957, they moved to Waltham and have resided in the area until the present.

He retired from farming on Jan. 1, 1994. Al was a member of Bethlehem Free Methodist church of Austin. Al had a special love for family and friends. He was a good, kind and giving man to everyone. Al enjoyed farming, fishing, traveling, and family activities. You could always find him fixing something or helping someone.

Al is survived by his wife: Margaret Hulst of rural Waltham; son: Gregory (Kathy) Hulst of Waltham; grandchildren: Jennifer Hulst, Bloomington, Tara (Sean) Arndt, Waltham, Tiffany (Brian) Clemenson, Zumbrota, Justin Wood, Waltham, Samuel Hulst, Waltham; four great-grandchildren; two brothers, Marlyn (Lois) Hulst, Sioux City; Lewellyn (Barbara) Hulst; and many nieces and nephews.

He was preceded in death by his parents and one grandson, Keith Wood.

A memorial service for Allister "Al" Hulst will be 1 p.m. July 30, 2011, at Bethlehem Free Methodist Church, 1500 Fourth Avenue SE, Austin, with visitation from noon to 1 p.m.

[ Austin Daily Herald online, Sat., July 23, 2011 ]

©2011 MNGenWeb
Lynda Eileen (Beck) Franzen, 84
1927-2011
LYLE, MINNESOTA - Lynda Eileen Franzen, 84, Lyle, Minnesota, passed away to be with the Lord our Savior on Thursday, July 21, 2011, at the Lutheran Retirement Home in Northwood, Iowa, with her daughter, Lola at her side.

Lynda was born on February 14, 1927, on a farm north of in Armstrong, Iowa, to Einer and Gladys (Brighton) Beck. She graduated from Estherville High School. On May 8, 1949, Lynda married Lorenz Franzen at St. Johns Lutheran Church in Armstrong, Iowa.

Lynda worked as a bookkeeper for 35 years at Marigold and Ankeny's Dairy Foods in Austin.

The happiest memory she had was when they purchased the Franzen family farm on Aug. 14, 1951, where she lived from March 1952 to September 2006, then moved to Lyle. She was very active at Bethlehem Lutheran Church and was on the library board in Lyle. Lynda especially loved to spend time with her family. She also enjoyed sewing quilts for the Lutheran World Relief. Lynda's kind and gentle smile would brighten anyone's day. Lynda especially loved her family and her farm.

Lynda was preceded in death by her parents; husband, Lorenz Franzen and sister, Melva Beck.

She is survived by her sons, Lyndon Franzen of Webster City, Iowa; Lowell (Barbara) Franzen of Lyle; daughters, Londa Jones of Greenville, S.C., and Lola Vaith of Garner, Iowa; grandchildren, Lyn (Jason) Merritt, Kristen (Zachary) Knox, Kelly (Matt) Wiese, Heidi (Jade) Shedenhelm, Adam (Tara) Franzen, David Jones, Sarah Jones, Bridget Vaith, and Alli Vaith; great-grandchildren Jasilyn, Brayden and Payton Merritt, Parker and Paxton Knox, Lillyan and Izzabelle Wiese, Derek, Logan and Grant Shedenhelm, Aden and Audrina Franzen, and Olivia Jones.

Funeral services will be 10:30 a.m. Monday, July 25, 2011, at Bethlehem Lutheran Church with the Rev. Ronald D. Myers officiating. Burial will be in the Woodbury Cemetery. Friends may call at the Clasen-Jordan Mortuary from 4 to 7 p.m. Sunday, July 24, and for one half hour before the service at the church on Monday.

[ Austin Daily Herald online, Friday, July 22, 2011 ]

©2011 MNGenWeb
James T. Rogers, 89
1922-2011
James T. Rogers, 89, of Austin, Minnesota, passed away Sunday, July 10, 2011, at Regions Hospital, St. Paul, Minnesota.

Jim was born on January 24, 1922, in Austin, to Lucile and Ray Rogers. He married Carmine Lucas, November 10, 1946. She preceded him in death on October 4, 2001. He enlisted in the Marines in 1942 and was shipped overseas on his 21st birthday. During his tour of duty, he served in the Pacific, was wounded in Guam and received the Purple Heart. After returning home, he worked at Hormel for 41 years. Jim was a member of Our Saviour's Lutheran Church, 3rd Marine Division Association, the American Legion, VFW, Eagles, Moose, Elks and United Support Group. Jim was a very loving husband and wonderful father and grandfather.

In addition to Carmine, he was preceded in death by his parents; brothers; and a sister.

Survivors include Barb and Gene Schaub, Robby and Dawn Rogers, Marinee Sweedman, many grandchildren, great-grandchildren, nieces and nephews.

"Once a Marine, always a Marine" — Semper Fi.

A memorial service will be 11 a.m. Saturday, July 16, Friends may greet the family for one hour prior to the service at the church.

[ Austin Daily Herald, Tuesday, July 12, 2011 ]

©2011 MNGenWeb
Stanley Curt Bergan, 60
1951-2011
Stanley Curt Bergan, age 60, of LeRoy, Minnesota, died on Wednesday, July 20, 2011, at the Vanderbilt University Hospital in Nashville, Tenn., of complications following a liver transplant.

Stanley was born on March 16, 1951, in Austin, Mower county, Minnesota, to Curtis and Dorothy (Enfield) Bergan. He was baptized and confirmed in the LeRoy Lutheran Church and graduated from the LeRoy-Ostrander High School in 1969 where he was active in 4H, FFA and sports.

He attended Mankato State University and later completed his undergraduate degree at Buena Vista College in Storm Lake, Iowa. He was united in marriage to Sharon Knode on Jan. 12, 1975, at the LeRoy Lutheran Church. He joined the Army National Guard in November 1975 beginning his career as battalion motor officer for the 47th S&T Battalion. Stan loved his 2 years of service as company commander. In 1991, Major Bergan served as operations officer for the Emergency Operations Center within the Pentagon during Desert Shield/Desert Storm.

Later in his career, Stan served in Iraqi Freedom and Enduring Freedom with much time spent overseas. Stan retired as a Full Bird Colonel from Rock Island Arsenal in 2008 returning to LeRoy to farm as he did throughout his military career.

Stan's loves were his family, farm and country. He was a dedicated husband, father and good steward of the land. He was also a very dedicated soldier. He was a Soil and Conservation Board member and a member of the LeRoy Rural Fire Association. He served as a township officer on the LeRoy Township Board and was a member of the LeRoy Lutheran Church where he served on the council and cemetery board. He was a member of the American Legion Post 161 in LeRoy, the VFW Post 4114 in Spring Valley and also a member of the Disabled American Veterans.

He is survived by his wife Sharon and son Brad, both of LeRoy and daughter Rebecca (Dallas) Linkenmeyer, Riceville, Iowa; grandchildren: Cheyenne Bergan and Kennedy and Mally Linkenmeyer; his mother Dorothy Bergan, LeRoy and siblings Doug (Linda) Bergan, Lanesboro and Diane Lukavsky of Chariton, Iowa.

He was preceded in death by his father, Curtis.

Funeral services for Stanley will be held at 1 p.m. on Tuesday, July 26, 2011, at the LeRoy Lutheran Church with the Rev. Rolf Wangberg officiating. Burial will take place in the church cemetery with military rites by American Legion Post 161 and by the Army Burial Honors. Visitation will be held from 4 to 8 p.m. on Monday, July 25, 2011, at the LeRoy Lutheran Church. Visitation will resume on Tuesday for one hour prior to the service.

Condolences may be left at www.hindtfuneralhomes.com.

[ Austin Daily Herald online, Sat., July 23, 2011 ]

©2011 MNGenWeb
Clayton F. Meyer, 90
1921-2011
Clayton F. Meyer, 90, died peacefully on July 17, 2011, in Austin, Mower county, Minnesota.

Clayton was born on January 16, 1921, in Clear Lake, Minnesota, to Ben and Henrietta Meyer. After graduating from Princeton High School and helping run the family farm, Clayton joined State Farm Insurance as an agent in Elk River, Minnesota, in 1945.

He married the love of his life, Lorraine Lieb, in 1946 and immediately joined the Army, serving until 1948 in Japan. That year, Clay and Lori moved to Austin, where they started a family and founded his State Farm agency. Called "Mr. State Farm" by many, his career with the Good Neighbor was long and award-filled. His Austin agency was ranked among the largest in the company for many years. After 54 years of dedication to the company and his customers, Clayton retired in 1999 to spend more time at his beloved cabin near Brainerd and at his home in Scottsdale, Ariz.

He is survived by Lori; his children and their spouses, Mike and Sara, Bloomington, Greg and Anne Marie, Austin, Tim and Debbie, Mahtomedi, Jaci and Joe (Coopet), Woodbury, and Jeff and Tammy of Minneapolis; 10 grandchildren; two great-grandchildren. He will be sorely missed.

A Memorial Mass will be celebrated at 11 a.m. Saturday, July 30, 2011 at St. Augustine Catholic Church in Austin. Friends may call from 4 to 7 p.m. Friday at Mayer Funeral Home. Interment will be in Calvary Cemetery with military rites by American Legion Post 91.

In lieu of flowers, the family prefers memorials to the Autism Recovery Foundation of NAMI Minnesota, where granddaughter, Anna McLafferty, is a program director.

[ Austin Daily Herald online, Sat., July 23, 2011 ]

©2011 MNGenWeb
Gladys I. (Mortensen) Nelson, 91
1920-2011
Gladys I. Nelson, 91, of Austin, died Sunday, July 10, 2011, at Comforcare Good Samaritan Center in Austin, Mower county, Minnesota.

Funeral services will be 11 a.m. Wednesday, July 13, at St. Olaf Lutheran Church in Austin with Todd Portinga, AiM officiating. Visitation will be at Clasen-Jordan Mortuary from 4 to 7 p.m. on Tuesday, July 12, and at the church on Wednesday for one hour prior to the service. Interment will be at Rose Creek Enterprise Cemetery.

Gladys was born on January 23, 1920, near Warren, Minnesota, the daughter of Carl Otto and Maren Kristine (Ditlefsen) Mortensen. She was one of 10 children. She lost both her parents when she was 5 years old and lived for a time at the Wild Rice Children's Home. At age 10, she lived with the Emil and Bertha Hanson family in Mission Hill, South Dakota. She attended grade school and one year of high school in Mission Hill. In 1936, she moved to Austin to join her siblings. She attended one year of high school in Blooming Prairie and graduated from Austin High School in 1939. She was baptized at the Wild Rice Children's Home in 1930 and confirmed in Mission Hill in 1933. On Oct. 1, 1940, she was married to Kenneth P. Nelson by Reverend Noss at the St. Olaf Church parsonage. They were married for 53 years. Ken and Gladys farmed north of Rose Creek, and Gladys worked at Red Cedar Inn and at St. Olaf Hospital for 22 years before she retired.

Gladys was a member of St. Olaf Lutheran Church in Austin. She was also a lifetime member of the Danish Sisterhood of America and a charter member of the Rose Creek BBB Club. She enjoyed knitting mittens, playing cards and visiting with friends and family. She truly enjoyed her grandchildren and great-grandchildren. She also knit, and donated hundreds of mittens and cast socks that were sent to the Gillette Children's Hospital.

Gladys is survived by her children, Coralie (Dayton) Rayman of Glenville, Minn., Linda (Jim) Lind of Rose Creek, Minn., and Paul (Coni) Nelson of Austin; daughter-in-law, Mary Nelson of Stockton, Calif.; eight grandchildren, Jeff Kloehn (Annlee Ellingson) of Los Angeles, Calif., Denise Nelson of Stockton, Deanna (Dean) Davis of Oakdale, Calif., Sara (Dan) Davis of Lodi, Calif., Jodi (Mike) Munson of Rose Creek, Jeni (Eric) Loftus of Stewartville, Minn., Emily Nelson of Austin and Erin Nelson of Austin; two step-grandsons, David (Amy) Rayman of Stewartville, and Adam (Amanda) Rayman of Glenville; 10 great-grandchildren, Sage and Brooke Davis of Logan, Mason, Luke and Brayden Davis, Connor and Claire Munson, Kayden & Hannah Loftus (An 11th great-grandchild is due in August); sisters, Florence Glover of Austin, Arlene Smeby of Owatonna, Dorothy Nelson of Oak Harbor, Wash.; brother: Robert Karstensen of Marengo, Ill; sisters-in-law, Vera Mortensen of Blooming Prairie, Gloria Mortensen of Warren, Minn., andmany nieces and nephews.

Gladys was preceded in death by her husband, Kenneth in 1993; son Ronald G. Nelson in 2001; three brothers and two sisters.

Gladys's family gives a special thank you to the nurses, caregivers and staff at Comforcare for their care of our mom these last few months. The family prefers memorials to Comforcare Good Samaritan Center or to the donor's choice.

[ Austin Daily Herald, Tuesday, July 12, 2011 ]

©2011 MNGenWeb
Job M. Talamantes, 65
1946-2011
Pastor Job Moreno Talamantes, of Austin, Minnesota, died Thursday July 21, 2011, at the Austin Medical Center. He was 65 years old.

Job was born on January 2, 1946, in Plainview, Texas, to Eucebio and Hilaria (Moreno) Talamantes. Job has lived in Plainview, Albert Lea, and Austin since 1996.

He married Guadalupe Gallardo. Job was a Pastor of the United Pentecostal Church and has service congregations in Austin, Worthington, Albert Lea, and other churches.

Job is survived by his wife: Guadalupe Talamantes, Austin, Minnesota; three sons: Job Talamantes Jr., Austin, Willie (Toni) Talamantes, Albert Lea, and David (Amie) Talamantes, Austin; brothers: Marcelino (Roxy) Talamantes, Alden, Joe (Phyllis) Talamantes, Albert Lea, Able Talamantes (Leann), Rochester, Nat Talamantes, Odessa, Texas, Eliazar (Mary) Talamantes, Owatonna, Ray (Alma) Talamantes, Albert Lea, David (Connie) Talamantes, Albert Lea and Vince Medina; sisters: Martha (Joe) Garza, San Antonio, Texas, Abby (Pete) Pena, Lubbock, Texas and Lidia Reed, San Antonio, Texas; grandchildren: Josh, Cassandra, Willie Jr. Jeremiah, Wes, Trayton, Alexis, Brook, Chloe, Logan , Chase, Alesha, Vanessa, Justina, Madaline, Maci, and Andrea (Mosca); several great grandchildren and nieces and nephews. Job is preceded in death by his parents: Eucebio and Hilaria Talamantes; sister-in-law: Mary Ellen Talamantes; nephews: Dakota and Anthony.

The funeral service for Pastor Talamantes will be 10 a.m. Monday at United Methodist Church, Albert Lea, Minn. Interment will be in Graceland Cemetery. Visitation will be from 5 to 8 p.m. Sunday at Bonnerup Funeral Service, Albert Lea and one hour before service at the church.

[ Austin Daily Herald online, Sat., July 23, 2011 ]

©2011 MNGenWeb
Florence Augusta (Patzoldt) Ondrick
1918-2011
Florence Augusta Ondrick, 93, of Austin, Minnesota, died at Parkview Care Center in Wells Thursday evening, July 21, 2011.

Born July 10, 1918, to Otto and Lena (Putz) Patzoldt at Pine City, in east central Minnesota, she attended Pine County public schools. In 1936, she married Archie Soderbeck in Pine City. Archie passed away in 1956. Florence married Earl Ondrick on Dec. 14, 1957, at First United Methodist Church in Austin where she was a member. She liked to help Earl do carpenter work and also enjoyed sewing, gardening and having coffee with friends. An Austin resident for more than 50 years, she moved to the Cedars in 2007. Florence was very considerate of others. Not wanting others to be burdened by her, she even pre-planned her final wishes.

Survivors include nieces, nephews, other relatives and friends. She was preceded in death by her parents, Lena and Otto Patzoldt; husband, Archie in 1956 and her husband, Earl in 2007; three brothers and two sisters.

Funeral services will be 11 a.m. Monday, July 25, at Worlein Funeral Home Chapel in Austin. Visitation is one hour prior to the service. Interment is at Oakwood Cemetery in Austin. Condolences may be expressed to the family online at www.worlein.com. Memorials are preferred to donor's choice.

[ Austin Daily Herald online, Sat., July 23, 2011 ]

©2011 MNGenWeb
Keith Edward Voorhees, 79
1931-2011
Keith Edward Voorhees, 79, of Elkton, Minnesota, died Sunday, July 10, 2011, at the Grand Meadow Healthcare Center, Grand Meadow, Minnesota, after a courageous battle with colon cancer.

Keith was born on September 5, 1931, in Elkton, the son of Edward and Florence (Peterson) Voorhees. He graduated from Elkton High School in 1949. Keith enlisted in the Army in 1953 and served in the Korean War in Okinawa for two years. He also briefly worked at IBM in Rochester. Keith was married to Dorine Huemann on Nov. 20, 1965, at Queen of Angels Catholic Church in Austin. They lived near Elkton where Keith farmed until his retirement. He was a longtime member of Sacred Heart Catholic Church in Adams.

He was very active in the community where he served on the Clayton Township Board for 45 years, the Rural Adams Fire Board, Adams Area Joint Powers Ambulance Board, Mower County Planning and Zoning Commission and the Mower County Township Association. He was a proud member of Adams Post 146 American Legion. Keith enjoyed traveling, hunting, fishing, camping, listening to old-time and country music, morning coffee with friends, bartending at the Adams American Legion, and watching/listening to Minnesota sports, especially the Vikings and Twins. Keith also enjoyed spending time with his family, especially being with his grandchildren and attending their sporting events and other activities.

He was preceded in death by his parents; brothers-in-law, Warren "Top" Henslin and Gene Holderness.

Keith is survived by his wife, Dorine Voorhees of Elkton; daughters and sons-in-law, Janell and Mike McLeish of Owatonna, Minn., Renae and Dean Bendtsen of Rose Creek, Minn.; grandchildren, Samantha, Jesse and Tyler of Owatonna, Brock, Decker, Corbyn and Sydney of Rose Creek; sisters, Floris Holderness, Dodge Center, Minn., Joyce (Elmer) Kienitz of Raymond, Minn.; many nieces; nephews and cousins.

Funeral services will be 11 a.m., Thursday, July 14, at Sacred Heart Catholic Church in Adams with Father Thomas Loomis officiating and Father LaVerne Trocinski assisting. Interment will be in the Sacred Heart Cemetery with Adams Post 146 in charge of military rites. Visitation will be at the Adams Funeral Home on Wednesday, July 13, from 4 to 8 p.m. and at the church on Thursday for one hour before the service.

[ Austin Daily Herald, Tuesday, July 12, 2011 ]

©2011 MNGenWeb
Orpha D. (Refvem) Boyum
1917-2011
Orpha D. Boyum, 94, of Adams, died Tuesday, July 19, 2011, at the Adams Health Care Center in Adams.

Funeral services will be held at 1 p.m. Friday, July 22, 2011, at the Little Cedar Lutheran Church, with the Reverend Dr. Marggi Pleiss-Sippola officiating. Interment will be in the Little Cedar Lutheran Cemetery. Visitation will be at the church for one hour before the service on Friday.

The Adams Funeral Home is in charge of arrangements.

[ Rochester Post-Bulletin, 7/21/2011 ]

---

Orpha Refvem Boyum, 94 1917-2011

Orpha Refvem, Boyum, age 94, of Adams, Minnesota, passed away July 19, 2011.

Orpha was born in Frankfort, South Dakota, on January 22, 1917, to Albert Refvem and Bertha Bindenagel Refvem. Orpha lost her father to scarlet fever when she was 7-years-old. Her mother raised five children alone through the Dust Bowl and the Great Depression.

Orpha graduated from Frankfort High School and Mankato Business College and came to work in Adams for the Farmers State Bank. She married Arthur Boyum in October 1941, just weeks before Pearl Harbor. Orpha followed Art to his Army base in Texas and worked in the U.S.O. until Art was sent overseas. She then joined her sister and mother in Lebanon, Ind., where her first son David was born in 1944.

After the war, she was a homemaker in Adams. Her son Richard was born in 1947 and Dennis was born in 1950. She became the secretary at the Adams Public Schools and worked there until her retirement.

Art and Orpha loved to golf and were founding members of the Cedar River Country Club. In retirement they wintered in Texas, California and Florida. In 1997, they moved to Rochester to live in the Gramercy Senior Living, but Art passed away just a month before their 56th wedding anniversary. Orpha stayed in Rochester but later moved to assisted living in Eagan, Minn. Orpha returned home to Adams to live at the Adams Health Care Center in August 2010.

Orpha loved her family. She crocheted afghans for each child and grandchild. She traveled to Europe and around the United States. She was a longtime devoted member of Little Cedar Lutheran Church. She and her friends devoted countless hours to the hard work of the church. She read the newspaper while enjoying a cup of coffee every morning of her adult life.

She is survived by her son, David and wife, Ann of Mendota Heights and their three children and six grandchildren; sons, Richard of Chicago, Dennis of Mary Esther, Fla. and his two children and two grandchildren. She is also survived by her sisters-in-law, Madeline in Washington, Joyce in Lake City, and Sallie in Winona.

Orpha was preceded in death by her husband, Art; mother and father; beloved sister, Bernice and her brothers, Loren, Burton, and Harlan.

Funeral services were 1 p.m. Friday July 22, 2011, at the Little Cedar Lutheran Church with the Rev. Dr. Marggi Pleiss-Sippola officiating. Interment was at the Little Cedar Lutheran Cemetery. The Adams Funeral Home was in charge of arrangements.

[ Austin Daily Herald online, Monday, July 25, 2011 ]

©2011 MNGenWeb
John White
(died 1902)
OBITUARY

JOHN WHITE

Word has been received here of the death of John White of Rose Creek, which occurred Wednesday afternoon. He has not been well for five years, and his death was not unexpected.

Mr. White has lived in Mower county many years and has many friends who will mourn his death. The funeral will be held Saturday morning from the house.

[ Austin Daily Herald, Sept. 18, 1902 ]

©2011 MNGenWeb
Samuel Sweningsen
1849-1912
Samuel Sweningsen, postmaster, was born at Durand, Winnebago, County, Illinois, on June 29, 1849. He settled in Austin, Minnesota, in 1871. Samuel began an active career in the mercantile business, then he was appointed postmaster at Adams, Mower County, by President Hayes in 1877.

He served as clerk of district court in Mower county, 1882-1895; and also served as a member of the Minnesota State senate, 1895-1903. Samuel was appointed postmaster at Austin by President McKinley, in 1899, and reappointed by President Theodore Roosevelt in 1903.

[ The Book of Minnesotans: a biographical dictionary; Edited by Albert Nelson Marquis ]

---

The Oakwood Cemetery listing shows:

Sweningsen, Samuel 1849 - 1912

©2011 MNGenWeb
Lena Olive (Hangge) O'Leary, 105
1906-2011
Lena Olive O'Leary, 105, of Austin, Minnesota, died on Friday, July 22, 2011, at her home on the farm where she lived all of her life.

Lena was born March 18, 1906, to George and Ollie (Block) Hangge on the farm. On June 28, 1933, Lena was married to Thomas O'Leary, and to this union was born a son, Kenny. Kenny was a loving and devoted son who cared for his mother in their home until the day of her death. Lena was a homemaker who loved the farm, flowers, family, caring for her great nieces with love and enjoyed visits to reminisce. She had a quick wit and many memories of yesteryear and the city of Austin.

Survivors include her son, Kenny; nieces, Virginia Dale and Norma Walk; nephew, Burlyn (Janet) Delhanty; special great-nephew, Stan Kjarland; many great-nieces and nephews; great-great- and great-great-great nieces and nephews.

She is preceded in death by her husband, Thomas in 1982; parents; two sisters; one brother; special niece, Sandra Kjarland.

Graveside services were held 2 p.m. Monday, July 25, 2011, at Calvary Cemetery with Father Gregory Parrott officiating. Mayer Funeral Home was in charge of arrangements. Blessed be her memory.

[ Austin Daily Herald online, Tuesday, July 26, 2011 ]

©2011 MNGenWeb
Loretta E. Myhre, 80
1931-2011
Loretta E. Myhre, 80, of Austin, Minnesota, died Sunday morning, July 31, 2011, at Mayo Clinic Health System, Austin.

She was born July 22, 1931. She received her education in Adams, Minnesota, graduating from Adams High School in 1948. She was united in marriage to Kenneth Myhre. Loretta worked for Hormel Foods for more than 25 years and attended Crane Community Chapel. She enjoyed camping, traveling with friends, bingo and being a homemaker. She also was a volunteer at the Senior Citizen Center.

Survivors include one stepson, Mike (Susan) Myhre of Austin; four step-grandchildren, Jeremy, Mike, Sara and Suzie; two step-great-grandchildren, Alisa and McKenzie; brother, Wendell Anderson and many other relatives and friends.

She was preceded in death by her parents; husband; stepson, Mark and brothers and sisters, Evelyn, Eugene, Lorraine, Lisa, Les, Carolyn, Marilyn, Glen Victor and Paul.

Funeral services will be 1 p.m. Wednesday, Aug. 3, 2011, at the Worlein Funeral Home Chapel with Rev. Dr. Stephen Defor, officiating. Interment will follow the service at Grandview Cemetery. Visitation will be held for one hour prior to the service at the funeral home on Wednesday. Memorials to the American Cancer Society. Condolences may be expressed to the family online at www.worlein.com.

[ Austin Daily Herald online, August 1, 2011 ]

©2011 MNGenWeb
Bernie Merrill Hanson
1921-2011
Bernie Merrill Hanson, age 89, of Hudson, Wisconsin, died on Monday morning, July 25, 2011, at the Christian Community Home in Hudson.

Bernie was born on October 17, 1921, in Marshall Township, near Adams, Minnesota, to parents Harry Jerome and Martha Caroline (Thompson) Hanson. Bernie attended school in Adams. On May 21, 1944, Bernie would be united in marriage to Mildred Sylvia Thompson. Their union in marriage would be blessed with three children, Roger, Mary and Jerry.

He served his country as a seaman first class in the U.S. Navy and later served as post commander for VFW Post #864. Bernie worked as both a farmer and for many years with the UAW Local #1268 as a lift truck operator and maintenance man with the Chrysler Corporation in Belvedere, Illinois.

Outside of work, Bernie was a Boy Scout leader, worked with different crafts, and added to his toy tractor collection. Bernie was also an animal lover and especially enjoyed having cats. He enjoyed day-long drives with Millie and helping out and working around the farm whenever he had the chance. Above all, though, Bernie loved traveling and camping and fishing, and as he grew older, he especially enjoyed camping with his grandchildren.

Bernie is survived by his children: son Roger (Janet Widder) Hanson of Wauzeka, Wis.; daughter, Mary Pinkston of Kanawha, Iowa; and son Jerry Hanson of Montrose, Minn.; grandchildren, Timothy Hanson of Menomonie and his son, Connor, Rebecca Hanson of Oak Creek, Colo., Kirsten (Charlie) Lawson of Menomonie and their children, Kaycie, Jeshua, Amos, and Sylvia, and Thomas (Jessica) Hanson of Maple Lake, Minn., and their children, Kayla and Jakob. He is further survived by many nieces and nephews.

Bernie was preceded in death by his wife, Mildred, and his brother, Archie.

Funeral services for Bernie Hanson were held at 11 a.m. Thursday, July 28, at the O'Connell Family Funeral Home, 520 S. 11th St., Hudson. Visitation was held 1 hour prior to services. Burial with full military honors took place at Fort Snelling National Cemetery, Minneapolis.

Services have been entrusted to the O'Connell Family Funeral Home of Hudson.

[ Hudson (Wisconsin) Star Observer -- http://www.hudsonstarobserver.com/event/obituary/id/43889/ 7/30/2011 ]

©2011 MNGenWeb
Berniece Jean (Johnson)
Van Buskirk
1927-2011
Berniece Van Buskirk, 84, of Brownsdale, Minnesota, died at St. Marys Hospital in Rochester, Monday morning, July 25, 2011.

Berniece Jean Johnson was born in Belmond, Iowa, on May 6, 1927, to Ora and Opal (Trees) Johnson. On March 22, 1945, she married Earl Van Buskirk. Their marriage was blessed with three sons. They farmed in Iowa for seven years and moved to Minnesota in 1952. The couple farmed in Minnesota until moving to the town of Brownsdale, in 1975. Earl passed away in 1998. Berniece continued to reside in Brownsdale until she passed away.

Berniece worked as a night supervisor at Gerard in Austin. She liked to sew, shop, collect butterflies, and was an excellent cook. She especially loved watching "Dancing With The Stars" and talking with her sisters. She will be sadly missed by her family and friends.

Survivors include two sons, Gene (Beverly) Van Buskirk of Dodge Center and Jerry (Nancy) Van Buskirk of Brownsdale; eight grandchildren, Patrick (Julie) Van Buskirk, Jennifer (Justin) Koepplin, Andrea (Ben) Alexander, Jessica (Troy) Hanson, Michael (Brooke Hendrickson) Van Buskirk, Todd Winkels, Troy (Heather) Winkels, and Tammy (Brion) Kubik; sisters, Darlene Caballero of California, Bona Decker and Ioleata Anderson both of Minnesota, Effie Johnson of California, Sheryl Johnson and Juanita Kiefer, both of Iowa; brothers, Ronald Johnson of Minnesota and Arlan Johnson of Iowa; many nieces and nephews.

She was preceded in death by her parents; husband, Earl in 1998; son, Lynn in 1973; brother, Aaron Johnson and granddaughter, Terri Van Buskirk in 2010.

Funeral services will be 11 a.m. Friday, July 29, at Worlein Funeral Home Chapel in Austin with the Rev. Dale Christiansen officiating. Friends may call one hour prior to the service. Interment will be in Oakwood Cemetery. Condolences may be expressed to the family online at www.worlein.com.

[ Austin Daily Herald online, July 27, 2011 ]

©2011 MNGenWeb
Joyce L. (Henley) Eblen, 92
1918-2011
#1:

Joyce L. Eblen, 92, of Austin, died Saturday, July 16, 2011, at Saint Marys Hospital in Rochester.

Funeral services will be held at 2 p.m. on July 31, 2011, at the First United Methodist Church, with the Reverend Marilee A. Benson officiating. Interment will be at Oakwood Cemetery in Austin. Visitation will be at the church from 1 p.m. until the time of the service.

Clasen-Jordan Mortuary in Austin is in charge of arrangements.

[ Rochester Post-Bulletin, 7/20/2011 ]

---

#2:

Joyce L. Eblen, 92, of Austin, Minnesota, died on Saturday, July 16, 2011 at St. Marys Hospital in Rochester.

Joyce Lucille (Henley) Eblen was born on November 7, 1918, at Nora Springs, Iowa, the daughter of Audley and Marie (Rucker) Henley. She graduated from Austin High School and worked as a secretary at the Wheeler Coal Company and also worked with her husband at the Austin Bowl. Joyce was married to B. Maurice Eblen on Dec. 31, 1938, in Austin. They were foster parents for 25 years and were very proud of all the kids.

Joyce was proud to be a lifelong member of the First United Methodist Church where she was baptized and confirmed. She was a very active member and held a number of offices. For many years, she was chairman and worked on the annual Bazaar and Chicken and Biscuit dinner. She was a member of the Rebekah (Noble Grand) Lodge 4. Joyce was active in 4-H as a child and served as a leader as an adult. She was a member of the Child Care Auxiliary, the South River Street Extension Group and the Austin Garden Club, and she helped with many other civic activities.

Joyce was very creative and loved to knit, donating many baby hats to the local hospital and making Raggedy Ann and Andy dolls for all of her grandkids. She enjoyed her yard and flower garden and was proud that she kept it beautiful. She loved to travel with her husband and family in their motor home. They took the family on great trips to Montana and California. The grandkids loved to camp out in the motor home. Joyce was a wonderful caregiver to her husband "Morey" for many years. She loved to read and sew and to look out her window at her flowers and watch the birds in the backyard. She was always interested in helping the unfortunate and the world around her.

She was preceded in death by her parents, Audley and Marie Henley; husband, Maurice, brother and sister-in-law, Don and Clara Henley; sister and brother-in-law, Laurine and Adolph Ludvigson and great-grandson, Derrick.

Joyce is survived by her children, Patricia (Chuck) Johnson of Cottage Grove, Minn., Lynda Howden (Ron Farrell) of Austin, Minn., and Gary (Stephanie) Eblen of Fair Oaks, Calif.; grandchildren, Lori, Lynn, Amy and Allison of Minnesota, Troy, Beth and Stephanie of California, Rhonda and Tracy of Colorado, David of Virginia and Cindy of Nebraska; great-grandchildren, Alaina, Jillene, Shawn, Dana, Hannah, Joey, Molly, Megan, Madlyn, Maysen, Kade, Peyton, Bailey, Regan, Alexandra, Morgan, Cullen, Camden, Savannah, Abigail, Joey and Grace; sister and brother-in-law, Doris and Frank Potter of Austin.

Funeral services will be 2 p.m. Sunday, July 31, at the First United Methodist Church with the Rev. Marilee A. Benson officiating. Interment will be at Oakwood Cemetery. Visitation will be at the church from 1:00 p.m. until the time of the service. Clasen-Jordan Mortuary is in charge of arrangements.

Casket bearers will be David Kraft, Shawn Carlson, Joey Racine, Kade Silbaugh, Matt Gilman and David Ostergaard.

[ Austin Daily Herald online, July 27, 2011 ]

©2011 MNGenWeb
Richard Edward Webber Jr, 60
1951-2011
Richard Edward Webber Jr., died on July 24, 2011, at Israel Family Hospice House in Ames, Iowa.

Richard was born May 21, 1951, in Austin, Mower county, Minnesota, to Richard E. and Elaine (Skogebo) Webber. He married Jolene Harris on September 7, 1991, at Eagle Grove, Iowa.

He graduated from Austin Community Schools in 1970. Following his graduation he worked as a printer for Green Giant. In December 1971, he enlisted in the Army, in which he served proudly. Following his discharge in 1974, he returned to work at Green Giant as well as being an Amway distributor. He attended Mankato State University briefly. He worked for various print shops including Park Press in St. Cloud, Minn. and Dakota Farmer/North Plains Press in Aberdeen, S.D., and then he opened his own print shop, Websko Printing, in his lake home at Mina, S.D.

He is survived by his wife, Jolene; mother, Elaine Webber Fjerstad of Adams, Minn.; brother, Douglas (Sandra) Webber of Plymouth, Minn.; three sisters, Trudy (Alfredo) Cruz of Sioux Falls. S.D.; Beverly Webber of Austin, and Luann (Scott) Schmidt of New London, Minn.; sister-in-law, Debra (Irvin) Schoelkoph of Ames; five nieces and four nephews and several great-nieces and nephews.

He was preceded in death by his father, Richard Webber, Sr.; step-father, Harvey Fjerstad and his nephew, Zacherias Cruz.

A funeral service was held Friday, July, 25, with a visitation beforehand, at Ewing Funeral Home in Clarion, Iowa, with the Rev. Dr. David DeFor. Interment was at Evergreen Cemetery in Clarion with military rites by the Clarion American Legion and VFW Post Ceremonial Unit. Memorials may be left to the family's discretion.

[ Austin Daily Herald online, July 27, 2011 ]

©2011 MNGenWeb
David William Pitcock
1974-2011
David William Pitcock, age 37 of Brooklyn Park, Minnesota, and formerly of Austin, Minnesota, died July 10, 2011, at North Memorial Hospital in Robbinsdale, Minnesota.

He was born April 8, 1974, the son of Shirley Rumsey and Harold Pitcock, Sr. in Austin, Minnesota. He was baptized at the First United Methodist Church in Austin. While living in Brooklyn Park, David was self-employed.

He is survived by his mother, Shirley Rumsey of Austin; father, Harold Pitcock, Sr. of Brooklyn Park; brothers and sisters, Daniel Pitcock of Las Vegas, Nevada, Kelly Ramos of Las Vegas, Nevada, Mark Wilson, formerly known as William Pitcock of Brooklyn Center, Harold Pitcock of Albert Lea, Ben Rumsey of Austin and Anthony Pitcock of Minneapolis.

He was preceded in death by his grandparents, Melford and Josephine Kulff and Dolly McDonald.

Graveside services will be held at 10:00 a.m., Saturday, July 23, 2011, at Grandview Cemetery with Rev. Marilee Benson, officiating. There will be no visitation or reviewal. The Worlein Funeral Home is assisting the family with the burial. Memorials are preferred to the First United Methodist Church of Austin.

[ Worlein Funeral Home obituary - 7/31/2011 ]

©2011 MNGenWeb
Kathryn Margaret Nath
1913-2005
KATHRYN NATH OF LEROY, MINNESOTA

Kathryn Margaret Nath

LeRoy, Minnesota — Kathryn Margaret Nath, 91, formerly of Riceville, Iowa, died Thursday (Jan. 6, 2005) at Wildwood Grove in LeRoy, Minn.

Funeral services will be held at 11 a.m. Tuesday at St. Peter's Lutheran Church in Riceville with the Rev. Michael Parris officiating. Burial will be in Riverside Cemetery in Riceville.

Friends may call at the Lindstrom Funeral Home in Riceville from 4 to 8 p.m. Monday.

Lindstrom Funeral Home, (641) 985-2242.

[Mason City Globe Gazette, Jan. 9, 2005 ]

---

Social Security Death Index:

Nath, Kathryn Margaret
b: 10 MAR 1913
d: 6 JAN 2005
Age: 91
Last Res: Riceville, Iowa
SSN: 484-62-3381 Iowa

©2011 MNGenWeb
Lowell E. Pepper, 85
1926-2011
Lowell E. Pepper, 85, of Eau Claire, and formerly of Austin, Minnesota, died Monday, Aug, 1, 2011, at his home with his family by his side.

Lowell was born in Austin, on February 4, 1926, to Amy and Earl Pepper. On April 2, 1945, he married his high school sweetheart, Helen Katzung.

Lowell served in the Navy during World War II aboard the USS Pennsylvania. Upon his honorable discharge from the Navy, he returned to Austin. He was employed at George Hormel Corporation as a master electrician. He also co-owned an electrical contracting company with his lifelong friend, Ralph George. He earned his pilot's license and logged many hours flying with his sons and friends.

In 1964, Lowell moved his family to St. Paul, where he worked briefly for Armour's in South St. Paul. He began his career with 3M Company as an electrical estimator. He was a proud member of the Institute of Electrical and Electronics Engineers. While working in the International Electro Products Division, Lowell was able to travel the world. He spent six months in Shanghai, China, in 1985, as a part of the 3M team that opened the first wholly-owned US subsidiary that was allowed in China. Some of his fondest memories were of his South American 3M friends.

In January 1987, Helen and Lowell both retired from 3M. They moved to Arizona where they spent the next 22 years. Lowell especially enjoyed hiking, golfing and volunteering for Sun City Interfaith Services. In December 2008, they moved to Eau Claire to be near family.

Lowell is survived by his wife, Helen; two sons, Michael (Sherry) of Austin and Patrick (Brenda) of Houston, Texas; daughter, Peggy (Randall) Casper of Eau Claire; seven grandchildren, Robert (Carla) Pepper, Anna (Chad) Erie, Christopher (Jessica) Pepper, Kate (Zak) Kroum, Andrew, Scott, and Sarah Casper; three step-grandchildren, Brad and Bryan Trimble, and Jairus Ayles; seven great-grandchildren; and one step-great-grandson; sisters-in-law, Nadine Johnson of Austin and Mary Ann Flaten of Clear Lake, Iowa; and numerous nieces and nephews.

He was preceded in death by his parents; father and mother-in-law, Louis and Inger Katzung; great-grandson, Thomas Pepper; brothers and their wives, Delmar (Juanita) Pepper and Walter (Georgette) Pepper; sisters, Ruth, Jean, and Helen Jo; brothers-in-law, Richard Johnson and Thomas Flaten; and nephew, Gary Pepper.

Lowell was kind, humble and grateful for the life he was able to live. He loved his friends, family, and most of all, his wife of 66 years.

Private Family Funeral services will be held Friday at Lenmark-Gomsrud-Linn Funeral Home, 814 First Ave. in Eau Claire. Burial will be in Lakeview Cemetery in Eau Claire where American Legion Post 53 will conduct military rites. To express condolences online, please visit obituaries at www.lenmarkfh.com.

[ Austin Daily Herald, Tuesday, August 2, 2011 ]

©2011 MNGenWeb
Frances E. (Felch) Morse, 95
1916-2011
Frances E. Morse, 95 of Austin, Minnesota, died Friday, July 29, 2011, at her family home, the same house she was born in and lived all of her life.

Frances was born January 29, 1916, to Frank and Clara (Fischer) Felch. She attended Burr Oak Country School and graduated from Austin High School in 1934. Frances married George F.D. Morse on Sept. 18, 1943.

Frances was a lifelong member of First United Methodist Church where she belonged to the UMW. For many years, Frances was very involved and enjoyed her time working in the church nursery. She was a member of the Hoe and Grow Garden Club.

She was preceded in death by her parents; infant twin son, Charles; husband, George and sister, Florence Peterson.

Frances is survived by her children, George (Kathryn) Morse of Austin, David (Patricia) Morse of Austin, Linda (Vic) Nerad of St. Ansgar, Iowa, Kevin Morse of Austin; eight grandchildren, Dwayne Morse of Austin, Lana (Steve) Clark of Austin, Daryl Morse of Austin, Lisa (Jim) Carley of Altoona, Iowa, David Morse of Austin, Laura (Jon) Stroup of Rose Creek, Angela (Wes) Haugebak of St. Ansgar, Brian (Karen) King of St. Ansgar; great-grandchildren, Caitlin, Courtney, Briana, Rebecca, Madison, Taylor, Avery, Audrey, Ruby, Josie, Morgan and Connor; nieces and nephews.

Casket bearers will be Dwayne Morse, Lana Clark, Daryl Morse, Lisa Carley, David Morse, Laura Stroup, Angela Haugebak and Brian King.

Funeral services will be 11 a.m. Wednesday, Aug. 10, at First United Methodist Church with the Rev. Marilee Benson officiating. Interment will be at Oakwood Cemetery. Visitation will be at the church for one hour before the service on Wednesday.

Memorials are preferred to the First United Methodist Church.

Clasen-Jordan Mortuary is in charge of arrangements.

Austin Daily Herald, Wed., August 3, 2011

©2011 MNGenWeb
Ruth Margaret (Clark) Fletcher, 95
1915-2011
Ruth Margaret (Clark) Fletcher, 95, of Austin, Minnesota, died Saturday, July 30, 2011, at Primrose.

Ruth was born on November 12, 1915, in Hayfield, Minn., to Carl and Katherine Clark. She went to rural grade school in Dodge County, first through eighth grade. She then went to Kasson High School, ninth through 12th grade, graduating in 1934. Ruth moved to Austin fall of 1934 and worked in a restaurant and did some housekeeping. She got a job at Hormel and worked until 1940.

In 1937 she married Chester Fletcher in Hayward, Minn. They enjoyed their cabin in Faribault on Mazaski Lake with family and friends. Ruth loved playing cards, dancing, baking and bowling with the Senior Citizen League. She belonged to Fellowship Methodist Church and was in the Naomi Circle.

In November 2009, Ruth moved to Primrose Apartments with a little hesitation. She soon adjusted and decided she liked living there. Her health worsened and she moved to Assisted Living at Primrose. Ruth got lots of good help and had a wonderful friend, Myrtle Reed, that would do anything for her.

Survivors include her daughter, Mary Lou (Robert) Rohne of Lyle; son, Bill (Bonnie) Fletcher of Albert Lea; five grandchildren; seven great-grandchildren; sister, Esther Johnson of Wanamingo; sister-in-law, Jeanette Clark of Blooming Prairie

She is preceded in death by her husband, Chester; daughter, Bonnie; parents; two brothers and two sisters.

She will be sadly missed.

Funeral services will be 11 a.m. Saturday, Aug. 6, at First United Methodist Church with Pastor Marilee Benson and Pastor Shari Mason officiating. Friends may call one hour before the service at the church on Saturday. Interment will be in Enterprise Cemetery.

Arrangements by Mayer Funeral Home.

Austin Daily Herald, Wed., August 3, 2011

---

Funeral notice:

Ruth Margaret (Clark) Fletcher, 95, of Austin, Minnesota, died Saturday, July 30, 2011, at Primrose.

Service: Funeral services will be 11 a.m. Saturday, Aug. 6, at First United Methodist Church with Pastor Marilee Benson and Pastor Shari Mason officiating.

Visitation: Friends may call one hour before the service at the church on Saturday.

Interment: Interment will be in Enterprise Cemetery.

Funeral Home: Arrangements by Mayer Funeral Home.

[ Austin Daily Herald, Thur., August 4, 2011 ]

©2011 MNGenWeb
Frederick P. Kirtz 72
1939-2011
Frederick P. Kirtz, 72, of Adams, died Tuesday August 2, 2011, at his home in Adams.

Frederick was born on July 5, 1939, in Lodi Township of Mower County, the son of Alfons and Margaret (Kasel) Kirtz. He graduated from Adams High School and was married to Betty Mandt on April 12, 1966, at St. John the Baptist Catholic Church at Johnsburg, Minn. A life long resident of the Adams area, Fred farmed until moving into Adams in 2003. He continued helping with field work after moving into town. He was a member of Sacred Heart Catholic Church.

Fred enjoyed fishing, hunting, woodworking and playing cards as well as spending time with his family and friends.

He was preceded in death by his parents.

He is survived by his wife, Betty Kirtz of Adams; children, Ann (Rusty) Trcka of Viola, Minn., Ronald (Nancy) Kirtz of Adams; William (Greta) Kirtz of Adams, Rose (Craig) Mueller of Adams; grandchildren, Tonya, Emma, Molly, Collin, Carl and Travis; brothers and sisters, Joseph (Edna) Kirtz of Adams, Regina Bottema of Rose Creek, Dorothy Petersen of Albert Lea, Jerome (Marlene) Kirtz of Adams, Ray (Kay) Kirtz of Chatfield; nieces and nephews.

A Funeral Mass will be 11 a.m. Saturday Aug. 6, at the Sacred Heart Catholic Church in Adams with Father Thomas Loomis officiating. Interment will be at the Sacred Heart Catholic Cemetery. Visitation will be at the Adams Funeral Home from 4 to 8 p.m. Friday with a Prayer Service at 8 p.m. and from 9:30 to 10:30 a.m. Saturday at the Funeral Home. The family prefers memorials to the Sacred Heart School.

[ Austin Daily Herald, Thur., August 4, 2011 ]

©2011 MNGenWeb
John Queensland Jr., 70
1941-2011
John Queensland Jr., 70, of Elkton, Minnesota, passed away on August 5, 2011, at his home with his wife and loving family by his side.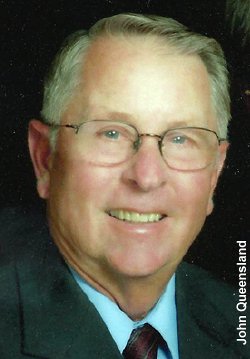 John was born in Story City, Iowa on January 18, 1941, to John and Edith (Karlson) Queensland. John was three years old when they moved to a farm in the Grand Meadow area where John graduated from high school in 1959. After farming for a few years, John was hired in 1967 to be the first grounds superintendent at the new Cedar River Country Club at Adams. He helped build the course from the ground up and proudly devoted his life to developing it into one of the premier courses in southeastern Minnesota. He retired from CRCC in 2005 after serving for 37 years.
John was united in marriage to Pauline Ruud on April 15, 1961, and to this union three children were born. They moved to a farm in rural Adams where John was a member of Marshall Lutheran church and where they lived when Pauline passed away in 2001. In 2004, he married Peggy Hamilton at Westminster Presbyterian church and became a member there.
Each January John would make the trek to Fort Wayne, Ind., where he donned his Trade-Expos hat and helped set up the largest farm show in the upper Midwest. He established a reputation as the "lower level" organizer. He was active in the Minnesota Golf Course Superintendents Association as a board member and was also on the scholarship committee for several years. He was an avid golfer and was proud of his three holes-in-one. His fishing skills were well known, as were the stories that came from his trips to Canada. He and Peggy enjoyed their winters in Arizona where he could hike the hills and mountains near Mesa and swim in the "cement pond." They loved to travel, especially cruising. He loved parades and fireworks. His family was his pride and joy, and his friendships were boundless and long lasting. He will be greatly missed by all who knew him.
Those left to mourn are his wife, Peggy; daughter, Susan (Steve) Speer of LeRoy; sons, Curtis of Rochester, David of Byron (special friend Angie); stepsons, Kevin (Barbara) of Hastings, Mark of Apple Valley, Terry (Cindy) of Adams; grandchildren, Chelsey and Megan Speer, Tyler, Haylee, and Brenna Queensland, step-grandchildren, Jesse, Travis and Brooke Hamilton, Sarah and Meghan Hamilton, Brandon, Brooke, Megan and Montanna Kinney; sisters, Edna Underwood (Myron Amundson), Joann (Eugene) Schaefer.
He was preceded in death by his parents and first wife, Pauline.
Funeral services will be 11 a.m. Tuesday, Aug. 9, at Westminster Presbyterian Church, Austin, with the Rev. D. Andrew M. Lindahl officiating. Visitation will be Monday at the Adams Funeral Home from 4 to 8 p.m. and on Tuesday at the church for one hour before the service. Interment will be in the Marshall Lutheran Cemetery, Rural Adams.
[Austin Daily Herald, Monday, August 8, 2011]
©2011 MNGenWeb
Vernyce Eletha (Christopherson)
AUSTIN
1912-2011
Obituary

Vernyce Austin, age 99, of Austin, Minnesota, died on Monday morning, August 8, 2011 at Our House Memory Care, Austin.

Vernyce Christopherson was born March 26, 1912 in Knox, North Dakota to Alfred and Clara (Knutson) Christopherson. On February 20, 1936, she married Wayne Austin in Austin where they lived all their married life and ran Gopher Distributing. As a member of St. Olaf Lutheran Church, Vernyce was active in her church circle. She enjoyed spending time with her sisters, her aunt, and friends. She loved to play the piano, entertain, and especially enjoyed trips to Florida. Vernyce lived at the Cedars of Austin for eight years and at Our House in Austin for eight years.

Survivors include her son, Donald (Darlene) Austin of Lake City, Minnesota; daughter-in-law, Marilyn Austin, also of Lake City; five grandchildren, Jill (Bob) Hoesly of Hatboro, Pennsylvania; Jeffrey Austin of Austin; Amy (Andy) Renshaw of Miami, Florida; Dan (Melanie) Austin of Rosemount; Jim Austin of St. John's, Virgin Islands; eleven great-grandchildren, Jeffrey Austin Jr., Kathryn Austin, Michael Hoesly, Kristina Austin, Elizabeth Hoesly, Emma Austin, Laura Hoesly, Natalie Austin, Alexander Austin, Megan Renshaw, Scott Renshaw; two great-great grandchildren, Ethan Austin and Austin Murphy. She was preceded in death by her parents; her husband, Wayne in 1975; her son, Robert in 1985; one brother and two sisters.

Funeral services will be held at 11:00 a.m., Friday, August 12, 2011 at St. Olaf Lutheran Church in Austin with Pastor Ron Barnett officiating. Visitation will be held Thursday from 5:00 to 7:00 p.m. at Worlein Funeral Home in Austin and one hour prior to the service at the church. Interment is at Grandview Cemetery, Austin. Memorials are preferred to St. Olaf Lutheran Church, The Alzheimer's Association, or donor's choice.

[ Worlein Funeral Home, 8/8/2011 ]

©2011 MNGenWeb
Ronald Lynn Snyder
1953-2011
Ronald Lynn Snyder, age 57, of Austin, Minnesota, died on Saturday morning, August 6, 2011 at Prairie Manor Nursing Home in Blooming Prairie, Minnesota. He was born October 2, 1953, the son of Ronald and Arlis (Haskin) Snyder in Austin, Minnesota. He attended school in Austin and graduated from Austin High School in 1972. After graduation, Ron worked as a machinist at John Deere in Waterloo, Iowa.

In 1979, he was involved in a motorcycle accident in Cedar Falls, Iowa. Ron was paralyzed from the waist down from a spinal cord injury. In 1986, Ron moved to Jordan and helped operate and was part owner of the Northern Belle Truck Stop in Belle Plaine for three years. In 1993, he married Janet Berglind and they were married for about seven years and then divorced. He attended school for computer-aided drafting and worked for the engineering firm Dunham and Associates. He also started Snyder Services, which assisted with the design drafting for bridges as well as contracting with HGA. He enjoyed working at the computer from the time they first became popular.

He never let his injury stop him from trying new things; he enjoyed trap and targeting shooting, snowmobiling, hunting, fishing and horseback riding. Ron was a member of First United Methodist Church of Austin. He entered Prairie Manor Nursing Home on July 19, 2011.

Ron is survived by five sisters, Judy (Kenneth) Adams of Rochester, Cheryl (Bill) Adams, Janet (Brian) Johnson, Susan (Ed) Wells and Connie (Mike) Hines all of Austin; many nieces, nephews and other relatives and friends. He was preceded in death by his grandparents Ernest and Vesta Haskin and Fred A. and Myrtle Snyder; parents Ronald and Arlis Snyder.

Memorial services will be held on Saturday August 13, 2011 at 2:00 p.m. at the First United Methodist Church in Austin with Reverend David Aaker and Reverend Marilee Benson officiating. Visitation will be held from 4:00-7:00 p.m. Friday at Worlein Funeral Home in Austin and one hour prior to the service at the church.

[ Worlein Funeral Home, 8/8/2011 ]

©2011 MNGenWeb
Clara Johanna (Puettman) King, 101
1909-2011
Clara Johanna King, 101, of Austin, died Saturday, August 6, 2011, at Sacred Heart Care Center where she was a resident.

Clara was born September 9, 1909, in Roselle, Iowa, to Joseph and Agnes (Ostendorf) Puettman. She attended Visitation Church and School in Stacyville, Iowa, where she grew up. On April 20, 1932, she was united in marriage to Alfred P. King in Stacyville. He preceded her in death on April 18, 1982.

Clara was a homemaker. She was a member of St. Augustine Catholic Church in Austin. Her faith and her family were very important to her.

Survivors include her daughter, Jean King of Austin; sister, Loretta Krebsbach of Stacyville; many nieces and nephews.

In addition to her husband, she is preceded in death by her parents; one brother; seven sisters.

A Funeral Mass will be celebrated 10:30 a.m. Thursday, August 11, at St. Augustine Catholic Church with Father Jim Steffes officiating. Friends may call one hour before the service at the church on Thursday. Interment will be in Calvary Cemetery. Arrangements by Mayer Funeral Home.

[ Austin Daily Herald online, August 9, 2011 ]

©2011 MNGenWeb
Wilbur P. Carpenter 84
1927-2011
Wilbur (Bill) P. Carpenter, 84, of Austin, Minnesota, died on Monday, August 8, 2011, at Mayo Clinic Health System in Austin.

He was born April 28, 1927, in Waltham, Minn., to Mary (Kesselring) and Earl Carpenter. During the end of World War II, he served in the Navy Seabees and was stationed in Guam. After completing his service he married Bernice Flicek on Nov., 27, 1948, at Queen of Angels Parish in Austin. The couple remained in Austin and raised their family here.

He worked for the State of MN Department of Agriculture as a livestock weigher at the Hormel Co., where he remained until his retirement. Bill loved hunting, camping and fishing. And in the early years, he and his wife co-owned C and H sporting good store. Following retirement, Bill and Bernice spent their summers in their camper on Woman Lake. He also was an avid reader and loved western books (especially Louis Lamour).

Survivors include his wife, Bernice; son, William (Melinda) Carpenter of Forest City, Iowa; daughters, Karen (Don) Turbett of East Bethel, Ellen Hanson of Ramsey, Leigh (Russ) Sylvester of Wabasha, and Susan (Jess) Baune of Rochester; 16 grandchildren, and 11 great-grandchildren.

He is preceded in death by his parents; brothers; sisters; son, Craig and grandson, Brian Studer.

A memorial gathering will be 10 a.m. to noon Friday, Aug., 12, at Mayer Funeral Home, Austin. Military rites will be by VFW Post 1216.

[ Austin Daily Herald, Wed., August 10, 2011 ]

©2011 MNGenWeb
Richard A. Gemmel, 73
1937-2011
Richard A. "Dick" Gemmel, 73, of Murchison, Texas, ascended to his new position 3 a.m. Sunday, Aug. 7, at Hospice of East Texas-Homeplace in Tyler, Texas, after complications with his several-year battle against cancer.

Richard was a testament to the power of prayer, having beaten multiple cancers throughout his adult life. As the angels rejoiced in his arrival, family found peace and comfort in his tremendous faith.

Richard was born in Mower County, Minnesota, on October 15, 1937, the son of Kenneth and Milda Gemmel. He attended elementary, middle school and high school in Austin, Minn., and graduated in 1955. He attended Austin Junior College for two years before moving to Winona, Minn., where he attended Winona State and received his bachelor's degree in education in 1962. Richard later earned his master's degree from Mankato State Teachers College in Mankato, Minn. His first teaching position was in Port Huron, Mich. He taught most of his career in Austin, Minn., followed by Dallas and Carrollton, Texas. Upon retirement in 2001, he taught in Athens, Texas, as a substitute teacher. Richard was integral in the advanced learning opportunities through public education.

Upon retirement in 2001, Richard received the "Texas Congress of Parents and Teachers Honorary Life Membership Award." Dick was married to Dee in 1958 and celebrated 50 years together in May 2008. He has been an active member of the First United Methodist Church of Austin, Minn., and Athens, Texas. He has dedicated his life to teaching and public service, serving in various capacities within the church and community. He was a church board representative, MYF youth leader, Sunday school teacher, Parent-Teacher Association member, Henderson County Food Pantry volunteer, Meals on Wheels deliverer, Indian Maidens Tribe leader, coach and mentor. Richard left a permanent impact on his Minnesota church family by coordinating a van committee for transporting youth and seniors to Worship Service and church activities.

Richard was a cancer survivor who lived every day with purpose. He loved to share his love for Christ through teaching, discussion and example. Choosing daily to be a man dedicated to family, he never missed a recital or ball game. Those who knew Dick experienced first-hand his unique sense of humor. He shared Norwegian jokes with many; a daily "uffda!" was always in order, and came to be expected. Those who were blessed to know Dick will remember his love for sports (he was a huge Ranger's fan), his gift for gab, his compassion and service to those less fortunate and his competitive nature when playing cards.

Richard is survived by his wife of 53 years, Dee Smith Gemmel of Athens; daughters, Kari Gemmel Brashears of Fate, Texas, Jennifer (Nicolas) Pizana of Royce City, Texas; grandchildren, Nathaniel Brashears, Zachary Brashears, Noea Pizana and Jaxon Pizana; mother, Milda of Austin, Minn.; brothers, David of Eagan and Michael of Fort Dodge, Iowa.

He was preceded in death by his father, Kenneth and son-in-law, Rick Brashears.

Funeral services will be 11 a.m. Wednesday, Aug. 10, at The First United Methodist Church, Athens, Texas, with a second service and burial ceremony Saturday, August 13, 2011 at The First United Methodist Church, Austin, Minn. Friends may call at the Worlein Funeral Home in Austin from 5 to 7 p.m. Friday, Aug. 12, and one hour prior to the service at the church. Richard's final resting place will be in Oakwood Cemetery, Austin. Worlein Funeral Home of Austin is in charge of arrangements. In lieu of flowers, donations can be made to the Sandra J. Schulze American Cancer Society Hope Lodge, 411 2nd Street NW, Rochester, MN, 55901, or The First United Methodist Church in Athens, Fellowship Hall Remodeling Project or The First United Methodist Church of Austin, Van Committee. Condolences may be expressed to the family online at www.worlein.com.

[ Austin Daily Herald, Wed., August 10, 2011 ]

©2011 MNGenWeb
Anna (Smith) Goergen
1890-2011
Funeral services will be held on Friday at the Sacred Heart Catholic Church in Adams, Minnesota. Burial will be in the Sacred Heart Cemetery in Adams. Mrs. Goergen, 95, of Osage, Iowa, and formerly of Adams, Minnesota, died on Tuesday, Janaury 15, 1985 at Faith Lutheran Home.

Anna was born on April 9, 1890, the daughter of Mr. and Mrs. Nickolas Smith of Austin, Minnesota.

She was united in marriage on May 5, 1914 to Peter J. Goergen at the Sacred Heart Church in Adams.

Anna was preceded in death by her husband, parents, two sisters and one brother.

Survivors include three sons: Lawrence, Osage, George, Flint, Michigan, and Roman, Erie, Pennsylvania; 17 grandchildren and seven great-grandchildren; two sisters, Mrs. Louise Peterson, and Mrs. Marie McCarron, both of Minneapolis, Minn.; and by four brothers, William, Fred and Merrill Smith, all of Austin, Minn.; and Paul Smith, Milwaukee, Wisconsin.

[Mitchell County Press -- January 23, 1985]

©2011 MNGenWeb
Paul Keith Voorhees, 61
1950-2011
Paul Keith Voorhees, 61, died August 9, 2011, at his home, surrounded by his family after his courageous battle with cancer.

He was born June 26, 1950, in Austin, Minnesota.

He will be deeply missed by his children, JoDell (Jon) Knutson and Joseph Voorhees; brothers and sisters; nieces, nephews, many relatives and good friends.

God received a very special gift that day, and he will be greatly missed.

Per his wishes, private family services were held. Paul's family would encourage you to share your memories of him by mail at: 3501 Xenium Lane N. No. 139, Plymouth, MN 55441.

[ Austin Daily Herald online, Thur., August 11, 2011 ]

©2011 MNGenWeb
©2011 MNGenWeb
Webization by Kermit Kittleson, August 2011