Mower County Obituaries

Part 300
Denver W. Osmonson
1907-1964
Denver Osmonson Funeral Held Monday, August 3

Funeral services for Denver W. Osmonson, 57, who died at his farm home near Otranto Thursday, July 30, were held Monday, August 3 at the Otranto Community church with the Rev. Eugene Schmidt officiating.

Mr. Osmonson was born January 23, 1907 in Northwood. He is survived by his wife, Irma; a daughter, Ann of Austin, Minn.; two sons, Roger of Northwood and Gary, at home; also two brothers, Russell of Albert Lea, Minnesota, and Leonard of Glenville, Minn.; two sisters, Mrs. Richard Kappel of Neenah, Wis. and Mrs. William Nelson of Wisconsin Rapids, Wis.

Burial was in Woodbury cemetery, Lyle, with Rev. Schmidt in charge of the committal services.

Source: St. Ansgar Enterprise, 6 Aug. 1964, page 1, column 5
Credit: Mitche Helle

©2016 MNGenWeb
Grover Cleveland Salisbury
1884-1964
Grover Salisbury Funeral Held At Our Savior's

Funeral services for Grover C. Salisbury, 79, who died Thursday, February 20 at the Mitchell County Memorial hospital after a lingering illness, were held at Our Savior's Lutheran church in Lyle with the Rev. Merland Johnson officiating. Interment was in Woodbury cemetery.

Grover Cleveland Salisbury, son of Mr. and Mrs. William Salisbury was born November 27, 1884 at Lake City, Calhoun County, Iowa.

November 6, 1907 he was united in marriage to Anne Christine Garnatz at Rockwell, Iowa. Eight children were born to this union. They resided in the Lyle community for the past 36 years.

Mr. Salisbury is survived by five daughters, Miss Lucile Salisbury of San Diego, Calif.; Mrs. Nels (Margaret) Erickson of Glenville; Mrs. Judene (Mabel) Martin and Mrs. Casper (Angeline) Overland of Albert Lea; Mrs. Ed (Dorothy) Newkirk of Adams; two sons, Clifford and Leonard, both of Lyle; also 15 grandchildren and 16 great-grandchildren; one sister, Mrs. Alfred Casseum of Minneapolis; two brothers, Sheldon of Auburn, Wash, and Virgil of Dodge Center.

He was preceded in death by his wife, one son, his parents and five brothers.

Pallbearers were LaVern Martin, Leonard Minear, Loren Minear, Larry Minear, Donald Salisbury, Richard Salisbury, Dale Overland, Roger Newkirk, Ronald Newkirk, all grandsons of the deceased.

Source: St. Ansgar Enterprise, 5 March 1964,
Lyle Leader News supplement, page 1, column 5
Credit: Mitche Helle

©2016 MNGenWeb
Anna Christine (Garnatz)
Salisbury
1880-1963
Mrs. Grover Salisbury Funeral Held At Our Savior's

Funeral services were held Saturday, September 14 for Mrs. Grover Salisbury, 82, who died Wednesday, September 11, at Mitchell County Memorial Hospital in Osage following a five weeks illness.

Services were held at Our Savior's Lutheran church with the Rev. Merland Johnson officiating with interment in Woodbury cemetery.

Anna Christine Garnatz Salisbury, the daughter of William and Tonie Garnatz, was born at Racine, Wis., December 18, 1880. She was confirmed in the Lutheran faith at Auburn, Iowa, April 15, 1900.

On November 6, 1907 she was married to Grover Salisbury at Rockwell Iowa. They resided in the Lyle community for the past thirty-six years.

She is survived by her husband, Grover Salisbury of Lyle; five daughters, Miss Lucille Salisbury, San Diego, Calif; Mrs. Nels (Margaret) Ericksen, Glenville; Mrs. Judene (Mabel) Martin; Mrs. Casper (Angeline) Overland, of Albert Lea; Mrs. Ed (Dorothy) Newkirk, Adams; two sons, Clifford and Leonard of Lyle; also 15 grandchildren, and 15 great-grandchildren; also one sister, Mrs. Ella Cayoll; and one brother, Everett Garnatz both of Auburn, Iowa.

Pallbearers were LaVern Martin, Leonard Martin, Larry Minear, Dale Overland, Donald Salisbury, Richard Salisbury, Roger Newkirk and Ronald Newkirk, all grandsons of the deceased.

Source: St. Ansgar Enterprise, 19 Sept. 1963,
Lyle Leader News supplement, page 1, column 5
Credit: Mitche Helle

©2016 MNGenWeb
George Peterman
1894-1962
George Peterman Funeral
in Austin December 6

Funeral services were held Thursday, December 6 at 2 p. m at the Jordan Mortuary in Austin, Minnesota, for a life long area farmer, George Peterman, age 68. Officiating was the Rev. William Law of the First Methodist church in Austin, with interment in Woodbury cemetery west of Lyle.

George Peterman, son of Frank and Mary Cherney Peterman, was born on a farm in Lyle Township November 7, 1894. He lived on this same farm all his life. As a boy he attended school at Lyle Center.

On October 4, 1927 he was united in marriage to Clara Prihoda at the Lutheran Parsonage in Austin, Minnesota.

During his entire life as a farmer he was always interested in the affairs of the rural community and the welfare of the farmer. After his retirement from active farming he chose to stay on the home farm where he enjoyed his garden and devoted a considerable amount of time to his hobby of fishing. He enjoyed being among young people, and many of his good friends were his young neighbors.

Mr. Peterman died at St. Olaf Hospital, Austin, Minnesota, on the afternoon of December 3. He had undergone surgery, but had returned home and then returned to the hospital again just four days before his death.

He is survived by his wife, Clara; two sisters, Mrs. Laura Beyer, Myrtle, Minnesota, and Mrs. Anna Lukes, Austin, Minnesota; and a brother, Charles Peterman of Austin, Minnesota; two nieces, Mrs. Beverly Truelove, Austin, Mrs. Dale Dise (Mary Jean), Myrtle, Minnesota, and two nephews, Richard Lukes and Vernon Campbell both of Austin

Source: St. Ansgar Enterprise, 13 Dec. 1962, page 2,
columns 2 & 3 under heading "LYLE NEWS"
Credit: Mitche Helle

---

George Peterman, Lyle farmer, dies at 68

LYLE, MINNESOTA - George Peterman, 68, died Monday at St. Olaf's Hospital, Austin, Minnesota. Funeral services will be Thursday at 2 p.m. at Jordan's Mortuary, Austin. The Rev. William Law of the Austin Methodist Church will officiate. Burial will be in Woodbury Cemetery, west of Lyle.

The son of Frank and Mary Peterman, he was born November 7, 1894, northwest of Lyle, on the farm where he lived all his life. He was married to Clara Priehoda, October 4, 1927.

Surviving are his wife, two sisters, Mrs. Laura Beyer, Myrtle, Minnesota; Mrs. Anna Lukas, Austin, and a brother, Charles, Austin.

Source: The Mason City Globe Gazette, 5 Dec. 1962, page 27, column 4
Credit: Mitch Helle, 1/2016

©2015 MNGenWeb
Katie L. Dockstader
1878-1962
Katie L. Dockstader Rites Held At Otranto Church

Funeral services for Miss Katie L. Dockstader, 84, who died at the Mitchell County Memorial hospital August 11, were held Monday, August 13 at the Otranto Community church with the Rev Elwin Labrenz officiating.

Katie L. Dockstader, the daughter of the late Frank and Mary (Munholland) Dockstader, was born August 13, 1878, on the Dockstader farm east of Otranto.

She was educated in the Otranto public schools and taught in the rural schools of Mitchell County for 25 years. She then took Civil Service examinations and was appointed Postmistress at Otranto, a position she held for 20 years. Upon her retirement in 1948, she made her home with her niece and family on the farm.

Miss Dockstader is survived by three nieces Mrs. Glen Mitchell of Des Moines, Mrs. Carlyle Abele of Garner and Mrs. Pete Gomez of Otranto; also two nephews, Richard Dockstader of Ottuma and Beldon Dockstader of Guadalupe, Calif, also 21 grandnieces and nephews survive.

She was preceded in death by her parents, two brothers, Fred and Arthur and one nephew.

Burial was in the Woodbury cemetery near Lyle with Rev. Labrenz in charge of the committal services.

Source: St. Ansgar Enterprise, 23 Aug. 1962,
page 1, column 5
Credit: Mitche Helle

©2016 MNGenWeb
Gena A. (Hanson) Rawn
1888-1961
#1:

Mrs. Gena Rawn Rites Held In Austin

Funeral services for a former Lyle Township woman, Mrs. Gena A. Rawn, 72, were held at Jordan Mortuary Chapel in Austin Saturday, August 5 with the Rev. Charles Pausley officiating, with interment in Woodbury cemetery west of Lyle.

She died at St. Olaf hospital in Austin from a lingering illness August 2.

Gena A. Hanson, the daughter of Mr. and Mrs. Nels Hanson, was born at Nashua, Iowa, December 24, 1888. Later her parents moved to Lyle township when she was eight years of age where she grew up and attended the Minnereka school.

She married Dan Rawn on November 27, 1907.

She is survived by a daughter, Mrs. Charles (Lyla) Adams of Austin; two granddaughters; a sister, Mrs. Martin Wold of Lyle, and a brother, Norman Hanson of Austin.

She was preceded in death by her parents and her husband Dan; also one brother, Albert Hanson.
Source: St. Ansgar Enterprise, 10 August 1961,
Lyle Leader News supplement, page 1, column 5
Credit: Mitche Helle
---
#2: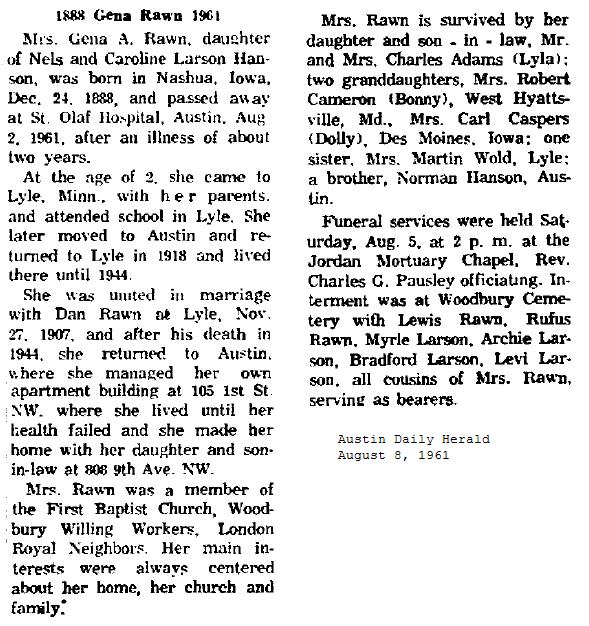 ©2017 MNGenWeb
Charles Huston
c1892-1961
Charles Huston Rites Held In Austin Tuesday

Funeral services for a long-time Lyle employee, Charles Huston, 68, of Austin, Minnesota were held Tuesday, January 31 at Worlein Funeral Home in Austin and interment was in Woodbury cemetery west of Lyle.

Mr. Huston had been employed at Dahls Hardware for over a period of 40 years.

He died from a heart attack at St. Olaf hospital Saturday evening, January 28, having entered there the previous day.

Survivors are his wife, two sons, Charles, Jr. and Raymond of Austin, also three daughters, Mrs. I. (Rosabelle) Lickteig, Mrs. R. E. (Florence High, both of Austin and Mrs. John (Della) Roth of Seattle, Washington; also 10 grandchildren.

Source: St. Ansgar Enterprise, 2 Feb. 1961,
Lyle Leader News supplement, page 1, column 3
Credit: Mitche Helle

©2016 MNGenWeb
Peter Norregaard
c1957-1960
Rites Held for Norregaard Infant

Funeral services for Peter Norregaard, age 3, son of Mr. and Mrs. Walter Norregaard, northwest of Lyle who died Saturday, December 17, from a heart condition caused by too much cholesterol in the blood where held on Wednesday at 1 P. M. December 21, at Our Savior Lutheran church with the Rev. Merland Johnson officiating with interment in Woodbury cemetery west of Lyle.

He is survived by his parents, three sisters, Bernice, Marie and Susan and four brothers, Robert, Nathan, Daniel and Mark. Also his grandparents Mr. and Mrs. John Paulson of Piquot Lakes, Minnesota and Mr. and Mrs. Peter Norregaard of Lake Mills.

He was preceded in death by a brother Walter, Jr. who passed away less than two years ago from the same illness.

Source: St. Ansgar Enterprise, 22 Dec. 1960,
Lyle Leader News supplement, page 1, column 3
Credit: Mitche Helle

©2016 MNGenWeb
Annie Pauline (Johnson) Kilgore
1888-1960
Mrs. Annie Kilgore Rites Held In Austin, Minnesota.

Funeral services for Mrs. Annie Kilgore, 71, were held at St. Olaf Lutheran church in Austin Friday, May 6 with the Rev. Arthur L. Swenson officiating and interment was in Woodbury cemetery west of Lyle. She died suddenly at her home in Austin May 4 from heart failure.

Annie Pauline Johnson, daughter of Mr. and Mrs. Eberhart Johnson, was born in Mitchell county near Mona October 30, 1888. She was baptized and confirmed in the Mona Lutheran church and also received her elementary education in the Mona school. She was married to William Kilgore October 12, 1910. She and her husband lived in Austin until his death September 10, 1946 with the exception of a few years at Bellingham, Washington.

She is survived by a daughter, Mrs. Clarence (Ardella) Halderson and two sons, Willard and James, all of Austin, and five grandchildren. Also two sisters, Mrs. Carrie Nelson and Mrs. Millie Carlson, both of Mona and a brother, John M. Johnson of Minneapolis.

She was preceded in death by her parents, her husband, three sisters, Mrs. Mina Kilgore, and Julia and Clara Johnson and one brother, Edwin Johnson.

Pallbearers were Harlan Nelson, Vernon Nelson, Edwin Kilgore, Wayne Hanson, Leonard Larson and Earl Cooper.
-- C. R.

Source: St. Ansgar Enterprise, 12 May 1960,
Lyle Leader News supplement, page 1, column 4
Credit: Mitche Helle

©2016 MNGenWeb
John Frederick Klusmeier
1879-1959
John Klusmeier Rites Held July 7

Funeral services for John F, Klusmeier, 80, of Otranto, who died at his home Saturday, July 4, were held Tuesday, July 7 at the Otranto Community church with the Rev. Elwin C. Labrenz officiating.

John Frederick Klusmeier was born in Gibson County, Indiana July 28, 1879, the son of the late Henry and Emmeline Klusmeier. He was baptized and confirmed in the St. Paul Evangelical Reformed church near Fort Branch, Indiana, and later became a member of the Otranto Community church.

When a young man he left his boyhood home and came to Franklin county, Iowa where he was engaged in farming, and where he met and married Miss Bertha Carr March 2, 1904. They established their first home at Latimer, Iowa and to this union seven children were born.

Mr. Klusmeier came with his family to the Otranto community in 1917 and farmed for 17 years. He then moved to Otranto where he established the Hatchery and Produce business which he continued until his health failed.

Mr. and Mrs. Klusmeier were privileged to celebrate their golden wedding anniversary in 1954, an occasion which afforded them much pleasure. This past March, together with their family, they observed their 55th anniversary.

Besides his wife and children he is survived by 14 grandchildren, 12 great-grandchildren and one brother, Adolph of Latimer. He was preceded in death by his parents, three brothers and three sisters.

Burial was in the Woodbury cemetery near Lyle with the Rev. Labrenz in charge of the committal services.

Source: St. Ansgar Enterprise, 16 July 1959,
page 8, column 4
Credit: Mitche Helle

©2016 MNGenWeb
Bertha Edna (Carr) Klusmeier
1881-1959
Bertha Klusmeier Rites Held at Otranto Church

Funeral services for Mrs. Bertha E. Klusmeier, 78, of Otranto, who died Thursday, Sept. 24 at the Mitchell County Memorial hospital in Osage, were held Saturday, Sept. 26 at the Otranto Community church with the Rev. Elwin C. Labrenz officiating.

Bertha Edna Carr, daughter of George and Etta Carr, was born March 20, 1881 in Marengo, Ill. As a child she came with her parents to Franklin County, Iowa. It was here she met and married John Klusmeier March 2, 1904. Seven children were born to this union: Edna Lucile (Mrs. Burton Larson) of Otranto; Emmeline (Mrs. John Schulz) of New Hampton; William of Rose Creek, Minn.; Verdie (Mrs. Raymond Carlson) of Lyle; Edith (Mrs. Alvin Rasmussen) of Grand Meadow, Minn.; Ruby (Mrs. George Ransomm) of Lyle, and Leslie of Otranto.

Mrs. Klusmeier was a member of the Methodist church in Latimer, later becoming a member of the Otranto Community church. She was a charter member of the Ladies Aid and served as president for 15 years and secretary for a number of years until her health failed and she was forced to resign. She also served as secretary of the Sunday School for many years.

She and her husband were privileged to celebrate their golden wedding anniversary in 1954, an occasion which afforded them much pleasure, and this past March, together with their family, celebrated their 55th anniversary.

Mrs. Klusmeier was a kind and loving mother and wife and will be greatly missed by her family and many friends. The last four years of her life were spent primarily caring for her devoted husband. During her illness she was always patient and understanding and appreciated everything that was done for her.

Besides her seven children, she is survived by 14 grandchildren, 13 great-grandchildren, one sister, Mrs. Henry Miller of Latimer and one brother Emmett Carr of Rowan. She was preceded in death by her husband, one grandson, her parents and one brother, Frank Carr.

Interment was in the Woodbury cemetery west of Lyle with Rev. Labrenz in charge of the committal services.

Source: St. Ansgar Enterprise, 1 Oct. 1959,
page 1, column 6
Credit: Mitche Helle

©2016 MNGenWeb
George Herman Peters
1911-1980
Funeral Services For George Peters
At Our Savior's Lutheran

Funeral services for George Peters, 69, of Lyle, who died July 15 at the Harmony Community hospital in Harmony, Minn., were held July 17 at Our Savior's Lutheran church, Lyle, with the Rev. Harold Luecke officiating.

George Herman Peters was born February 10, 1911 at Varina to Gerd and Anna Peters. He was baptized into the Christian faith at an early age and confirmed in the Lutheran church, Pocahontas.

February 10, 1938, he was united in marriage to Marie Hinrichs at St. John's Lutheran church, Palmer. They farmed for one year at Gilmore City, then moved to a farm at Manson where they lived for 15 years. In 1954 George and his family moved to Lyle, Minn, to the farm across from the Woodbury cemetery, until he was forced to retire from farming in 1962 due to ill health.

They moved to St. Ansgar where he worked at various occupations until 1979 when he retired. They then moved to the Colonial Manor Apartments in Lyle, Minn.

Mr. Peters is survived by his wife, Marie; two sons, Ronald of Austin, Minn, and Dr. Robert Peters of Harmony, Minn.; four daughters, Mrs. Quentin (Marlene). Fiala of Crystal, Minn., Mrs. Jerry (Linda) Reinartz of Austin, Minn., Mrs. Betty Hofland of Marion, and Julie Peters of Cedar Falls; 12 grandchildren; two brothers, Henry of Pocahontas and Pete of Palmer; four sisters, Tena Parath of Newell, Jennie Weiker of Manson, Anna Klocko of Swea City and Minnie Peters of Pocahontas; also many relatives and friends.

Burial was in the Woodbury cemetery, Lyle, with the Rev. Luecke in charge of committal services.

Source: St. Ansgar Enterprise, 31 July 1980,
page 1, columns 3 & 4

Credit: Mitche Helle

©2016 MNGenWeb
L. Veta (Pope) Myhre
1905-1980
Mrs. Conrad Myhre Funeral Held At Our Savior's Lutheran

Funeral services for Mrs. Conrad (Veta) Myhre, 74, who died at her home in Lyle February 27, were held March 1 at Our Savior's Lutheran church, Lyle, with the Rev. Harold Luecke officiating.

L. Veta Pope was born July 7, 1905 in Northwood, Iowa, the daughter of Alfred B. and Cora Pope. February 17, 1927 she was united in marriage to Conrad Myhre. They farmed in the Lyle area until 1955 when they moved to North Hollywood, Calif. In 1956 they returned to Lyle where Mrs. Myhre was employed as a cook in the Lyle Public school until her retirement in 1969.

Mrs. Myhre was a member of Our Savior's Lutheran church, Esther Circle, Ladies Aid, and also a member of the Woodbury Willing Workers. For many years she taught Sunday school and sang in the church choir.

She is survived by her husband Conrad; three daughters, Mrs. Norman (Alta) Joynes of Albert Lea, Minn.; Mrs. Paul (LoRetta) Leidall of St. Ansgar; and Mrs. Olaf (Florence) Golberg of Lyle; one son, Eugene of Lyle; also three sisters, Mrs. Wilbur (Marjorie) Nicholsen, Amboy, Minn.; Mrs. Velma Gaarder of Minneapolis; and Mrs. Irma Osmonson of St. Ansgar; also 10 grandchildren; 13 great-grandchildren; also many nieces, nephews and cousins.

She was preceded in death by her parents and one grandson.

Burial was in Woodbury cemetery with Rev. Luecke in charge of the committal services.

Source: St. Ansgar Enterprise, 13 March 1980,
page 1, column 6

Credit: Mitche Helle

---

L. Veta Myhre was born on July 7, 1905, and died on February 27, 1980.

Funeral services were held at Our Savior's Lutheran Church in Lyle, Minnesota, on March 1, 1980. Rev. H. Luecke officiated.

Interment was in the Woodbury Cemetery, Lyle, Minnesota.

Source: Funeral service folder (Credit: Karen Robertson)

©2016 MNGenWeb
Lewis J. Rawn
1937-1979
Lewis Rawn Funeral Held Friday, July 13

Funeral services for Lewis J. Rawn, 42, who died July 10, were held July 13 at the Schroeder Funeral Home here with the Rev. Harold Luecke officiating.

Lewis J. Rawn was born March 6, 1937, in Lyle township, Mower county, Minnesota, the son of Lewis and Wilma Rawn. He grew up around the Lyle area and attended the public school there. He worked in the Lyle area before entering the Air Force, from which he received a medical discharge. He then drove a semi truck for several years and worked for the Lyle produce.

Lewis was baptized and confirmed at Our Savior's Lutheran church, on February 20, 1959 he married Sharon K. Anderson at Trinity Lutheran church in Osage. To this union were born three daughters and two sons.

He was preceded in death by his mother. Mr. Rawn is survived by his wife, Sharon; five children, Jill, Susan, Craig, Carol and Darryl; father, Lewis Rawn Sr.; stepmother, Edith; one brother, David; and one grandchild, Melissa Ann.

Burial was in the Woodbury cemetery.

Source: St. Ansgar Enterprise, 2 Aug. 1979,
page 8, column 3

Credit: Mitche Helle

©2016 MNGenWeb
Lucile Edna Larson
1905-1978
Mrs. Lucile Larson Funeral Held At Otranto Church

Funeral services for Mrs. Lucile Larson, 73, of Otranto, Iowa, who died at the Stacyville Nursing Home June 16, were held June 19 at the Otranto Community church with with the Rev. Howard Grossoehme officiating.

Lucile Edna Larson, daughter of John and Bertha (Carr) Klusmeier, was born on May 19, 1905, in Latimer. She moved with her parents to Otranto in 1917.

December 11, 1922 she married Burton Larson. They lived in Lyle the first 24 years of their marriage, and while living there, three sons were born to them.

Mrs. Larson was baptized and confirmed in the Lutheran faith, and was a member of Our Savior's Lutheran church in Lyle until she moved to Otranto in 1946, after which she attended the Otranto Community church and was a faithful member and active in church activities as long as she was able.

She and her husband operated the Grocery store in Otranto until 1967, after which she worked at the Good Samaritan Center in St. Ansgar.

Mrs. Larson was preceded in death by her husband, Burton, a son, Virgil, her parents, a sister, Emily and a brother, Leslie.

She is survived by her sons, Eldon of Austin, Minn, and Douglas of Osage; nine grandchildren, nine great grandchildren; a brother, William Klusmeier of Rose Creek, Minn.; three sisters, Mrs. Raymond (Verdie) Carlson of Lyle, Mrs. Ralph (Edith) Rasmussen of Grand Meadow, Minn, and Mrs. George (Ruby) Ransom of Lyle; a brother-in-law, John Schulz of New Hampton and a sister in-law, Mrs. Beverly Klusmeier of Otranto; also numerous nieces and nephews.

Burial was in Woodbury cemetery, Lyle, with the Rev. Grossoehme officiating.

Source: St. Ansgar Enterprise, 6 July 1978,
page 1, column 5

Credit: Mitche Helle

©2016 MNGenWeb
Delia Pauline Hotson
1894-1979
Mrs. Vance Hotson Funeral held January 17

Funeral services for Mrs. Vance (Delia) Hotson, 84, of Lyle, who died January 14 at St. Mark's Retirement Home in Austin, were held January 17 at Our Savior's Lutheran church. Lyle, with the Rev. H. Luecke officiating.

Delia Pauline Hotson, the daughter of Ole and Petrina Richardson, was born March 7, 1894 in Nevada township. She attended school at District #9 and was a graduate of Lyle high school in 1912.

December 10, 1913, she married Vance Hotson in Nevada township. They resided on a farm in Lyle township until they moved to Lyle in 1949, the farm their son Wayne (Bud) now resides on.

Delia was an active member of the London Lutheran church and helped organize a Ladies Aid and Sunday school there, and served on the school board district #70. She was an active member of Our Savior's Lutheran church, Lyle, the ALCW, a circle member and a member of Woodbury Cemetery association, the Woodbury Willing Workers auxiliary and the Royal Neighbors of America.

She is survived by two sons. Dean Hotson and Wayne Hotson of rural Austin, Minn.; one daughter, Mrs. Verner (Wilma) Schilling of Myrtle, Minn.; a daughter in-law, Mrs. Dale (Ruth) Hotson of Milwaukee, Wis.; 14 grandchildren; 17 great-grandchildren; nieces and nephews.

She was preceded in death by her parents, her husband Vance in 1971; a son, Dale in 1973; an infant daughter, Donna; four sisters and four brothers. She was the last surviving member of a family of nine children.

Burial was in Woodbury Cemetery west of Lyle. Worlein Funeral Home of Austin was in charge of arrangements.

Source: St. Ansgar Enterprise, 25 Jan. 1979,
page 5, columns 6 & 7

Credit: Mitche Helle

©2016 MNGenWeb
Martena (Madsen, Allen) Lorenzen
died 1978
Funeral services for Mrs. Martena Allen Lorenzen who died at the Burr Oak Manor in Austin, Minn., March 31 , were held April 3 at the Clasen-Jordan Funeral chapel in Austin with burial in Woodbury cemetery west of Lyle.

Those from this area attending the service were: her son, Lewis Allen and wife; her brother, Martin Madsen and wife; her sister, Mrs. Anna Goplerud; also Mr. and Mrs. Howard Madsen and Lester, Mr. and Mrs. Don Levendusky, Leo LaDouceur and Mr. and Mrs. Orie Heard.

Source: St. Ansgar Enterprise, 13 April 1978, page 5,
columns 4 & 5 under heading "ST. ANSGAR LOCALS"

Credit: Mitche Helle

©2016 MNGenWeb
Vita Van Camp
1877-1977
Vita Van Camp Funeral Held Friday September 16

Funeral services for Miss Vita Van Camp, 100, who died at the St. Ansgar Good Samaritan Center September 14, were held September 16 at the Clasen-Jordan Funeral Chapel in Austin, Minn, with the Rev. Smesrud officiating.

Miss Van Camp at one time lived in old Otranto. April 2 of this year she celebrated her 100th anniversary at the Center.

Survivors Include the following cousins: Mrs. Archie (Gwendolyn) Pike of Otranto; Jack Wilder of St. Ansgar; Mrs. Mattie Davis of Bremerton, Wash.; Mrs. Edith Cattron of Portland, Ore.; Mrs. Callie Anderson and Lee Wilder of Cedar Falls; Glen Van Camp of Austin, Minn.; Mrs. Galen (Katherine) Carlson of Charles City; Mrs. Mildred Saxon of Booksville, Fla. . Mrs. Dale (Elizabeth) Lillie of Waltham. Minn, and Mrs. Edwina Rollandet of Rosenberg, Tex.

Burial was in Woodbury cemetery north of Otranto.

Source: St. Ansgar Enterprise, 29 Sept. 1977,
page 1, column 3

Credit: Mitche Helle

©2016 MNGenWeb
Mabel Ethel (Cottingham) Lenz
1905-1977
Mrs. Harry Lenz Funeral Held Friday, December 31

Funeral services for Mrs. Harry Lenz, 71, who died at her farm home west of Lyle December 29, were held Friday, December 31 at Westminster Presbyterian church in Austin with the Rev. Robert Morgan officiating.

Mabel Ethel Cottingham, the daughter of Charles D. and Phoebe E. (Lumbrick) Cottingham was born November 9, 1905 at Northwood, Iowa, where she attended school and spent her childhood.

August 28, 1937 she was united in marriage to Harry Lenz at Northwood, and they established their home near Lyle and the past 38 years have resided on a farm northwest of Lyle on 105.

Mrs. Lenz was a member of the Lyle Nevada Township Farm Bureau and had held offices, the Concord Grange, Woodbury Willing Workers and the Mower County Republican party.

She is survived by her husband, Harry; two daughters, Mrs. Leo (Mary Alice) Pool of Worthington, Minn, and Mrs. Donald (Joanne) Kothenbuetel of Hampton; one son, Carroll, of Lyle; eight grandchildren; a sister-in-law, Mrs. Gladys Cottingham of Northwood.

She was preceded in death by her parents; one brother, James and one grandson, Blaine Eric Lenz.

Interment was at Woodbury cemetery west of Lyle.

Source: St. Ansgar Enterprise, 6 Jan. 1977,
page 2, columns 5 & 6

Credit: Mitche Helle

©2016 MNGenWeb
Mr. Laurel L. Wilder
1934-1976
Laurel L. Wilder Funeral Held Friday, May 21

Funeral services for Laurel L. Wilder, 41, who died at the Mitchell County Memorial hospital May 19, were held May 21 at the Schroeder & Dunn Funeral Home here with the Rev. Stephen Engelstad, pastor of First Lutheran church, officiating.

Laurel L. Wilder was born July 4, 1934, the son of Andrew J. (Jack) and Elmira (Smith) Wilder at their farm home in Worth county. He attended Otranto grade school and entered the U.S. Air Force in July 1951. While serving in the Air Force he earned the Good Conduct Medal, United Nations Service Medal, National Defense Service Medal and the Korean Service Medal with two battle stars. Mr. Wilder also served in the U.S. Army, and after his discharge, went into construction work in the Chicago area.

He suffered an accident while at work there, and returned to St. Ansgar In 1975 where he lived with his parents.

Mr. Wilder is survived by his parents, Mr. and Mrs. Jack Wilder of St. Ansgar; four brothers, Doyle of Lyle, Minn., Roger of St. Ansgar, Marlin of Sugar Grove, Ill. and Donald of Oswego, Ill.; two sisters, Mrs. Darwin (Jeanine) Neuman of St. Ansgar and Mrs. Robert (Joan) Butters of St. Ansgar.

Military honors were presented by the Walter T. Enneberg Post No. 358 of the American Legion.

Burial was in Woodbury cemetery in Lyle with Rev. Engelstad in charge of the committal services.

Source: St. Ansgar Enterprise, 27 May 1976,
page 1, columns 1 & 2

Credit: Mitche Helle

©2016 MNGenWeb
Jennie (Buss) Koopal
1912-1976
Mrs. Jennie Koopal Funeral
Held At Bethel Alliance

Funeral services for Mrs. Jennie Koopal, 63, who died April 11 at Methodist hospital in Rochester, Minn., were held April 14 at Bethel Alliance church in Lyle with the Rev. Marshall Averbeck officiating. Interment was in Woodbury cemetery west of Lyle.

Jennie Koopal, daughter of John and Jennie Buss, was born at George September 30, 1912. With the exception of a few years spent in the Netherlands, she lived around George.

On November 29, 1933 she married Cornelius (Case) Koopal and three sons were born to this union.

In the spring of 1947 she moved from Sheldon with her family to Lyle. She was active in project groups and handicraft work.

She is survived by three sons, John of Waverly, Sammy of Lyle; William of Austin, Minn two daughters-in-law, Mrs. John (Betty) Koopal and Mrs. William (Eileen) Koopal, six grandchildren, Steven, Kellie, Craig, Kathi, Susan and Michael, three brothers, Henry Buss of Rock Rapids, Albert Buss of Ashton; Fred Buss of Sioux City; four sisters, Mrs. Art (Tina) Schaafsma of Midland Park, N J.; Mrs. Albert (Rena) Vander Ploeg of Ridgewood, N. J.; Mrs. Henry (Johanna) Heerkina of Rochester; N. Y.; and Ann Elzenga of Long Beach, Calif.; nieces and nephews.

She was preceded in death by her parents, her husband, Case.

Source: St. Ansger Enterprise, 22 April 1976,
page 6, columns 1 & 2

Credit: Mitche Helle

©2016 MNGenWeb
Arlene (Qualey) Campbell
1925-1976
Mrs. Roger Campbell Funeral Services Held Wednesday, March 3

Funeral services for Mrs. Roger Campbell, 50, who died February 29 at Mitchell County Memorial hospital, were held Wednesday, March 3 at the Austin Salvation Army Citadel with Capt. Lester Morrall officiating. Interment was in Woodbury cemetery near Lyle.

Arlene Campbell, daughter of Edwin and Evelyn Qualey, was born March 20, 1925 at Solway, Minn. Her family included her parents and one brother. When she was between the age of two and nine her family made three moves leaving Solway going to Kalamazoo, Mich, and to Spring Grove, Minn, where she started school. At the age of nine they moved to Austin where Arlene attended school and graduated from high school there in 1943.

In June of 1947 she was married to Roger Campbell and they resided in Otranto for 19 years where three daughters were born to them, Patrice Marie, Mary Ellen and Anna Martha Marie. It was during this time that Arlene and her husband had an experience in their lives that will last them throughout eternity. At the age of two their first daughter, Patrice died, and because of this death the parents were introduced to the Lord Jesus Christ as their personal saviour.

Arlene was active in community and church activities and a special help to her husband. She was also a personal worker for the Lord and enjoyed the sharing of her faith in him whenever the opportunity arose.

She is survived by her husband, Roger; two daughters, Mrs. Daryl (Mary) Steinbrink of Austin and Anna at home; one brother, Alden Qualey of Austin; one niece and three nephews.

Source: St. Ansgar Enterprise, 11 March 1976,
page 1, column 7

Credit: Mitche Helle

©2016 MNGenWeb
Thomas J. Pepper
died 1975
Private Rites For
Thomas J. Pepper
At Woodbury Cemetery

Private family committal rites were held Saturday at the Woodbury cemetery for Thomas John Pepper, the day old son of Mr. and Mrs. Michael Pepper of Austin.

Grandparents are Mr. and Mrs. Robert Greiner of Austin and Mr. and Mrs. Lowell Pepper of St. Paul. Great-grandparents are Mr. and Mrs. Frank Bedford of Lyle.

Source: St. Ansgar Enterprise, 8 May 1975,
page 8, column 3

Credit: Mitche Helle

©2016 MNGenWeb
Harry Beldon Dockstader
1887-1974
Harry B. Dockstader Funeral Held Wednesday, February 27

Funeral services for Harry B. Dockstader, 86, who died at his home in Otranto February 24, were held February 27 at the Otranto Community church with the Rev. Howard Grossoehme officiating.

Harry Beldon Dockstader was born March 27, 1887 in Otranto, the son of Walter and Anna Dockstader. He married Lucy A. Dockum June 20, 1917. He lived his entire life in the Otranto area where he worked for the Milwaukee Railroad as agent and later was postmaster.

Mr. Dockstader is survived by his wife, Lucy; one daughter, Mrs. Ervin (Phyllis) Helgeson of Rose Creek, Minn.; three grandchildren, Larry, Dale and Carol Helgeson; one great-granddaughter, Shelly Helgeson, all of Rose Creek; one brother, Dr. Hall Dockstader of Orange, Calif.; one sister, Mrs. Mahlon (Anne) Hocum, Forest City.

He was preceded in death by his parents, three brothers and two sisters.

Burial was in Woodbury cemetery, Lyle, with Rev. Grossoehme in charge of committal services.

Source: St. Ansgar Enterprise, 7 March 1974,
page 1, column 2

Credit: Mitche Helle

©2016 MNGenWeb
Marian Ellis (Christensen) Cuff
1925-2016
Marian Ellis (Christensen) Cuff, 91, of Austin, Minnesota, died Wednesday, April 20, 2016, at Comforcare Good Samaritan Center after a brief illness.

She was born January 22, 1925, on the family farm in Lamberton, Minnesota, to Arthur and Jeannette (DeCourcy) Christensen. Marian attended schools in Lamberton and Redwood Falls. After graduation, she left by train for Chicago to find work and live in the big city. She was hired to work at the Merchandise Mart as a secretary. On August 15, 1947, she was united in marriage to Harold Kenneth Cuff in Redwood Falls. To put Harold through school, Marian worked at the Mankato State Teacher's College.

Upon graduation, they accepted a teaching position for Harold at Austin High School. Austin became the city where they lived and raised their three children. After the children were grown, Marian worked as a teacher's aide. She kept a beautiful home of which she was very proud. Her holiday tables were absolutely beautiful. Marian was a wonderful cook and loved to travel and spend time with her children and their families.

She belonged to a group of Faculty Wives and Eastern Star, and was a faithful member of First United Methodist Church. Marian will be dearly missed by all who knew and loved her.

Survivors include her husband Harold Cuff of Austin, Minnesota; her children, Durene (Steve) Nelson of Breezy Point, Minnesota, Susan (Mark) Strauser of Dayton, Ohio, and Thomas (Mariann) Cuff of Front Royal, Virginia; six grandchildren, seven great-grandchildren; her brother-in-law Eugene Dressen and sister-in-law Beatrice Christensen, both of Redwood Falls, Minnesota; three nieces and two nephews.

Marian was preceded in death by her parents Arthur and Jeannette Christensen; her sister Sylvia Dressen; and her brother Dwayne Christensen.

A memorial service will be held at 2 p.m. on Saturday, April 23, 2016, at the First United Methodist Church in Austin with Pastor Dennis Tamke officiating. The Cuff family will greet friends at the church one hour prior to the service. Memorials in Marianís name can be directed to recipient of donorís choice. Worlein Funeral Home of Austin is assisting the family with arrangements. Condolences may be expressed to the family online at www.worlein.com.

Source: Austin Daily Herald website, 4/21/2016

©2016 MNGenWeb
Dolores Margaret (Davis) Marreel
1924-2016
Funeral Notice: Dolores Margaret Marreel, 91

Dolores Margaret Marreel, 91, of Austin, Minnesota, died Monday, April 17, 2016, at Comforcare Good Samaritan.

Service: A funeral mass will be celebrated at 11 a.m. on Friday, April 22, 2016, at Queen of Angels Catholic Church with Father Dale Tupper officiating.

Visitation: There will be a 4 p.m. CCW Rosary on Thursday at Mayer Funeral Home where friends may call from 4 to 7 p.m. and also one hour before the service at the church on Friday.

Interment: Interment will be in St. Peter's Cemetery in Rose Creek.

Funeral Home: Arrangements by Mayer Funeral Home.

Memorials: Condolences may be left online at www.mayerfh.com.

Source: Austin Daily Herald website, 4/21/2016

---

Obituary for Dolores Margaret Marreel

Dolores Margaret Marreel, age 91, of Austin, died Monday, April 17, 2016 at Comforcare Good Samaritan.

Dolores was born July 6, 1924 in St. Clair, Minnesota to Margaret (Mulcahy) and Grant Davis. She graduated Valedictorian from St. Clair High School in 1942. On January 16, 1946 she married Walter R. Marreel in Wilmington, Delaware. They moved to Austin, Minnesota that same year and started their family.

Dolores was a lifetime member of Queen of Angels Catholic Church. She enjoyed family, friends, prayer, baking, and caring for those in need.

Dolores is survived by her children, Janet (Robert) Douty, Rose Creek, Mark (Laurie) Marreel, Rochester, Roseria (Michael) Webeck, St. Charles, Mary (Steven) VanZee, Apple Valley, Michael (Sharon) Marreel, Owatonna, Madonna (Bob) Rosel, Rose Creek, Tim Marreel, Austin, John Marreel (Deb Arneson), Rochester, Dan (Laura) Marreel, Austin; 17 grandchildren; 24 great-grandchildren; five great-great-grandchildren; sister, Bernadette Stephens, Austin; along with numerous nieces and nephews.

Dolores is preceded in death by her husband, Walter; parents, Grant and Margaret Davis; grandson, Dustin Rosel, brother, Kenneth Davis.

A Funeral Mass will be celebrated 11 am on Friday, April 22, 2016 at Queen of Angels Catholic Church with Father Dale Tupper officiating. There will be a 4 pm CCW rosary on Thursday at Mayer Funeral Home where friends may call from 4-7 pm and also one hour before the service at the church on Friday. Interment will be in St. Peterís Cemetery in Rose Creek.

Arrangements by Mayer Funeral Home

Condolences may be left online at www.mayerfh.com

Source: Mayer Funeral Home, 4/21/2016

©2016 MNGenWeb
Alvina Emilie (Bos) Barclay
1931-2016
Born: February 27, 1931
Died: April 18, 2016

Alvina E. Barclay, 85 of Austin, Minnesota, died Monday, April 18, 2016 at Sacred Heart Care Center.

Alvina was born February 27, 1931 in Austin, Minnesota the daughter of Fred and Esther (Griese) Bos. She graduated from Austin High School in 1949. Alvina married Robert Barclay on March 10, 1951. She retired from Hormel Foods, where she was a long time employee.

She was a member of St. John's Lutheran Church and active in the Ladies Aid. She was also a member of the VFW Auxiliary. Alvina enjoyed fishing, playing bingo and reading. She enjoyed spending time with family and friends, especially her grandkids and going shopping with them.

She was preceded in death by her parents Fred Bos and Esther Bos Movrin, step father John Movrin, brothers William and Wessel Bos, sister and brother-in-law Darlene and Virgil Loux.

Alvina is survived by her husband: Robert Barclay, Austin, Minnesota; children: Robert "Bobby" (Rose) Barclay, Tower, Minnesota, Gary (Donna) Barclay, Austin, Minnesota, and Kathy (Sid) Leiding, Mankato, Minnesota; seven grandchildren; five great-grandchildren; brother: Bob (Shirley) Bos, Austin, Minnesota; sisters-in-law, Darlene Bos, Austin, Minnesota, and Pat Bos, Austin, Minnesota; and nieces and nephews.

Funeral services will be held at 10:30 am on Friday, April 22nd at St. Johns Lutheran Church with the Reverend Robert Bailey officiating. Interment will be at Grandview Cemetery. Visitation will be at Clasen-Jordan Mortuary from 4:00 to 7:00 pm on Thursday and at the church on Friday for one hour before the service.


Funeral Service:
Friday, April 22, 2016
St. John's Lutheran Church
1200 13th Avenue NW
Austin, Minnesota 55912

Source: Clasen-Jordan Funeral Home, 4/21/2016

©2016 MNGenWeb
Dean Carlyle Greibrok
1958-2016
Born: May 13, 1958
Died: April 12, 2016

Dean C. Greibrok, 57 of Austin, Minnesota, died Tuesday, April 12, 2016, at Mayo Clinic Hospitals, St. Marys Campus in Rochester.

Dean Carlyle Greibrok was born May 13, 1958 in Albert Lea, Minnesota the son of Carlyle and Dorothy (Kuhlmann) Greibrok. He was baptized at Oakland Lutheran Church and confirmed at Deer Creek Valley Lutheran Church. He attended rural school and graduated from Glenville High School. Dean completed his education at the Mankato Technical College. Dean married Canda Seys on September 25, 1993 at the Little Brown Church in Nashua, Iowa. He became a farm machinery mechanic working for Veldman Implement in Hollandale, Minnesota and most recently was a salesman with Ag-Power at Hollandale.

Dean was a toy tractor collector and liked to work in the yard and go camping. He enjoyed doing field work on the farms and loved spending time with his family and friends.

He was preceded in death by his father Carlyle Greibrok, mother-in-law, Judy Seys, brother-in-law, Robert Edwards and a nephew Dustin Leidall.

Dean is survived by his wife, Canda Greibrok, Austin, Minnesota; sons, Jordan Greibrok, Austin, Minnesota, and Michael Fadden, Austin, Minnesota; mother, Dorothy Greibrok, Austin, Minnesota; brothers, sister and spouses, David and Julie Greibrok, Lyle, Minnesota, Becky and John Westra, Wheaton, Illinois, Dwight and Patty Greibrok, Glenville, Minnesota, John Greibrok, St. Ansgar, Iowa, Allan and Laurie Greibrok, Austin, Minnesota; nieces and nephews; father-in-law, Ed Seys; sisters-in-law, Kim Leidall, Kelly Seys and brother-in-law and wife, Chad and Jennifer Seys, all of Austin, Minnesota.

Funeral services will be held at 2:00 pm on Saturday, April 16th at Faith Lutheran Church, London, Minnesota, with Pastor Kent Otterman officiating. Interment will be in Calvary Cemetery in Austin. Visitation will be at Clasen-Jordan Mortuary on Friday from 4:00 to 7:00 pm and at the church for one half hour before the service on Saturday afternoon.

Source: Clasen-Jordan Funeral Home, 4/21/2016

©2016 MNGenWeb
Robert Charles Gerlach
1931-2016
Robert Charles Gerlach, age 84 of Austin, Minnesota died Tuesday, April 12, 2016 at Mayo Clinic Hospital-Rochester, Saint Marys Campus. He was born June 16, 1931 in Austin, the son of Francis and Irene (Ponto) Gerlach. Robert was a 1949 graduate of St. Augustine Catholic Schools and served his country in the U.S. Army from 1954-1956. On June 6, 1953, Robert married Donna Johnson at St. Augustine Catholic Church. The couple raised five children. A lifelong Austin resident, he worked as a farmer for many years on the family's century farm, and worked for the U.S. Postal Service as a mail carrier. Robert also drove bus for Austin Transportation (formerly Pike Transportation) for 30 years. A member of St. Augustine's Catholic Church, he delivered Meals on Wheels and enjoyed traveling and RV camping. Robert once rebuilt an Allis Chambers tractor.

Survivors include his wife Donna Gerlach of Austin, Minnesota; children, Steve Gerlach of Mankato, Minnesota, Denise (Bill) Merriman of Kent, Ohio, Kent Gerlach, LeeAnn (Dave) Schafer and Janelle Lawrence, all of Austin, Minnesota; six grandchildren; four great-grandchildren; six brothers, Francis Jr. (Judy) Gerlach of Austin, Minnesota, Philip Gerlach of Bloomington, Minnesota, Carl (Kathy) Gerlach of Austin, Minnesota, John Gerlach of Cedar Rapids, Iowa, Alan (Carolyn) Gerlach of Alexandria, Minnesota, Thomas (Joanne) Gerlach of Ramsey, Minnesota; two sisters, Rosemary (Ronald) Malicki of The Villages, Florida, and Margene (Walter) Culbert of Austin, Minnesota.

Robert was preceded in death by his parents Francis and Irene Gerlach, his grandson Bradley Gerlach, his daughter-in-law Rita Gerlach, and his sister-in-law Merrie Gerlach.

A memorial service will be held at 2:00 p.m. on Monday, April 18, 2016 at St. Augustine Catholic Church with Father James Steffes officiating. The Gerlach Family will greet friends at the church from 12:30-2:00, immediately preceding the service. Interment will be in Grandview Cemetery with military honors by American Legion Post 91 and V.F.W. Post 1216. Memorials can be directed to Alzheimerís Research or recipient of donorís choice. Services prearranged and performed by Worlein Funeral Home of Austin.

Source: Worlein Funeral Home, 4/21/2016

©2016 MNGenWeb
Mitchell Dean Austinson
1966-1966
AUSTINSON INFANT GRAVESIDE RITES

Graveside services were held Friday, November 11 at Six Mile Grove Lutheran cemetery for Mitchell Dean Austinson, infant son of Mr. and Mrs. Carroll Austinson of Stewartville, who was born November 9 and lived only two hours. The Rev. James Bergman of Stewartville officiated.

Survivors are his parents, his maternal grandparents, Mr. and Mrs. Albert Dunker and paternal grandparents, Mr. and Mrs. LaVern Austinson, all of Lyle.

Following the service the family all met at the Robert Nelson home in Lyle.

Source: St. Ansgar Enterprise, 17 Nov. 1966,
Lyle Leader News supplement, page 1, column 4

Credit: Mitch Helle

©2016 MNGenWeb
Matthew James Austinson
1969-1969
GRAVESIDE RITES FOR AUSTINSON INFANT

Graveside services were held Thursday, August 28 at Six Mile Grove Lutheran cemetery for Matthew James, infant son of Mr. and Mrs. Carroll Austinson, Stewartville, Minn., who died shortly after birth August 19.

The Rev. Robt. Bergland, Stewartville, officiated at the services.

Grandparents are Mr. and Mrs. Albert Dunker and Mr. and Mrs. Lavern Austinson, both of Lyle.

Source: St. Ansgar Enterprise, 4 Sept. 1969,
Lyle Leader News supplement, page 1, column 3

Credit: Mitch Helle

©2016 MNGenWeb
Casper Theodore Ashley
1896-1969
Casper Ashley Funeral Held

Six Mile Grove

Funeral services for a Lyle area farmer, Casper T. Ashley, 72, were held Saturday, July 19, at Six Mile Grove Lutheran church with the Rev. Einar Unseth officiating.

Interment was in the church cemetery.

Mr. Ashley died at his farm home Wednesday, July 16 after suffering a heart attack, following many years of illness.

Casper Theodore Ashley, the son of Hans and Trena (Guttormson) Ashley, was born in Nevada twp. September 28, 1896. He was baptized in the Lutheran faith at Six Mile Grove church November 15,1896 and confirmed there in the same church.

Mr. Ashley was a World War I Veteran and military rites were conducted by Lyle American Legion Post 105.

On November 18, 1931 he was married to Gladys Ostenson and one son, Russell was born to this union.

He is survived by his wife, Gladys; a son, Russell & daughter-in-law, Donna & four grandchildren, Diane, Mark, Jeffrey & Julie; four brothers, Arthur and Lawrence, Austin, Minn.; Gustave of Glenville, Minn, and Hamlin of Lyle; also 13 nieces and nephews.

He was preceded in death by his parents, two sisters, Josie Bartell & Sadie Hanson.

Out of town persons attending the funeral came from Los Angeles, Calif; St. Petersburg, Fla.; Radcliff and Northwood; Albert Lea, Glenville, Adams, Austin, & the surrounding towns.

Source: St. Ansgar Enterprise, 24 July 1969,
Lyle Leader News supplement, page 1, columns 4 & 5

Credit: Mitch Helle

©2016 MNGenWeb
Clara Henrietta (Sandvig) Haugen
1899-1968
Mrs. Alfred Haugen Funeral Held Mona Lutheran

Funeral services for Mrs. Alfred Haugen, 68, of rural Mona, were held Thursday, January 25 at Mona Lutheran church with the Rev. S. Klemesrud officiating. Interment was in Pleasant Hill cemetery, Mona. Mrs. Haugen died at Mitchell County Memorial hospital in Osage Monday, January 22.

Clara Henrietta Haugen, the youngest child of Jens and Anna Sandvig was born on a farm east of Mona in Mitchell county September 16, 1899. She was baptized and confirmed in the Six Mile Grove Lutheran church and was a member there until her marriage. She then became a member of Mona Lutheran.

She attended the Mona grade school, graduated from the Lyle high school in 1919 and received her degree in Home Economics from the University of Minnesota in 1925.

On August 20, 1932 she was united in marriage to Alfred B. Haugen of Lyle, by the Rev. O. M. Langehough. Thev established their home on a farm east of Mona. She was the mother of three children, all of whom survive.

She is survived by her husband, Alfred; two daughters, Mrs. Dale (Mary) Sievert of Coon Rapids, Minn, and Mrs. Thomas (Ann) Knudsen of Lyle; one son, John of Lyle. Also five grandchildren; a sister, Louise Sandvig, and one brother, John Sandvig, both of Lyle.

Preceding her in death were her parents, three sisters, Mary who died in 1928; Emma in 1963 and one sister who died in infancy; also three brothers, who also died in infancy.

Source: St. Ansgar Enterprise, 1 Feb. 1968,
page 4, columns 2 & 3

Credit: Mitch Helle

©2016 MNGenWeb
Sadie Bellena Ashley Hanson
1894-1963
Services for Mrs. John Hanson held At Six Mile Grove

Funeral services for Mrs. John Hanson, 69 were held Monday, December 16, at Six Mile Grove Lutheran church with Rev. Stanley Klemesrud officiating and interment will be in Oakwood, Austin.

She passed away Friday, December 13, at Comforcare Nursing Home in Austin where she had been since her release from Mitchell County Memorial Hospital in Osage following a stroke.

Sadie Bellena Ashley, the daughter of Trena and Hans Hanson (sic) was born in Nevada township, May 9, 1894. She lived in the Lyle community nearly all of her life except for two years when she resided at Northwood when she attended Luther Academy at Albert Lea, Minn.

She has been a faithful and lifelong member of Six Mile Grove church, the Ladies Aid and Circle 1.

On February 22, 1924 she was united in marriage to John Hanson. A daughter and a son were born to this union.

She is survived by her husband John a daughter (Eleanor) Mrs. Harold Augustin of Austin, Minn, and a son Kenneth Hanson of Rose Creek and eight grandchildren.

Also one sister Josie Bartell of Austin and five brothers Arthur and Lawrence Ashley of Austin and Casper and Hamlin of Lyle and Gust of Glenville, Minn.

Source: St. Ansgar Enterprise, 19 Dec. 1963,
Lyle Leader News supplement, page 1, column 4

Credit: Mitch Helle

©2016 MNGenWeb
Philip Martin
1891-1962
Philip Martin Funeral Friday

Six Mile Grove

Funeral services were held Friday, November 16, 1962, at Six Mile Grove Lutheran church for Philip A. Martin, 71, with the Rev. Stanley Klemesrud officiating with interment in the church cemetery.

He died at his farm home northeast of Lyle November 13 following a heart attack.

Philip Martin was born in Nevada township October 13, 1891 to Andrew and Julia (Enerson) Martin. He was baptized and confirmed in the Six Mile Grove Lutheran church where he was a lifelong member. He made his home on the Martin farm where he was engaged in farming his entire life.

He is survived by two sisters, (Alma) Mrs. Olavus Meyer of Rosholt, South Dakota and Mrs. Thea Ostenson, Lyle, two brothers, Gilbert Martin of Austin and Melvin Martin of Lyle; also ten nephews and six nieces.

Pallbearers were Melvin Carolan, Hamlin Ashley, Eddie Fossey, Robert Anderson, Melvin Rohne and Nordahl Nelson.

Out of town relatives and friends attending were Mrs. Olavus Meyer, Clifford Meyer, Mr. and Mrs. Henry Meyer, Mrs. Sylvia Doll all of Rosholt, South Dakota.

Mr. and Mrs. John Fairchild, Des Moines, Iowa; Mrs. E. A. McGrath Eau Clair, Wisconsin; Mr. and Mrs. George Otif, Mr. and Mrs. Glenn Martin, and Mrs. Niels Pearson, all of Minneapolis; Arthur Martin, Owatonna, Minn.; Mr. and Mrs. Oscar Palneck, Mason City. The rest were from Adams, Rose Creek, Austin and St. Ansgar, Iowa.

Source: St. Ansgar Enterprise, 22 Nov. 1962,
Lyle Leader News supplement, page 1, column 6

Credit: Mitch Helle

©2016 MNGenWeb
Copyright MNGenWeb/Mower
Webization by Kermit Kittleson