Recalling Austin's Opera House


By: Polly Jelinek
Austin Post Bulletin
3/7/2009
In January, a fire destroyed several buildings in the 400 block of North Main Street. Following the blaze, people began to reminisce about what used to be in that block, and the old opera house was mentioned. But no one seemed to remember it. Why? Because it had been gone for more than 100 years.
When people started talking about the store fronts and stores in that block, they couldn't visualize an opera house being there, let alone in Austin so long ago. There was a stone marker, however, saying it was built in the late 1800s. Well, it seems that prior to that date, there had been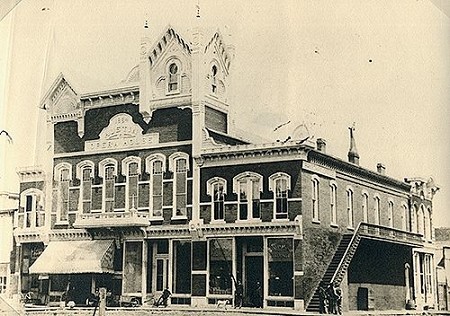 stores along Main Street and, in one of them, there was a place called Jones Hall. This building was enlarged, remodeled and changed into the Austin Opera House.
It was not used solely for operas but also political rallies, lectures, musical presentations by bands, minstrel shows and all manner of dramas. Famed American composer and conductor John Philip Sousa's band played here, and, as rumor has it, he gave a short concert from the opera house's balcony. Some reference to a group called the Cherry Sisters was also on the program.
"Romeo and Juliet" and "Uncle Tom's Cabin" were two of the titles put on by the stock companies that presented the programs that were familiar to me, as was the name of Ernest Seton Thompson/Ernest Thomas Seton, who presented a wild animal lecture. Many "Gay Nineties" stage presentations and melodramas also were shared. These stock companies would come in and present shows for a week at a time along with lotteries and prizes of furniture and dishes. One of the favorites was Frank E. Long, whose leading lady was Austin native Nana Sullivan.
Apparently, one of the productions had been advertised as a very high-class musical attraction, and large numbers of people came to see it. "The Irish Pawnbroker," but it turned out to be a risque burlesque,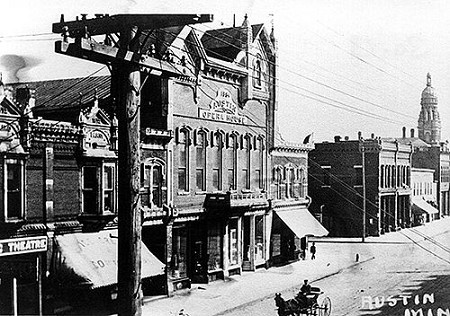 leading many of the wives to escort their husbands out of the theater after the first act's curtain. There were magic lantern shows that attracted the youngsters of the area because they got a free bag of candy with their admission.
Then came some traveling groups that presented some of the first motion-picture attractions before regular movie theaters were built in Austin.
In 1904, came the bad news. Even though the opera house had withstood the elements, the city council had invited a state inspector to come down and examine the buildings in Austin, including all assembly halls, hotels and the opera house. There had been questions about the safety of the buildings -- especially the opera house. The inspector recommended at least six areas in the building that needed much work done on them.
Owners of the opera house decided the cost of bringing the building up to code would be very costly and involve taking off one of the rentable store properties for the opera house's use. They decided they had enough of "show business," and, with the number of changes that had to be made, they would offer the business to someone else. But there were no takers, and future bookings were canceled.
Eventually the structure was given a new, modernized storefront, the squat tower was razed, and all traces of the old cultural and social center of Austin were turned into business offices.
---
Long History of 400 Block Remembered


By Karen Colbenson
Post-Bulletin, Austin Minn.
3/7/2009
Staring at the fire wreckage across the street from her Hallmark store business on Main Street, long-time Austin resident Bonnie Mogen laments, "The Mi Tierra buildings could tell many stories." Those stories began in the mid-1800s in a block of buildings known as "Ira Jones' Brick Block" located in the current 400 block of North Main Street.
The fire January 15 that originated in the Mi Tierra clothing store, 406 Main St., ripped through several buildings on the east side of that block, destroying years of history and memories for many Austin residents. The fire was ruled arson on Feb. 27, which further stirred the emotions of many who mourned the historical significance that was lost when fire consumed those buildings. "Lots of businesses have come and gone there," said Sandra Bell, a long-time Austin resident.
In the mid-1880s, a part of the Brick Block, called Jones Hall, which housed many social events at that time, was remodeled into the Austin Opera House. The opera house would serve as the city's playhouse and social center for 20 years. Some of the very first motion pictures seen in Austin were shown at the opera house before it closed in 1904.
The rickety old building suddenly collapsed one morning in 1906. The idle space where many plays, magic shows, political rallies and concerts -- including one by famous composer John Philip Sousa -- had been performed then was transformed into business suites.
Gretchen Ramlo, of Austin, owned and operated a clothing store in the 406 building for 10 years before selling the building to the current owner Maria Leon in October 2006. The store, Gretchen's, carried large and tall women's clothing and accessories, which Ramlo purchased from New York and California.
Ramlo had purchased the 35-year-old clothing store, originally called Queen Fashions from Mel Schleuder. Ramlo also recalled other businesses that had occupied the buildings over the years. In the 1960s, when Ramlo was a teenager, she would shop for sewing supplies for her high school home economics class at Dorothy's Fabrics. "It really was the big deal downtown store for fabrics," said Ramlo. "It was a beautiful store."
Many Austin residents recall several other businesses and specialty shops that were housed in those buildings through the years. Bell remembered the allure of a stylish hair salon called Barbers on the Corner. "That was the place to go get your hair done," said Bell. "I remember that place as being the big fancy barber shop."
In the afternoon of January 15, Ramlo received a call from a friend that left her stunned and in disbelief. "Someone called and said, 'Your old building just blew up,'" said Ramlo. "It was hard to believe it." She immediately went downtown. "I was looking at it, and flames and smoke were billowing out of the building...it was very strange," said Ramlo.
Ramlo said as she and her friends watched the buildings burn, "we all started reminiscing about the good old days." Bell said she hopes there soon will be a new beginning for the 1890s-era block. "I hope that we can rebuild," said Bell. "It's just so sad because that's our history. Main Street is the heart of the town."