Chamber Recognizes Holton with Lifetime Achievement Award
By Tim Ruzek
Post-Bulletin, Austin MN
When someone asks what he did for a career, I.J. Holton often just says, 'I worked at Hormel's.'
Holton neglects to mention that he led the Austin-based Hormel Foods Corp., a Fortune 500 company, said Kermit Hoversten, a longtime friend and business associate, on Wednesday.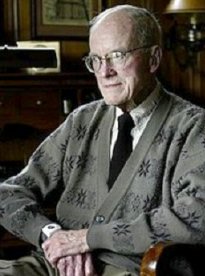 It's an example of the modesty and humility shown by Holton, a man credited, along with his successor Richard Knowlton, for fighting to keep Hormel's flagship plant in Austin during the 1970s when the company looked at other cities for a new facility. 'We cannot underestimate how important that decision was to the ultimate success of the city of Austin,' Hoversten said. 'And we are truly grateful to Jim for his foresight, his ability to see what needed to be done and the courage under the circumstances to do it.'
The Austin Area Chamber of Commerce honored the 88-year-old Holton at its fall meeting Wednesday, although Holton admitted he almost declined the invitation to be honored.
'I'm so glad I gave it a second thought,' Holton told the crowd at Lansing Corners restaurant.
Holton, who also goes by Jim, became the sixth Austin businessman to get the Chamber's Lifetime Achievement Award that recognizes outstanding business accomplishments and a lifetime of community service. Hoversten, a fellow recipient of the award, introduced Holton, calling him 'probably one of the most admired' people in Austin.
Holton and the flagship plant for Hormel both have remained in Austin since he announced in 1978 that the company would build a $100 million, state-of-the-art plant just north of the old facility. It was the largest capital investment in Hormel's history.
A native of Cedar Rapids, Iowa, Holton joined Hormel in 1947, becoming one of its two attorneys. He became president in 1969, adding the title of chief executive officer two years later. He served as president until 1979, and retired from the company in 1983.
He's greatly pleased with Hormel's progress 'since I left the joint,' Holton said. The company will continue to prosper for a long time, he said, and it's an 'enormous advantage' to the community to have Hormel here.
At retirement, Holton and his wife Adelaide chose to stay in Austin and they never regretted it, he said, adding, 'This is home.' In June, Adelaide Holton, his wife of 66 years, died at 87.
Outside of the corporate world, Holton has contributed in various ways to the community. He has been a part of groups such as the Austin Community Scholarship Committee, YMCA, United Way, American Legion, VFW, Chamber of Commerce, Rotary Club, Boy Scouts, American Red Cross and Austin Area Foundation. He also led the fundraising effort for a new Austin Public Library.
Holton makes financial contributions but seems to not want the recognition, Hoversten said. A lot of what Holton does, Hoversten added, is done anonymously.