Hon. B.F. Langworthy of Brownsdale, One of the
Earliest Settlers of the County,
Continues His Series of
Interesting Articles.

---
AUSTIN TOWNSHIP -- The settlers in Austin Township were numerous in 1856. Jacob S. Decker, who had come out in 1855 to Colesburg, Iowa, where Obadiah Smith, Mrs. Deckerís brother was, came in March 1856,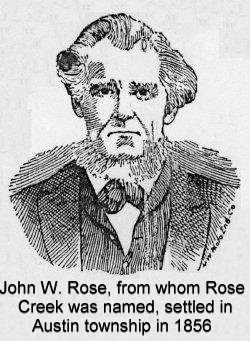 to Austin and bought out Alexander Nigus's claim on section 1. William A. Woodson and his brother-in-law Harrison Van Winkle, came from Illinois and settled on sections 14 and 15. John Chandler, John Watkins, Caleb Stock, Alfred Cressey, Thomas Bonnalie and Welcome Osborn settled in the Cedar City neighborhood, and John Rose, Thomas Varco and Harvey G. Pronty in the Varco district. Woodson and Van Winkle came with their families 600 miles from eastern Illinois with horses and ox teams starting eighty head of cattle, some of which they sold on the way. John Chandler took a claim over in section 4, Lyle, on which was a water power, and subsequently came up to section 28 in Austin. Thomas Varco came from England when about forty years old, to Canada. He moved to Wisconsin in 1850 and to Austin township in 1856. He always lived on the same farm at Varco station where his children settled nearby. He died on February 12, 1893.
Among those who came in during 1857, were Welcome Chandler who came out and joined his son, purchasing and eighty where he lived until his death in 1880, and Andrew Gemmel, a native of Scotland, who was reared in Glasgow and came to Montreal in 1842. He came to Cedar City in 1857, coming on the cars to Dunleith, Illinois, then up the river to St. Paul and across country to Austin. It is said that Mr. Chandler hollowed out a log which he sunk into the ground resting the end on a solid foundation. Into this, corn, first dried in the oven, was put in and it was pounded into meal by means of a pestle of hardwood swinging overhead at one end of a pole balanced on a post with a counterbalance weight on the other. This took the place of the old corn grater, an old tin pan with holes punched in it which had previously served as a mill. A.V. Ellis, proprietor of the Evergreen stock farm, adjoining Austin city on the east, located there in 1857 and was one of the first men to introduce thoroughbred stock.
In 1858, Mason Parmenter, father of James, John E. and Mason J., came from Dane county, Wisconsin, with his family in a prairie schooner drawn by two yoke of oxen and settled on section 35, Austin township, then railroad land. Joseph K. Streever settled just west of Austin village in 1858, buying out John A. Avery who had built a log house and had ten acres broken. Mr. Streever resided here most of the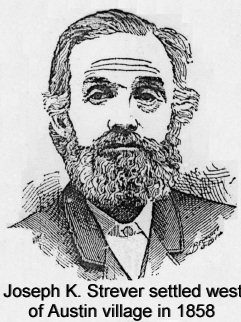 time since but for the past few years has lived west of Lansing village. Barnabas Johnson came up from Missouri in 1860, as his Union principles were unpopular down there. He sold out at a great sacrifice and settled in Austin township. They came through with oxen and horses and drove a stock of cattle with them. David O. Pratt, one of the survivors of Andersonville Prison came to section 36 in 1860. He enlisted in company C, 9th Minnesota Volunteers and lay in Andersonville Prison over six months.
George Dumond settled on Section 18 in 1862, coming from Winnebago county, Wisconsin. He is now in California. George Van Camp had come to Lyle Township in 1859 and took a homestead in Nevada in 1862, coming to the vicinity of Varco station in 1876. Henry W. Lightly served three years in the civil war, in company H, 29th Wisconsin volunteers, returning after the war to Dodge county, Wisconsin. He came to Austin township in 1862, and for several years spent his summers here, returning winters to the Black river county. William Gutherless, a native of Yorkshire, England, came from Chatfield in 1865 and settled on section 24. George W. Shapley came to Austin in 1866 and had charge of the construction of Alderson's grist mill, and later settled on a farm in Austin township in the extreme southeast corner.
Adam E. Christie came from Freeborn county in 1868 and settled on section 5 west of austin City. James J. Sayles, a native of Burrillville, R. I., settled on section 25 in 1870, having bought the land some years previous.
The first white child born within the present limits of Austin township was Annette Powers, daughter of Calvin and Mercy (Beebe) Powers, on September 22, 1855. She is now the wife of Austin H. Felch of Windom Township. The first white male child born in the town was Colbert Lott, a son of A.S. and Jane (Beebe) Lott, Oct. 10, 1855. He resides on the old homestead near officer's mill site. The first marriage ceremony was that of Caleb Stock and Miss Mary Watkins at Cedar City, at the residence of the bride's parents, Sylvester Smith, justice of the Peace, officiating. They now reside at Mitchell. In 1862-63 Jonathan Gregson and William Gutherless put in a dam of stone and logs in the Cedar River in the southwest corner of Section 27 and erected a stone building, 30x30, two stories in height with a basement, and commenced making flour, beginning with one run of burrs, and putting in a second run a year later. In 1865 the building fell with a crash and Mr. Gutherless was buried in the ruins, but escaped without fatal injuries.
Mr. Gregson built a frame building in the place of the old one and sold out. Later the Officers owned it. Mr. Gregson went up there in 1867-68 and is said to have been the first to introduce the roller process of making flour in Mower county, having put in a set of rollers in 1878.
Austin township has always been one of the prosperous townships of the county. There has been far less of change of population than in some other sections of the county, and this has given stability on settlement and growth, which is very apparent. Its nearness to the City of Austin has helped in its substantial growth.
LYLE TOWNSHIP -- 101, 18, is the southwest township of the county, with Mitchell county, Iowa on the south and Freeborn county on the west. The first settler was one Woodbury, who came in the autumn of 1853 and claimed a large tract of land bordering on the Cedar River and the creek which takes its name from him. He put a log cabin on the northwest quarter of 33 and covered it with sod. Here was performed the first marriage ceremony in the county. He was a real frontiersman, averse to society and shrinking from civilization and he moved to Olmsted county in 1855. In the spring of 1854, three sons-in-law of Mr. Woodbury came and made claims in the vicinity of his own, but they sold out within a year or two and moved on. The first permanent settlement in the township was made in 1854 by Orlando Wilder, Eben Merry, James Foster and his son Return Foster, John Tifft and William Bean. Mr. Wilder settled on 33. He was a native of Vermont and came west to Union county, Wisconsin. In May 1854, he came to Lyle from Fayette county, Iowa. His brother Jackson and Lewis West accompanied him. They drove ten yoke of oxen and brought a few household goods. They broke 65 acres across the state line in Mitchell county, and fenced it and planted it to corn, potatoes and garden vegetables. Mr. Wilder put up a log house and covered it with bark and in the fall went to McGregor with an ox team to meet his wife, and returned with her to their new home.
Eben Merry settled on section 4 in the north edge of the township. He enlisted in Co. F, Fifth Minnesota Volunteers, and served in the war for about two years. He came here from new Albany, Wisconsin. James Foster and his son Return settled in the north part of sections 3 and 4. They came from Menard county, Illinois, coming with a pair of horses and wagon, bringing their household goods with them. John Tifft entered land along the river in sections 4 and 9 and laid out the village of Troy and built a sawmill but with the advent of railroads and the fixing of permanent centers of trade, Tory, like Cedar City and many other embryo centers disappeared. Mr. Bean took a claim in section 33.
He was stepfather to Mrs. Wilder and made his home with them. These first settlers were obliged to goto Auburn, Fayette county, Iowa, a distance of 80 miles, for their mail and to buy provisions. Many a trip they made with ox teams. After the mail route between Osage and Austin was established, mail matter was left at Orlando Wilder's for distribution in the neighborhood. This was a great convenience. In 1855 some of the principal settlers were William Allen who lived for a time on section 20 and then went to the Pacific coast; Benjamin Coe, Ed Sprague, John woodworth, James Davis, Dilazon and Lorenzo Moshler, David West and Joseph Richards. Coe, Sprague and Woodworth came together in June. Coe bought out Woodbury's claim and sold it in June 1856 to Rev. Alanson Beach and A.M. St. John, and moved to Olmsted county. Sprague lived on the southeast of 28 for two or three years and then returned to Illinois. Woodworth soon moved on, his place subsequently being purchased by O. Barnum. Davis enlisted in Co. K. 4th Minnesota Volunteers, and after the war he resided here for several years and then moved to northern Minnesota. Lorenzo Moshler settled in section 29 and after living there for three or four years went to Missouri but his union sentiment caused him to cross into Illinois for residence.
Dilazon Moshler settled in section 30 and they lived there until a few years since. He died in Austin on July 26, 1900. Richards bought part of William Bean's claim on section 33 and after living here for five or six years, moved to Iowa. David West, a native of New York state, settled on 32 and lived there for several years when he moved to Otranto. His son, Charles I. West of Austin got his start on this farm and his accounts of his early farm life are decidedly interesting.
B.F. Langworthy
(To be continued)
Mower County Transcript, Wed.,
May 14, 1902, page 1