EARLY REMINISCENCES OF MOWER COUNTY
Hon. B. F. Langworthy of Brownsdale, One of the
Earliest Settlers of the County, Continues
His Series of Interesting Articles.
UDOLPHO TOWNSHIP, 108, 18, is said to have had one William Tullis for first settler, locating on section 11 in February, 1855. He built a log cabin covered with sods. The next to settle in the township were Thomas Richardson, coming from St. Lawrence County, N. Y., to section 16; Richard Green on section 9, who subsequently was killed at the battle of Nashville, and William Green, his brother, who served three years in the war. Several Norwegian families came in June, Knute Olson to section 31, Andrew Anderson in section 9. The Nellers came in 1856, Francis A. and his son Sebastian and Francis and Joseph Neller, two nephews. Francis A. Sr. and son preempted two quarters in section 14. The two nephews settled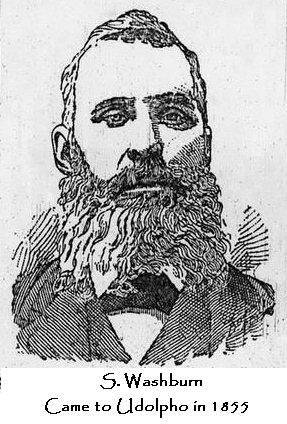 the former in section 15 and the latter in 23. John L. Neller who came with his parents in 1856 enlisted in Co. G, Ninth Minnesota Viols., and served for three years in the war. He now resides in Austin.
In August, 1856, Orasmus D. Rhoades, a native of Chataugua County, N. Y. settled in section 22. He enlisted in the Ninth Minnesota Vols. And died from starvation in a rebel prison in the south. Milton McCall came to section 34 the same year from New York State. He had a succession of trouble which well illustrates some of the hardships of pioneer life. When he had his house up to the windows, the prairie fires burned him out so that he had to return to New York for the winter. Coming back the next year with his son, the latter fell off the car and was killed and returned to New York State with the body. After living in Udolpho for several years, the McCalls moved into Lansing Village. Andrew Ingvalson, one of the substantial residents, came to section 4 in the same year also.
In the summer of 1861 he made eight trips to Winona with wheat, taking from seven to ten days for each trip, over two months of his time thus being spent on the road. During the fall, Charles N. Stimson and his brother Albert, Nathaniel Reed and George Pierson came in. Seth S. Washburn, Ole and Bennett Christianson, two other prominent citizens, came from Wisconsin, came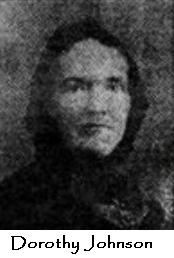 also in 1855, settling in section 19, a native Vermonter, came out to Dane County, Wisconsin in 1856 and to Udolpho in 1857. He was prominent in the county politics and had the confidence of all. Edward Bassett, a brother-in-law of Washburn came the same year from Wisconsin. Orlando C. LaBar, a native of Pennsylvania, came from Wisconsin to section 28 in 1873. He has a fine farm which he still retains. He was county commissioner for several years and now lives in Lansing Village. P. A. Peterson, who represented the north district in the state legislature in 1881, came from Rock County, Wisconsin, in the spring of 1864. Nels N. Hagna came to section 8 in 1864 also.
Burr Maxwell, who served during the war with the 4th Wisconsin Horse Battery, came from Wisconsin in 1867. Robert Lee came to Lansing in 1868 and to Udolpho in 1875. Nels K. Goodwin settled in Adams in 1870 and in Udolpho in 1872. Edwin Richards, a large land owner in this county and now a resident of Louisiana, came from Olmsted County to section 13 in 1973. Benjamin M. Carll a veteran of the war serving in Co. C., Eighth N. Y. cavalry, came in 1864 after his discharge to section 12. His parents had come the previous year. Ingval Ingvalson came in 1974 and Syver Ingvalson in 1876.
The first school was taught in the winter of 1856-7 by Miss Eliza A. Wilcox in a part of her father's house. She also taught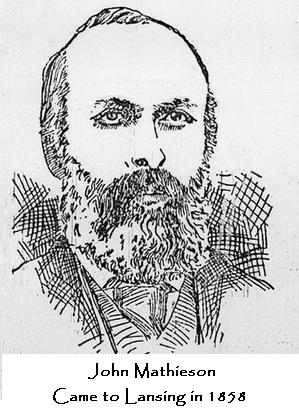 during the following summer receiving $2 a week and boarding around. At a very early day, the village of Madison was established in section 21. Warren Brown platted the village in the winter of 1856 – 1857 and built a store and put in a stock of goods, a post office was established, a hotel was built and a number of lots were sold. It proved like so many other similar ventures in a new country and when the railroad went through years later and no arrangement could be made to make a station there, the who project was abandoned and the village is now lost in the surrounding farms.
WALTHAM TOWNSHIP WAS FIRST SETTLED BY Nels Johnson, a Norwegian, in the summer of 1855. He made his claim on section 22. He deeded his land and remained in the town until 1862 when he sold his farm to George Johnson. Mr. Johnson and family [his wife was Dorothy Johnson] came in from Wisconsin with an ox team, thirty head of sheep and $20 in money. They were 24 days on the road. They engaged extensively in sheep raising. He Died July 24, 1872, from being thrown from a horse. Barney Devlin settled on section 28 in 1856. A. M. Bemis, a shoemaker, settled in section 34. He sold to E. N. Colby and left the town.
Charles F. Hardy was an early settler in the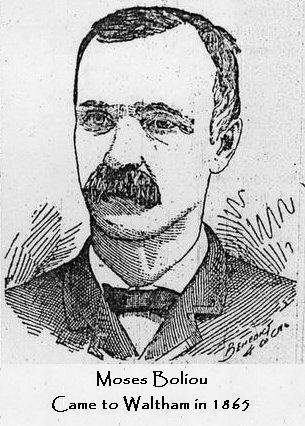 town, remaining only a short time, when he moved to Red Rock, from whence he came. Sylvester A. Dennis settled on his farm in section 19 in 1865, coming from Red Rock, and lived there until his death, December 17, 1867. Purdy Lounsbury in 1864 settled in section 22 in Waltham. Mr. and Mrs. Lounsbury resided on their farm until their deaths. Moses Bolious came to Brownsdale in 1864. The next year he purchased a farm in section 9 of the town of Waltham. Alfred Lounsbury, second son of Purdy Lounsbury, was born in Ulster County, New York, February 11, 1829. He enlisted September 4, 1861, in the Third Wisconsin Battery, and remained in the service until mustered out at the close of the war. He settled in section 22, Waltham Township in 1865. E. P. D. Kimball came in 1866 and settled on section 5, Waltham. B. T. Walker came in April, 1966 and settled on section 30.
Charles Gage came in 1871 and purchased a farm in section 23 in this township and engaged in farming. He enlisted as a private in 1862 and was mustered out a captain in 1865. He resides now at Park Rapids. George Townsend settled on section 33 in 1875 in Waltham Township. Among prominent later settlers were John Hoy, J. J. Hunt, A. McGowan, C. E. Nicols, F. J. Hill, Amos Colby, John Muney and G. R. Church. The township was organized in June 1866. When the Austin branch of the Minnesota & Northwestern was built a flourishing station was established on section 9.
B.F. Langworthy
(To be continued)
Mower County Transcript, April 23, 1902, front page,
(9th article)