EARLY REMINISCENCES OF MOWER COUNTY
Hon. B. F. Langworthy of Brownsdale,
One of the Earliest Settlers of the County,
Will Give a Series of Interesting Articles
5th article Mar. 26, 1902
In my last communication, I promised to write up some of the conventions which have been held in Mower county, and also tell of the nomination of the different members who have had the honor of representing Mower county in the legislature at St. Paul. I intend also to give a short history of each township in the county. There are twenty of these, each having 36 sections except the townships of Frankford and Pleasant Valley. They each have but thirty sections.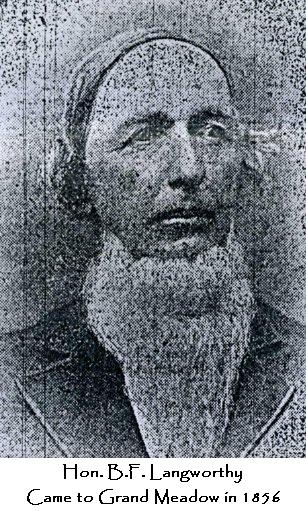 Twelve sections off of the northeast corner of the county, one tier east and west across the north end of Racine and Pleasant Valley were set off into Olmsted county and Racine kept its full 36 sections by taking the north tier off of Frankford. I know of no good reason why the twelve sections should be attached to Olmsted except that the village of High Forest being located near the south line of Olmsted county was afraid that they would not have a chance to expand and grow unless they could be where they could have their territory set off from Olmstead county again at some future time so as to form a new county and eventually make High Forest a county Seat. Of course, tradition says that the settlers at Austin and on the west end of Mower county felt a good deal safer in regard to keeping the county seat after High Forest had been set off. In those early days, the pioneers seemed to get county-seat crazy. In giving a description of the different townships of this county and of the pioneers who were identified with their early history, it will be of interest to take each one separately commencing with the northeast:
RACINE TOWNSHIP, 104, 14, lost the north tier of sections in the High Forest steal but made itself good by jogging into Frankford and attaching the north tier of sections from that township. The first settlers were Jacob McQuillen and son. They took up their claims so as to include two large springs and divided their claims so that the father took one spring and the son the other. Some say this was in 1852 and some say in 1853. It was at the very beginning of our county history at all events. After holding their claims for a few months, they sold out to Daniel L. Boothe and left the country. It was but a short time before other settlers commenced to arrive. Among the first were Charles J. Felch, W.E. Harris, Thomas Cory, father of H. B. Corey who was afterwards sheriff, Adam Zedecker, Joseph Robb, Zedekiah Tomlinson, J.D. Gregory, J.E. Campfield, who soon left for Kansas, and J. R. Campfield who in 1858 settled on Section 25. Felch located on section one, George I. Covell on section 8. In 1856, William Harper, John W. Harper, Lewis Skyhawk, William Trend, Loren Dutton, Jonathan Stewart and Zara Frisbie settled in the township. The township was organized in 1858
FRANKFORD TOWNSHIP, 103,14, lies directly south of Racine, with Fillmore county on the east. It consists of thirty sections, the north tier having been joined to Racine. The first settler was Lewis Patchen, who came in 1854 and preempted 160 acres near the county line which he occupied until his death. The next settlers were Byron Woodworth on Section 22 and Bartlett Leathers on Section 21. Then came Naaman Goodsell, Charles Lamb, Philip Howell, Francis Teabout, Griffin Fryer, R. A. Donaldson, Samuel Scribner, S. Bostwick, Thomas Tebay, Knud Nelson, Erlend Olson, John Johnson Lindelin, Isaac Knudson, and many other Scandinavians, among them Ole O. Finhart and his brother Amon. The first school taught in Franford township was over Francis Teabout's in Frankford village in 1856, Miss Cummings of Ashtabula, Ohio, teacher. Lewis Patchin built the first hotel.
BENNINGTON, next south of Frankford, 102, 14, was sparcely settled for a number of years after the first settlers came in. The Appells, Hutchinsons, Emersons, and Kingsburys came out from New York in 1856 and settled in the southwest part. Stephen Guy and sons came in 1858 and formed the Guy settlement in the east part. William Cooper and sons, C. W. Kellner, and others came in about the same time.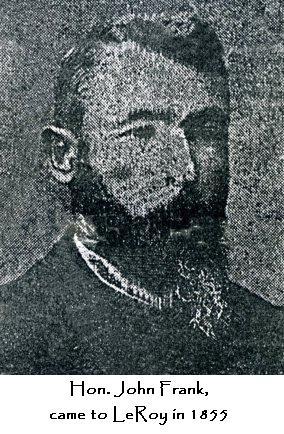 LEROY is the southeast township of Mower county, bordering Iowa on the south and Fillmore county on the east. The Little Iowa river passes through the township and it is said that it contains more timber land than any other township in the county. The first settlement was in 1853 when Isaac Van Houghton, George Squires, J.S. Priest, Moses Niles and Isaac Armstrong came from near Lansing, Iowa. Van Houghton sold his claim the next year to Fayette Lincoln who erected the first frame house in the township, and Squires sold out in 1855 to Daniel Caswell. In 1854, Wentworth Hayes was one of the prominent new settlers. He is still a resident of LeRoy village and has always had great faith in Mower county as most desirable. In 1855, came A. J. Palmer, Z. B. Dailey, David Allen, W. B. Spencer, P.F. Huntly, John Frank, who now owns 1,400 acres of fine land, Ed Whitcomb, Daniel Caswell, A.D. Park, E.F. McKee, and others. From this time, settlers came rapidly. In 1856, among others came F. Bevier, J.M. Wycoff, A.J. Porter, George Clapper, Samuel Hale, Elihu Morse,, and many others. In 1857, came C.H. Cotton, Rudolph Miller, Justus Nason, Soren Engelson, one of the big stockmen of the township, Caleb Lewis and others. The township was organized in May 1858. The center of population clustered around the "old town" until the railroad caem through in 1867 and established the new station a mile or two away and gradually the business interests all centered there. The new village was platted in 1867 and was incorporated in February, 1876, by act of the legislature, W.S. Fufield, W. L. Henderson, and C.A. Roy being designated to carry out this act. Daniel Caswell, who had been hotel keeper at the old town was the pioneer hotel keeper at the station. His old town hotel was sold to the county for a poor house.
LODI TOWNSHIP, 101, 15, is directly west of LeRoy and on the state line. Almond Fryer and another from New York erected their cabin in 1855 on the banks of the Little Iowa, but there was little settlement for several years. The Billings and Moreses came in 1864, Thomas Keugh in 1868, the Hutchins, Davis and Wierd families in 1869, and Iver Hendrickson in 1870. The township was organized late. The railroad went through in 1867 and the village of Taopi was established on the "big farm." The Taopi Farming Co., incorporated in 1875, at one time owned over one-fifth of the total land in the township and this immense tract has prevented general settlement as has come to other townships. The Chicago Great Western main line crosses the township north and south, making junction at Taopi with the old Milwaukee Road.
B. F. Langworthy
(To be continued)
[Mower County Transcript, Wed.,
March 26, 1902, page 1 --
5rd article in the series]