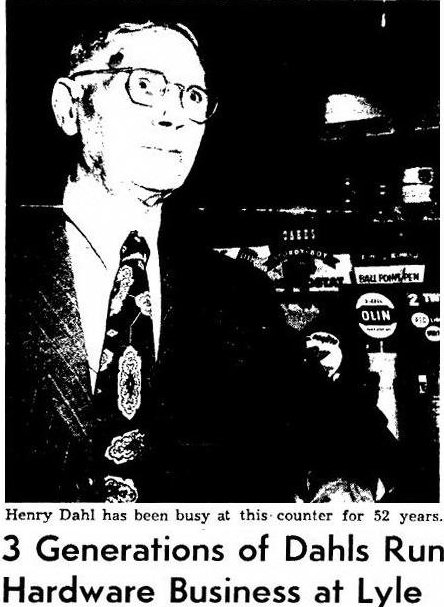 Henry Dahl went, into the hardware business in Lyle 52 years ago with only $3. "And that wasn't my money either," he says.
Today he is the senior member in the Dahl Implement and Hardware and boasts of the complete line his firm carries — from a wooden handle for the old stove heated flat irons to the latest type of combine.
The 81-year-old veteran businessman began his career as a horse and buggy peddler. He sold notions — handkerchiefs and lace — from door to door to raise enough money to finance his business education at the St, Ansgar Seninary.
"I didn't have much money so I borrowed then, too" Dahl Recalled
Netted $3 a Day
His drives through the country netted him about $3 a day — a lot of money in those times — but he kept at it just long enough to raise his "education money."
His first job, in 1892, was in a Lyle drug store. He started at $12.50 a month and worked just long enough to be raised to $15 before shifting over to the hardware store Ran Rierson operated in the building his firm now occupies.
Dahl worked there 6 and a half years —starting at $20 and achieving the magnificent salary of $55 a month before he quit. "I was the highest-paid man in town," he said.
After spending six months at the M. O. Wilson general store and another six months at the M. O. Wilson General Store and another six at the Pete Johnson tin shop, he entered the hardware business on his own. "John Schumacher had the capital; I had the experience," he explained.
Borrowed to Buy Share
And so the firm of Schumacher and Dahl began business in 1901. The next year, C. J. Culbertson replaced Schumacher and Dahl borrowed enough money to hold an equal share.
After three years, Culbertson sold out to A. O. Nelson and, for the first time "Dahl" came first in the firm's name.
That partnership lasted two years, then E. E. Fedson, who was married to Dahl's sister, took over Nelson's interest and a partnership was formed which lasted until 1942 until Fedson sold his interest to Dahl's son, Lloyd.
Now three generations are engaged in the business – Henry and Lloyd, the partners, and Glenn, the grandson and son, who is an employee.
Dahl was born in Rock County, Wisconsin, October 5, 1871, the year of the great Chicago fire.
"Something had to happen when I was born," he said. "When I was a year old, I moved to Mitchell County, Iowa, and brought my parents along."
Started Career at 18
He stayed on the farm until he wss 18 then began his business career as a peddler.
In 1891, when he was considering the move to Lyle, a fire wiped out all of Main Street and most of the town. "There had to be a fire wherever I went", Dahl Observed.
And just to demonstrate further that tragedy follows him like it does, Joe Btfsplk of Lil Abner, the year he went into the hardware business, 1901 that is, President McKinley was assassinated.
Dahl says the hardware business has done an "about-face" since his early years.
"You wouldn't think it is the same business and what experience you have doesn't do you much good," he said. "When we first started, farmers didn't use manure spreaders and cream separators and everything was horsedrawn"
Boxes Created Illusion
Dahl started selling McCormick implements in 1901, the year the company started. He was one of the first customers of a machine company, too. when it began operations in 1908.
"When I started in business. I had to put empty boxes on the shelves to make my customers think I had a stock." he said.
Today the firm almost has more stock that it knows what to do with and needs three buildings to hold it all – with no empty boxes included.
Always considered a demon salesman, he did not as his late wife used to say, sell a cream separator to a man who didn't have any cows. He did, however sell a hog waterer to a man who didn't keep any pigs — but the farmer used it for his sheep.
Recalls Board Sidewalks
In the early days, the board sidewalks. were three feet above ground in some places.
"There were lots of loose planks and if you stepped on the outside of one of these, it would pop up and hit you in the face," he said.
When Dahl came to Austin, he would stable his horses at the Austin Hotel which, he said, was a livery barn then.
"It would take two good hours to drive up on a rough dirt road.'' He recalled. As the roads improved, he expected his business would be ruined.
Good Roads Helped
"But we find," he declared, "that the good roads lead to a good town and our business got better."
"We built on service. But it isn't business if you don't make a dollar on it and it isn't business if the customer isn't satisfied." He said, adding "But it pays to lose sometimes and I done that too.
But the real secret of his staying in business a long time is, perhaps his basic philosophy.
"I always try to put myself in the other fellow's place."
[Austin Daily Herald - Saturday,
August 8, 1953, Page 6]