Herbert Charles McAlister
1931-1977
Herbert Charles McAlister was born October 30, 1931 in Stewartville, Olmsted County, Minnesota to Rufus William "Bill", and Anne Josephine "Jo" (Smothers) McAlister.
At a young age he moved with his parents to Austin Minnesota and it was here that he spent his childhood. Herb grew up on the eastside of Austin, also known as "Dutchtown", near Eastside Lake.
In 1939 when Herb was 7 ½ years old he was blessed with a baby brother named Robert, or "Bob" as he was usually called. In 1946, another seven years later when Herb was 14, baby brother Lyndon joined the household.
Around the age of 15 Herb left school and set out on his own.
In about 1949 he joined the United States Navy and went to Great Lakes,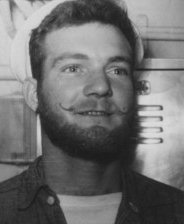 Herb in 1950

Illinois for basic training. After his training he was granted "leave" and during this time he met Phyllis Tubbs at the bowling alley in Osage Iowa. They dated as long as Herb's leave time would permit but soon Herb was on a ship bound for Korea. He proudly served in the Korean War and afterwards, while on leave, he married Phyllis Irene Tubbs, August 21, 1951 in her hometown of Osage, Mitchell County, Iowa.

After their marriage Herb was stationed at Norfolk Naval Base in Virginia. Phyllis joined him in Virginia but after awhile she became homesick and went back to Iowa to stay with her parents until Herb's enlistment was up.

When Herb returned, they went to Austin and moved into the small rental house owned by Herb's parents, which was located just next-door. Here Herb and Phyllis had their first child, William Earl.

They then bought a house on 8th St. NE in Austin and within a couple of years their family was growing. Kim, Jack, Kris and Kathy soon joined the household.

Herb was very much a family man but he was also very active with hunting, fishing and sports such as golfing, bowling and hockey. He was a member of the Ramsey Golf Course Men's Club and had on at least two occasions shot a hole-in-one.

Herb also worked long hours at the Hormel plant, mostly working the 3:00 pm-11:00 pm shift.

He had many friends and acquaintances and enjoyed yearly trips to Mexico with his closest buddies; Roger Dixon, Bruce Hastings, and Charley Edwards.

He enjoyed going out and dancing with Phyllis at Lefty's Bar and liked spending time with his friends at the various clubs he belonged to such as the American Legion, V.F.W., The Moose, and The Eagles.

Herb loved music of all kinds but he especially like old country music. Johnny Cash, Marty Robbins and Hank Snow could often be heard crooning throughout the McAlister home. Herb also liked to play his guitar and sing, and he also enjoyed playing the harmonica.

In the early 1970's Herb became involved with the project to build Riverside Arena in Austin. The McAlister family had become very much a "hockey family" and Herb put his full support behind having an indoor hockey arena. At one time Herb played hockey for the Austin Arrows and was also a sanctioned referee.

In 1975 Herb and Phyllis took in a young Junior League hockey player named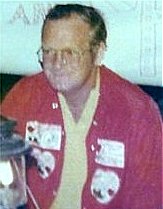 Herb in 1976

Mitch Corbin, who had come to Austin from Duluth to play for the newly formed Austin Mavericks. Mitch lived with the McAlisters for over a year and in 1976 the Austin Mavericks won the National Junior League championship.

In mid January 1977 Herb came down with what he thought was a chest cold. When he continued to feel worse, more tests were ordered and it was discovered that Herb in fact had a rare form of cancer called "Mesothelioma".

The National Cancer Institute states that: "Malignant Mesothelioma, a rare form of cancer, is a disease in which cancer (malignant) cells are found in the sac lining the chest (the pleura), the lining of the abdominal cavity (the peritoneum) or the lining around the heart (the pericardium). Most people with malignant Mesothelioma have worked on jobs where they breathed asbestos."

Herb worked for Hormel Company for approximately 20 years and during that time was often welding and wearing an asbestos suit. The type of Mesothelioma Herb had affected the lining of his lungs but was not technically considered lung cancer. Herb spent many long days at the Mayo Clinic in Rochester Minnesota receiving radiation and chemotherapy treatments but to no avail. After only 4 ½ months Herb succumbed to cancer and died June 1, 1977 at St. Olaf Hospital in Austin. He was 45 years old.

Phyllis later recounted that a director from Mayer Funeral Home told her they had rarely seen a funeral as large as his. Herb knew everyone from bikers to lawyers and they all showed up to pay their respects.

Phyllis was also surprised while opening the funeral cards to find various sums of money. Unbeknownst to Phyllis, Herb had helped many people through the years and had often borrowed them money. When he passed away these people wanted to repay their debt and many of them wrote personal notes expressing their gratitude for Herb's kindness.

Herb was buried at Oakwood Cemetery in Austin. He left a legacy of five children and 11 grandchildren.

Written by daughter Kathy (McAlister) Pike -- January 2008